It's not unusual for your cat's waking hours to be in the wee hours of the night. In the wild, cats nap until it's time to hunt prey — which usually comes out under the cover of night. By keeping your cat mentally stimulated during the daylight hours, you can keep the "Midnight Cat Crazies" to a minimum.
Although playing interactively with your cat is a great way to bond, it probably won't be enough to satisfy his prey instinct. Get an array of toys and switch them up every day or two to keep your pet thinking. Check out the best choices for keeping your cat mentally stimulated during the day.
The TRIXIE Tunnel Feeder Strategy Game means your cat will never "boredom eat" again. Developed by cat expert Helena Dbaly, the toy delivers a small amount of food into six different tubes and tunnels. Your cat must actively pry and scoop the food from each tunnel, feeding at his own pace.
The toy is ideal to keep your cat from gobbling its food. Rubber feet keep it in place during even the most active cat feeding.
​Notable Feature:​ This toy includes automatic feeding capability, which is great because your cat can "hunt" her food a little at a time at her own pace.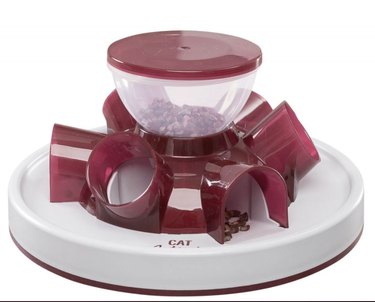 Your cat will love chasing a moving target with the PetFusion Ambush Electronic Cat Toy. A feather randomly pops out from one of six holes in the toy, and LED motion lights get your cat's attention. It pops back into the toy again and randomly pops out another hole. Your pet will be mentally stimulated by figuring out how to catch this elusive prey.
Once the fast-moving "prey" is captured, it can be easily removed and replaced to keep the action lively. The toy comes with one replacement feather for when your cat defeats the enemy for good.
The cat toy runs off of four AA batteries (included) and has an 8-minute automatic shutoff after your cat moves on to other pursuits. Rubber feet keep the toy securely in place during the game.
​Notable feature:​ The toy's lights make it useful for play in darkened rooms to wear off energy before bedtime.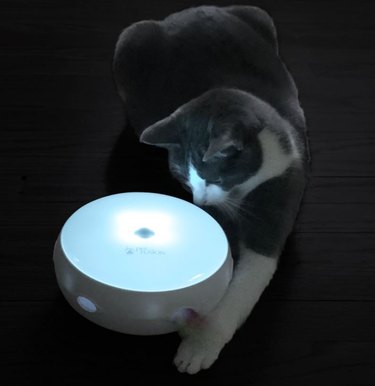 Cats love leaping and pouncing on soap bubbles, and Pet Qwerks Incredibubbles take bubble-chasing to the next level. The bubbles are enhanced with catnip and come in a peach flavor your cat will enjoy. The bubbles dry in the air, letting them bounce along the ground intact.
The non-toxic bubbles are best used outside as the bubbles can leave a sticky white residue behind that can be easily wiped away with your hand.
Blow the bubbles as high in the air as possible to allow them to dry and become more durable. You can even wave them about before allowing them to descend to your cat's level for pouncy fun.
​Notable feature:​ The non-toxic bubbles give your cat a pop of catnip when she pounces on them.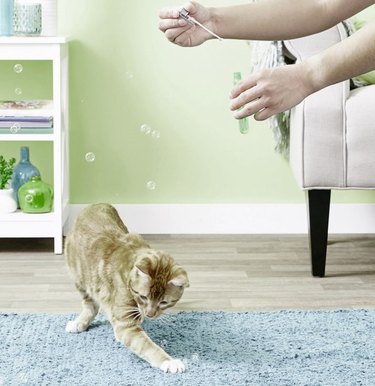 Your cat will be mentally engaged in figuring out the next move of the SmartyKat Hot Pursuit Electronic Concealed Motion Cat Toy. A concealed wand below the toy's fabric surface randomly twirls a mouse-like target, keeping your cat on her toes in hot pursuit.
Wipe the toy with a damp towel to clean. The product is made from recycled plastic to specifications that meet child and animal safety standards.
​Notable feature:​ Two toy attachments let you switch up the game for variety.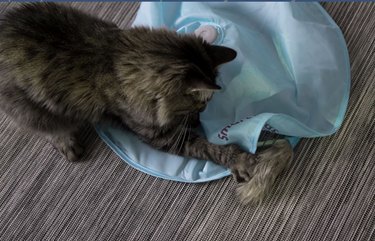 The Trixie Brain Mover Strategy Game will keep your cat's attention as she uses her brainpower to strategize how to access treats through four different games.
The first game is the simplest — your cat will have to push away balls to reveal treats hidden in a compartment below. Games two through four change it up to keep your cat's curiosity up and challenge her intelligence through moving sliders, levers, and loops to access compartments containing a treat reward.
The toy is dishwasher safe and measures 6.5 by 7.75 by 3.5 inches. The rubber and plastic materials are safe for your cat.
​Notable Feature:​ This toy includes four separate games that provide variety to challenge your cat's patience and concentration.
Keep your cat mentally stimulated with the Ripple Rug Cat Activity Play Mat. The flexible fabric mat can be configured in endless ways to give your cat a variety of places to hunt, hide, and snooze. Configure the mat in the morning and tuck in some treats and favorite toys in various hiding spots for your cat to seek out.
The product has a bottom carpet with rubber backing designed to keep it flat on the floor. The top "ripple rug" has touchpoints that allow you to bunch it to create tunnels, launch pads, and hiding holes. Both carpets are made using recycled plastic bottles.
​Notable feature:​ The Ripple Rug includes instructions to make it stiffer or softer depending on your cat's preferences.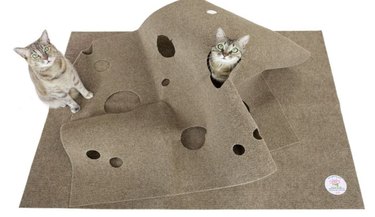 Cats love chasing and the Catit Senses 2.0 Super Circuit Cat Toy lets your cat pursue to his heart's content. A weighted ball moves through the covered track, which has peek-a-boo openings to lure your cat to pounce and bat.
Configure the track in more than 100 ways to keep the game fresh and exciting day after day. You can also combine the Super Circuit with other Catit Senses 2.0 products such as treat puzzles and cat grass stations to make an exciting playland. The plastic track is made from BPA-free materials.
​Notable feature:​ The enclosed track and circuit ball keep cats engaged without worrying about losing the ball under furniture or searching the house. Replacement balls — including light-up models — are available.
In an outdoor world, cats are mentally stimulated by prey-hunting activities. Recreating prey-hunting experiences at home will keep your cat intellectually engaged. The best toys to do so offer options to change up the game with variety to keep your cat curious.