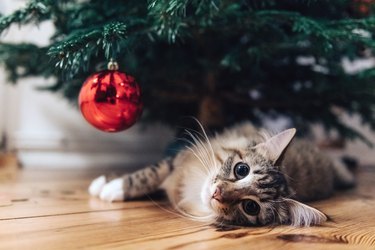 Whether you want to spoil your cat with presents under the Christmas tree (assuming she hasn't found a way to destroy it) or stock up on litter, canned food, supplements, and other essentials, Cyber Monday is arguably the best time of year to save money on pet supplies.
Chewy's Cyber Savings Event is taking place from Nov. 24 to Nov. 30 at 11:59 p.m. EST, and the deals are as irresistible as catnip. The six-day shopping event gives pet parents plenty of time to save on cat toys, treats, apparel, home decor, tech devices, and more. There are also buy two get one free promotions and daily flash deals on select items.
Keep scrolling for a breakdown of all the deals you can expect from Chewy's 2021 Cyber Savings Event and a roundup of some of the hot-ticket items that are sure to sell out. If you've got a blended family of dogs and cats, be sure to check our guide to Chewy's Best Cyber Monday Deals for Dogs.
1. Save 20% at Checkout: Frisco 72-in Faux Fur Cat Tree & Condo​
Featuring scratching surfaces, dangling toys, plush perches, and cozy compartments, the Frisco 72-Inch Cat Tree is the ultimate hang-out spot. The flat surfaces are covered in warm fleece, while the scratching posts are wrapped with durable sisal rope. It comes in six colors, including cheetah print, and is fairly easy to assemble. The tree is intended for cats of all ages and sizes, but wall anchors are included for added stability. While it stands at six feet tall, the footprint of the tree measures only 27 inches long and 39 inches wide. For just over $50, it's a heck of a deal that's sure to keep your cat entertained or at least well-rested. ​​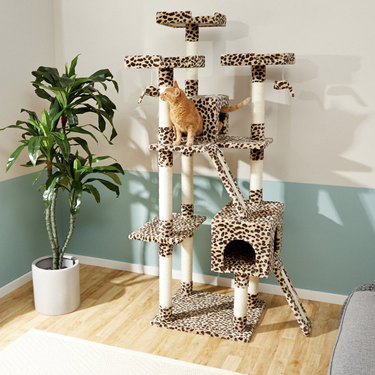 2. 20% Off: Smarty Pear Leo's Loo Covered Automatic Self-Cleaning Cat Litter Box
A gift to give yourself and your cat, this high-tech litter box has sensors that detect your cat's presence and automatically cleans up after them when they leave. The design of the drum entry prevents litter from sticking to your cat's paws and keeps unpleasant contained until the ultra-quiet sifting cycle is complete. The waste drawer boasts a bamboo charcoal filter and only has to be emptied about once a week for a single-cat household. When the disposal bin becomes full, an alarm will sound and the screen will display a notification. You can also monitor your cat's weight and bathroom habits via the display screen, and ambient lighting allows your feline to find the litter box in the dark. The inside sphere measures over 21 inches in diameter, so it's suitable for most cats. However, it's only compatible with clay clumping litter, which some cats may not like.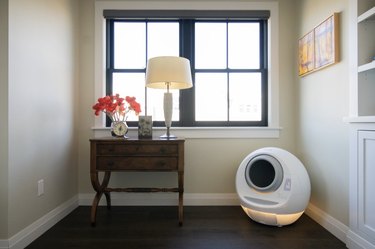 3. 30% Off: Frisco White Marble Ceramic Personalized Dog & Cat Bowl​
Treat your cat to a personalized food bowl featuring a marble motif. This white ceramic dish comes in two sizes—a 1-cup or 4.75-cup capacity, although the smaller version is probably best for cats. When designing the bowl, you can choose the font, text color, size, and alignment. You're also able to preview the bowl as you customize it. One downside is that it's not dishwasher or microwave safe—the bowl needs to be hand-washed after mealtime.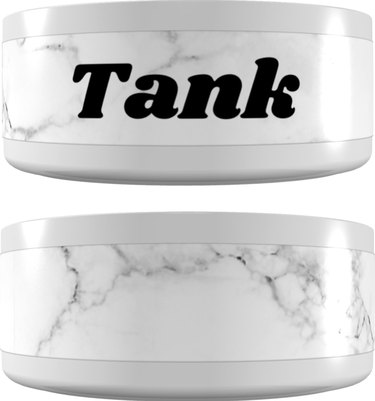 4. Buy 2, Get 1 Free: Frisco Holiday Cat Tracks Cat Toy
The holiday version of Frisco's uber-popular batting and clawing toy will delight your cat when they discover it under the tree. It features three tracks (each with its own rolling ball) and two festive and interchangeable top teaser toys. The springy wires attached to the Santa hat and holly toys encourage interaction, while the moving balls tap into your cat's hunting instincts. If you'd prefer a toy that doesn't look out of place come July, it's also available in blue with fluttering butterfly toys.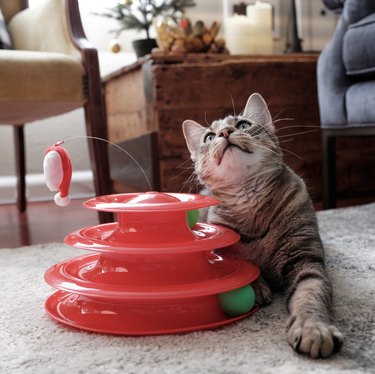 5. Save 20% at Checkout: Frisco Basic Dog & Cat Carrier Bag
If you're traveling over the holidays with your cat in tow, this comfortable pet carrier complies with the under-seat compartment requirements of most airlines. The interior's sherpa-lined base is removable and machine-washable, and five mesh panels ensure proper airflow. The sides are soft and flexible, and there's even a zippered "petting window" so you can reassure your cat during takeoff. The padded shoulder strap is adjustable and the carrier folds flat when not in use for easy storage. It comes in three colors and sizes Small/Medium (17 x 8 x 11.5 inches) or Medium/Large (19 x 10 x 13 inches) to accommodate cats weighing up to 22 pounds.