Amazon Prime Day 2022 is finally here! The two-day event is one of the biggest online sales of the year, and there are hundreds of great deals on pet supplies. ​Prime Day is happening now through Wednesday, July 13 at​ ​11:59 p.m. PT (2:59 a.m. ET), and you'll need a Prime membership to take advantage of the savings​​.​ Whether you're looking to spoil your pup with a new toy, keep tabs on them with a high-tech pet gadget, or stock up on kibble, keep scrolling for our roundup of the best Prime Day deals on dog products.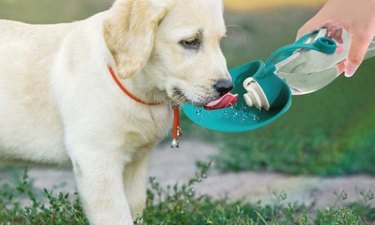 1. Zesty Paws Allergy Immune Supplement for Dogs
All Zesty Paws pet supplements are up to 29% off this Prime Day, but these lamb-flavored soft chews recently made Cuteness' list of The Best Dog Allergy Supplements in 2022. Infused with wild Alaskan salmon oil, they help dogs maintain normal histamine levels and regulate digestion. The grain-free chews are rich in omega-3, EPA, and DHA fatty acids, which benefit skin health, including allergy-related hot spots. The supplements also contain colostrum and apple cider vinegar to improve gut microflora and reduce allergy symptoms.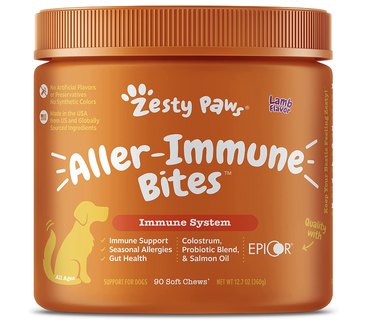 New for 2022, this high-tech and interactive device doubles as a 1080p full HD camera and treat dispenser. It captures both live picture and audio as it shoots out treats into your dog's mouth. Not only is it a fun way to toss dry dog treats, but it also serves as a home security camera with its 360-degree wide-angle view, both day and night, and also features two-way audio and a barking sensor that lets you know what's going on at home via the Furbo app. The first-generation Furbo, which offers a 160-degree wide-angle view, is also 30% off for Amazon Prime Day.
3. Outward Hound Slow Feeder Dog Bowl
The valleys in this interactive dog bowl are relatively shallow, making it appropriate for most dog breeds. The flower-shaped maze is a good starter slow feeder and isn't likely to frustrate your pup. The bowl is available in a 2-cup or 4-cup size and touts a slip-resistant base to keep it firmly in place while your dog is eating. The medium bowl measures 8.75 inches in diameter and 2 inches deep, while the larger version spans 11.75 inches in diameter and 2 inches deep. It's made from durable plastic that's BPA-, PVC-, and phthalate-free. Plus, it can be thrown into the dishwasher for easy cleaning (just make sure it's placed on the top rack).
4. Pet Union Professional Dog Grooming Kit - Rechargeable
This kit contains everything you could need to groom your dog at home in one convenient package (it's even Amazon-recommended). Ideal for thin to medium dog coats, the kit includes clippers with four guards, adjustable precision-cut blades, comfort combs, scissors, nail clippers, a charger that allows for cordless operation, and more. It's also whisper-quiet so it'll be far less likely to scare your dog, reducing the hassle of grooming your furry friend yourself.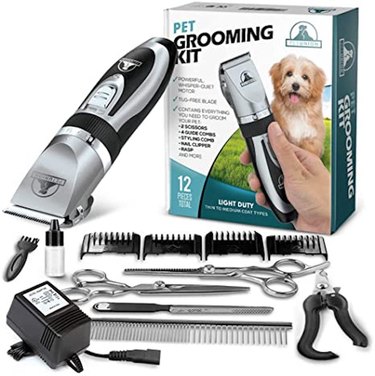 5. Yicostar Dog Water Bottle for Walking
This smart and sleek water bottle partially converts into a drinking reservoir so your dog has easy access to a cool, refreshing drink when you're away from home. Perfect for bringing on a long road trip or hike, it eliminates the need to awkwardly pack a water bowl on a day outing and it's a much safer option than letting your dog drink from the nearest outdoor water source. The bottle holds 20 fluid ounces. As a bonus, the bottle also comes with a collapsible dog bowl that can hold 12 fluid ounces or 1.5 cups of dog food.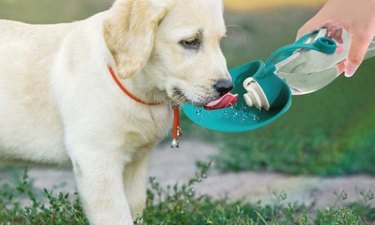 6. Wag Chicken Breast Jerky Dog Treats, 1-lb. Bag
This savory jerky for dogs is made in the U.S. and features whole muscle chicken breast as the number-one ingredient. There is no added grain, corn, soy, wheat, or artificial colors and flavors. The treats come in a 1-pound resealable bag for convenience. Take note: these are very chewy and you may need to break them into smaller sizes for your dog, but he'll enjoy them just the same.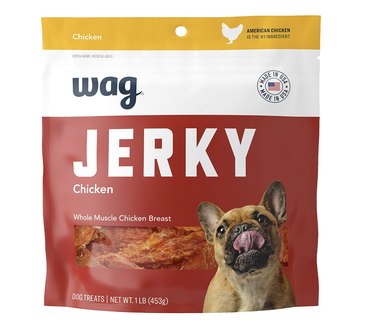 7. Amazon Basics Unscented Standard Dog Poop Bags with Dispenser and Leash Clip, 900-Count
This awesome Prime Day deal comes with 900 dog poop bags (15 bags per roll, 60 rolls total). They're unscented, made of polyurethane, and reliably durable. The best part is the bags come with a handy plastic bag dispenser with a carabiner-style clip that you can easily attach to a leash. If you're a responsible dog walker who picks up after your pet, this is for you!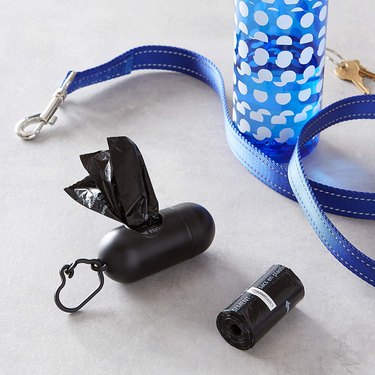 8. Amazon Basics Plush Pet Bed and Dog Crate Pad, Size Medium
This ultra-soft, plush dog bed pad is made of 100% synthetic polyester that's machine-washable for easy cleaning. The bed in question is a size medium measuring 35 inches long, 23 inches wide, and 3 inches high, but there are other sizes ranging from extra-small to extra-large at variable prices. Save 24% to 35% on sizes small through extra-large. This is the perfect bed to line your dog's crate or to place in the living room so she can chill while you watch TV.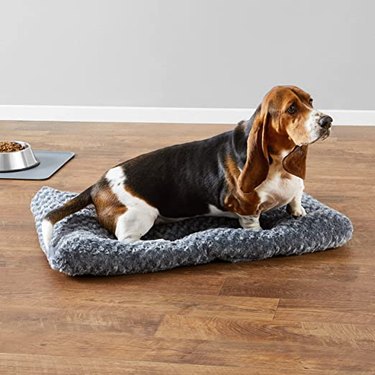 9. AMOFY Dog Seat Cover for Car Back Seat
This back seat cover for dogs by AMOFY is made of 100% waterproof Oxford cloth that makes it firmer, more durable, and easy to clean. It measures 54 inches wide and 58 inches long and will fit most cars, trucks, and SUVs. User-friendly features include seat anchors, buckle straps, side flaps, front pockets, and velcro seat belt openings. Keep your back seat clean and your dog comfortable!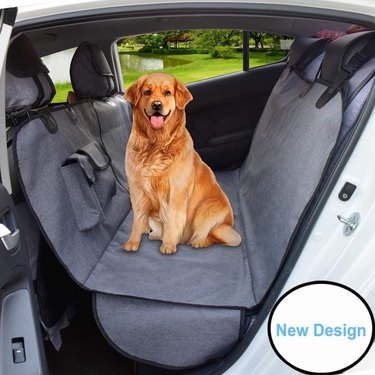 10. FRONTLINE Plus Flea and Tick Treatment for Dogs, Medium Dog, 6 Doses
FRONTLINE Plus flea and tick treatments for dogs and cats are up to 43% off today. These monthly doses can be quite pricey when bought in bulk, but Prime Day is a great time to save some money while protecting your dog from ticks that could transmit Lyme disease. This topical formula is easy to apply and provides non-stop protection for 30 days. It's sold in multiple sizes based on your dog's weight, ranging from small (5-22 pounds) to extra-large (89-132 pounds).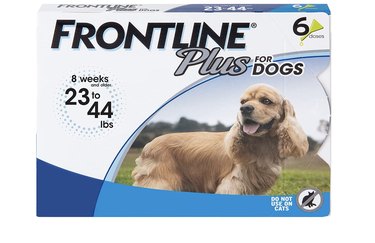 11. Dexas MudBuster Portable Dog Paw Cleaner
If you've been wanting to try out this viral TikTok product but couldn't justify the high price tag, now is the perfect time to score a deal on the MudBuster—it's up to 38% off depending on the color you choose. The tumbler-like container uses soft silicone bristles to rid your dog's paws of dirt and grime. Available in three sizes and six vibrant colors, this portable paw washer made of BPA-free silicone. Ensuring a snug (but not constricting) fit is essential, otherwise, the bristles won't be able to target the dirt wedged between paw pads.
12. New World Single Door Dog Crate, 36-Inch
There are many benefits to crate training your dog and this flat-folding model is a great option. The size pictured here is intended for dogs weighing between 40 and 70 pounds and measures 36 inches long, 23 inches wide, and 25 inches high. It has a slide-bolt door that latches securely, a leakproof pan, and floor-protecting roller feet. All sizes of this crate are between 30-51% off during Prime Day, and you can also pick up discounted accessories from the same brand such as crate covers or playpens.