Get your credit card ready, because Amazon Prime Day 2022 has finally arrived! This two-day event—one of the biggest online sales of the year—promises thousands of deals and some of the year's best offers, including cat products. ​Amazon Prime Day is happening now through Wednesday, July 13 at​ ​11:59 p.m. PT (2:59 a.m. ET)​​.​ You'll need a Prime membership to take advantage of the savings but you can sign up for a free 30-day trial if you're new to the program. Here we've rounded up some of the best Prime Day deals on cat products, including treats, litter boxes, interactive toys, automatic feeders, and more. Your feline friends may finally appreciate you!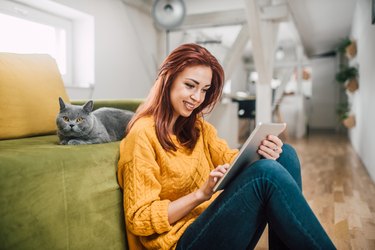 1. UPSKY Cat Toy Roller 3-Level Turntable Cat Toy Balls
This multi-tier cat toy features three colorful balls and three bell balls that roll around on different levels—super fun for your kitty to hit with their paw and watch roll around. Made of super-durable polypropylene (PP), the toy is built to endure aggressive cat scratching and other wear. The kinetic and sonic elements of the toy stimulate your cat's senses and hunting abilities while keeping them occupied. You can also detach each level to remove the balls, which can be fun on their own to play with on the floor.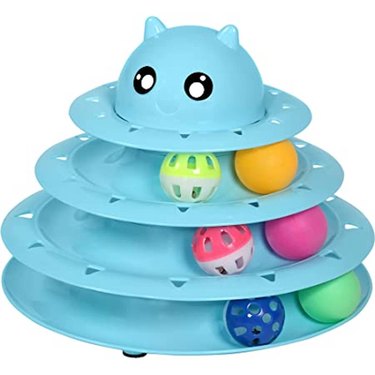 2. HOOBRO Cat Litter Box Enclosure
A litter box that doubles as a functional piece of furniture, this enclosure can be assembled with the opening on the right or left side. Inside, there's an adjustable divider to accommodate your cat's litter box and prevent litter from scattering onto the floor. The dual openings are quite large, and the piece comes in three colors (Greige, Rustic Brown, and White), although only two of the options are on sale. The litter box enclosure has a weight capacity of 220 pounds, so it can be used as a side table or nightstand. It's made of particleboard and measures 31.5 inches long, 20.2 inches wide, and 21.3 inches high.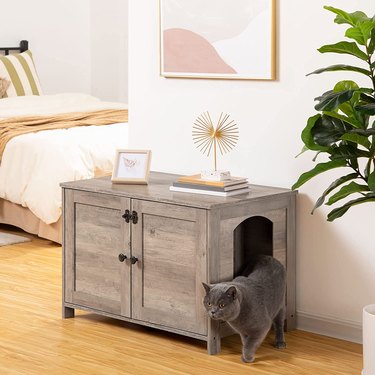 3. Veken Pet Fountain, 84 oz.
Cats are instinctually drawn to running water and providing them with an automatic fountain can help them stay hydrated throughout the day. Drinking plenty of water is especially important for cats with urinary tract or kidney disease. This 2.5-liter (84-ounce) model is super quiet and intended for small- to medium-sized pets. It's made out of BPA-free PP resin and features three different flow modes. The fountain also has a triple filtration system to keep the water fresh and hair-free. As an added bonus, it comes with a matching silicone mat to catch any spills.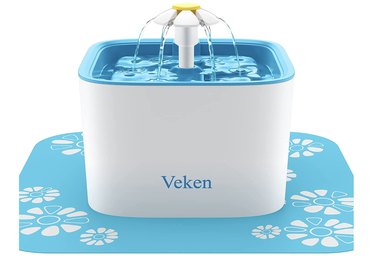 This collapsible, three-way tunnel is made of tear-resistant polyester. It features a peephole in the center and a dangling ball on a string for swatting. Each tube is about 10 inches in diameter and 14 inches long. The tunnel resembles a Y-shape when assembled. It's currently 40% off and available in black with blue trim or black with pink trim (there are also two patterned options that aren't a Prime Day deal).
5. WOPET 6-liter Automatic Cat Feeder, WiFi Enabled
This useful feeder can connect to a 2.4GHz WiFi network, allowing you to control it from anywhere via the free Pet Zero iOS/Android app. Schedule up to 15 meals per day and choose the best portion size for your cat. Multiple family members can use the app, so you can verify whether or not someone else has fed the cat. You can even record a 10-second voice message that your cat will hear every time the food dispenses. The feeder has a 6-liter capacity and features a dual power supply (power adapter and backup batteries) so your cat will still get fed in the event of a power outage. Best of all, it's currently 43% off!
6. Kitty City XL Wide Corrugate Cat Scratchers, 3-Count
Your cat will love this three-pack of extra-large corrugated paper scratchers. Each board measures 18 inches long, 10 inches wide, and 3 inches high. Upon placing your order, you will be sent a color at random, but the pattern is playful and geometric. The boards are double-sided (just be sure to follow the included instructions) and are extremely durable for the price. Made of recycled materials, these boards are a great way to appease your cat's natural instinct to scratch.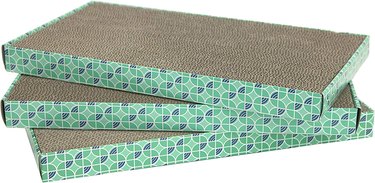 7. Tractive Waterproof GPS Cat Tracker
If you're looking to keep tabs on your outdoor cat, this GPS tracker slips onto your cat's collar. Via a smartphone app, you can track your cat's whereabouts in real-time. It does require a subscription plan, which starts at $4.99 per month. The tracker itself is 100% waterproof and lightweight. It can also be used to monitor your cat's activity, including active time, rest, and calories burned. The Tractive GPS Tracker for Cats is currently 40% off, but you'll have to act fast!
8. IRIS USA Top Entry Cat Litter Box with Cat Litter Scoop, Size Large
If you have a dog that likes to eat kitty litter or are looking for a box that will trap cat urine, this top-entry model should do the trick. It's aesthetically pleasing too, so it will blend in nicely with your home decor. It comes in two sizes (medium or large) and four colors (white, black, gray, and orange). You also get a perforated litter scoop with your purchase. Pictured here in size large, white, the top-entry litter box measures 20.75 inches long, 16.13 inches wide, and 14.63 inches high. Right now it's 31% off and selling fast!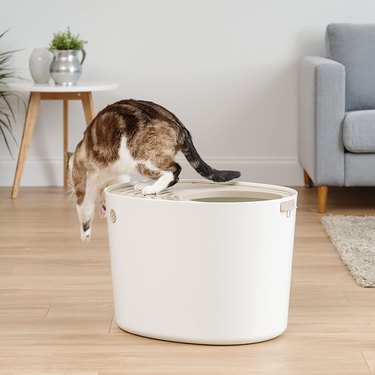 9. Dooradar Cat Harness and Leash Set, Size Small
Available in extra-small and small, this adjustable cat harness and leash set is secure yet comfortable. It's a vest-style harness that fits over the head (so it may not be suitable for super wiggly cats) and comes in eight vibrant colors. The extra-small fits cats with a neck girth of 8.5 to 11 inches and a chest girth of 13.5 to 16 inches. The small fits cats with a neck girth of 11 to 13.7 inches and a chest girth of 18 to 20 inches. Be sure to measure your cat before placing an order. If your cat is between sizes, it's best to size down. Right now, the set is 21% off.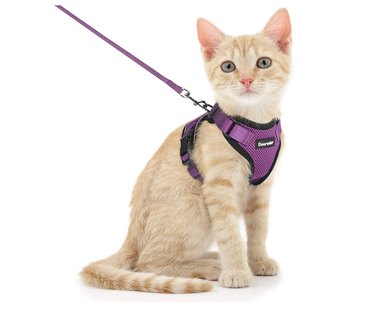 10. Cat Hammock for Window
Does your cat like to sit by the window and watch the world go by? Make her daily routine a little cozier with this renter-friendly window perch. It's easy to assemble and attaches to a window via four heavy-duty suction cups. The hammock consists of ABS plastic pipes, an outdoor fabric mat, and 2-millimeter-thick steel wires. The hammock can support up to 40 pounds and comes with an extra flannel mat for warmth. It's sold in black or beige and is currently up t0 62% off.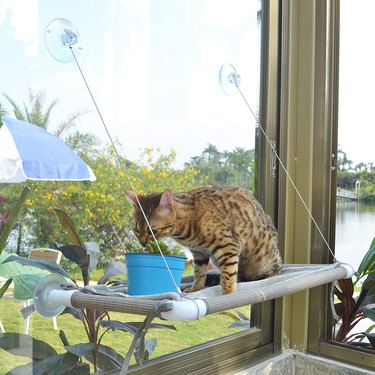 11. Odoland Cat Scratching Post, Mushroom
Has there ever been a cuter scratching post? This 14-by-12-inch mushroom duo is wrapped in natural sisal rope. The base is covered in fake grass and is quite sturdy. Assembly takes only a few minutes—you just have to screw the mushroom caps on and secure the mushrooms to the base. All the components are nontoxic so you don't have to worry about your cat licking or ingesting any of the pieces. The scratching post is rather small, so it's best suited for small- to medium-size cats.