Yes, our dogs are tough, but they aren't indestructible. Their paws are designed to cover much tougher ground than our own feet can, but even then, some temperatures are just too much. Getting the right gear for protecting your dog's paws against damage caused by hot surfaces is a wise move.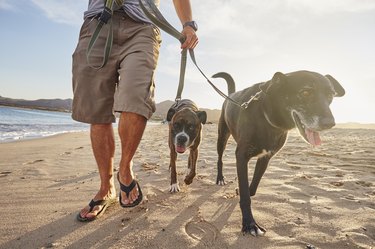 Ground temperatures can be deceiving
If you're going on your daily walk or on an outing, such as to the beach or lake, you may feel that the temperature is fine if the air is pleasant. But Four Paws International warns that ground surfaces such as sand or asphalt can get much hotter than the surrounding air. When the air temperature is just 77 degrees Fahrenheit, asphalt can be as hot as 125 degrees. When the air is a scorching 95 degrees, asphalt can be a dangerous, searing 149 degrees.
They also report a study that showed that when concrete reaches a temperature of 104 degrees, brick can reach 109.4 degrees and asphalt can be 123.8 degrees. Not even a super dog can withstand that. Vets Now explains that an egg can fry in five minutes at 131 degrees, but it only takes one minute at those temperatures for your dog's tender paw skin to be scorched.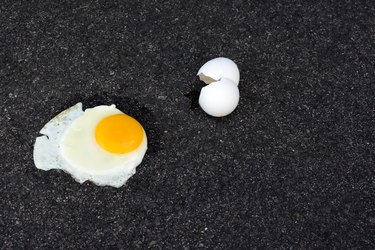 The right gear for paw protection
Booties, or even stick-on pads, are the best dog paw protection gear for hot days outdoors. When searching for the right booties for your dog's outdoor time, choose ones that have rubber soles to offer the best protection and traction. Some dogs might not like having things on their feet, but if you give your pooch a chance to get used to them, we think he'll appreciate the chance to adventure even more without having to endure hot paws.
Grand Strand Humane Society recommends for you to touch surfaces with your own hand for 10 seconds to determine if it is safe for your dog to walk on them. If it is too hot for you to keep your hand or foot on it, then it is too hot for your pet. When your dog is walking with bare paws, stay on grassy surfaces whenever possible, and avoid the hottest parts of the day by walking in the early morning or cool of the evening.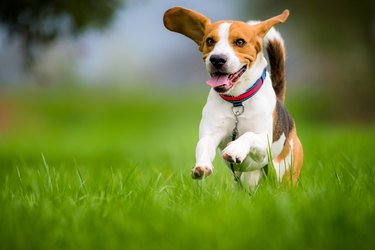 The Best Dog Paw Protection Gear for Hot Days Outdoors
1. Qumy Dog Boots Waterproof Shoes for Dogs
When you're ready to go on an adventure, easy-on, easy-off rubber boots are a necessity. These booties are secure and adjustable, with a wide side split that opens to slip your dog's foot right in. They fit snugly so they stay on, and have two reflective straps for visibility.
These come with a tough anti-slip sole which should give your dog traction on either wet pavement or slippery rocks. They are also made even cuter by a pet paw embroidery decoration. These are made of water-resistant material for rainy days that is soft and breathable material for hot days. Bonus: These are hand-washable.
Easy on, easy off
Hand-washable
Water-resistant yet breathable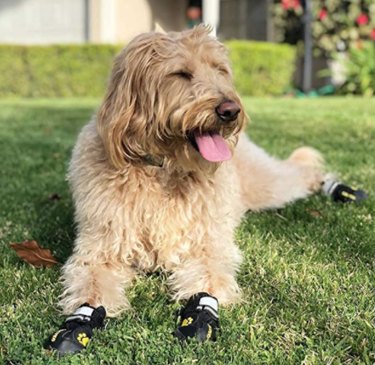 If your dog has small feet, they might prefer the feeling of rubber dog booties that slip on and stay on without straps. These natural rubber dog boots are stretchy enough that they go right on, and don't need to be tightened or adjusted with straps. They are naturally waterproof and reusable, yet also can be tossed when they wear out. Although they provide traction and protection, they are thin enough that your dog can still feel the ground.
The nice thing about rubber boots, which are the texture of a raincoat, is that they offer protection from hot pavement as well as sharp rocks or thorns and chemicals such as salt for icy sidewalks. Even better, if your dog has an issue with licking their paws after they've been exposed to chemicals such as ice salt, having something on their paws will prevent that from happening. The manufacturer says the natural rubber in these boots is 100 percent biodegradable. Since they come in a pack of 12, you've also got some peace of mind that you'll still be able to go out in them even if you lose one.
Waterproof and reusable
Thick rubber that offers protection from not only hot pavement but also rocks, thorns and other dangers
Don't need to be tightened or adjusted with straps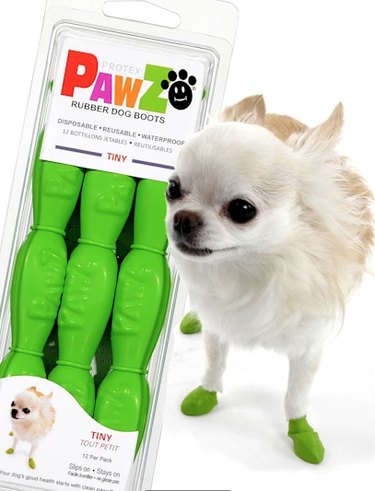 3. Bark Brite Neoprene Paw Protector Dog Boots
One of the most important aspects of using dog booties is getting the proper fit. After all, you don't want one slipping off mid-run, or cause your precious pooch to lose their grip while climbing, for instance. These are available in five sizes, from small to extra-large, and the material is flexible and designed to mold itself to your dog's natural paw shape for the most comfort. Neoprene is a sturdy but lightweight rubber material and these have ventilation holes for optimum breathability.
The light blue color performs well in hot temperatures by being reflective rather than absorbent. These booties come with two elastic reflective straps for low-light visibility and easy adjustment. These also have a 3 1/2-inch slit in the back of the booties to make the on and off process easy and comfortable. They're made with a durable, puncture-resistant rubber sole.
Flexible material designed to mold itself to your dog's natural paw shape for extra comfort
Durable and puncture-resistant soles
Neoprene lightweight rubber material with ventilation holes for breathability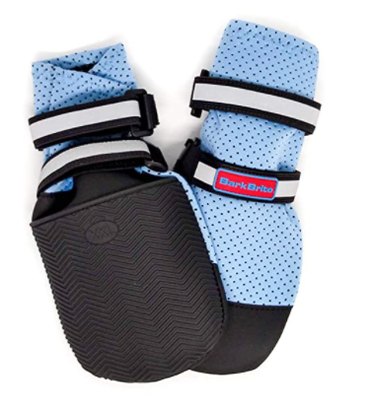 4. Kurgo Blaze Cross Dog Shoes
These are a step above booties to become actual shoes. These will give your adventure dog the highest level of protection against hot pavement, broken glass, sharp rocks, or anything else that might cross her path. These shoes are made from breathable tight weave mesh with rubberized synthetic leather uppers. The sole's structure is designed to mimic the structure of your dog's pads for the utmost comfort and traction.
The material is water-resistant and each shoe features an ankle cord that's easily adjustable. They're finished with reflective accents to help keep your pup safe and visible. Availability in six sizes from XX-small to X-large, which means you'll find the perfect fit for your best friend. These can be hand-washed and spot-cleaned — just don't dry them in the dryer.
Tough and rugged for ultimate protection from the elements and natural dangers
Sole's structure is designed to mimic the structure of your dog's pads for extra comfort
Water-resistant and easily adjustable
5. Valfrid Dog Paw Protector Anti-Slip Grips
If your dog needs some paw protection but you don't want to invest in booties she might not wear very much, stick-on pads could be the answer. Stick-on pads attach with a non-slip glue that is a safe and non-allergenic adhesive. The pads themselves are fabric, which is both breathable and anti-slip.
These go on easily — all you have to do is peel the sticker off and stick it to your dog's paw. Available in six sizes, from small to XXX-large, you can find the perfect size for your next outing. Those hot sand dunes are toast! As a bonus, these paw pads can give some extra grip to senior or three-pawed dogs who may need a little support on hardwood floors, or even slick grass.
Peel and stick for extra traction and protection
Safe and non-allergenic adhesive
Breathable and anti-slip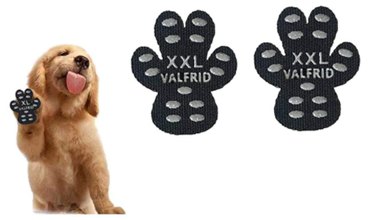 6. Musher's Secret Paw Protection Natural Dog Wax
As an extra layer of protection for your dog's precious paws, you can apply a balm. The wax is formulated to create a barrier between your dog's tender skin and the harsh elements. That means hot pavement, icy sidewalks or hot sand won't be as much of an issue. This moisturizing formula is a blend of 100 percent pure natural waxes, including white and yellow beeswax and vitamin E.
If your dog's paws get dried out from sand or dirt, this balm will soothe and protect, and prevent cracked pads and paws. The ingredients are safe and natural — it includes only white and yellow beeswax, carnauba, candelilla waxes, and vegetable oils with vitamin E. All you have to do to apply this wax is rub it on paw pads and between toe pads. No need to shave hair. Simply re-apply as needed.
Moisturizing blend of 100 percent pure natural waxes
Soothes and protects your dog's paws while preventing cracked paw pads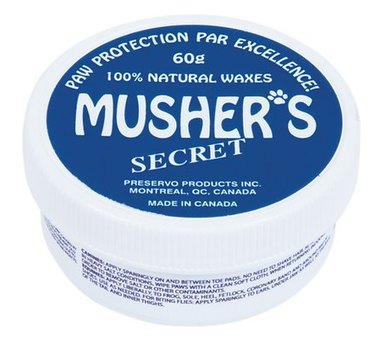 7. Dermapaw Dog Skin & Paw Treatment
If your dog does spend a little too much time on hot pavement or sand, give him a soothing dog paw cream. This skin and paw treatment helps soothe itchy paws or skin. It's made with nothing but natural ingredients like shea butter, jojoba oil, emu oil, beeswax, and lavender — it's something you could put on your own skin. It won't hurt your dog if he licks it.
Putting it on is easy — just gently rub it on. As a bonus, the manufacturer says this cream kills bacterial and fungal yeast infections. It's safe to use on paws, nose, tummy, tail, earflaps, lips, and anywhere else your dog needs it.
Soothing and can be licked
Kills bacterial and fungal yeast infections
Safe to use not only on paws but other areas of the body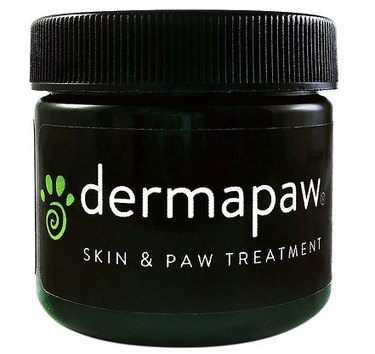 Summer is made for spending time with your favorite pup outdoors. Whether that's walks on the beach or just around the neighborhood, dogs need foot protection on hot days just like you do. It only takes a minute for skin damage to occur when a surface is scorching from absorbing the sun's rays. Foot coverings are important because they protect your dog's feet from heat and scratches.