Does your dog enjoy going on vacation? Vacationing with your dog can be a lot of fun, but sometimes you might need or want to travel without your pup. For pet parents, leaving their dog behind in the care of a dog sitter while you travel can be stressful! It's important to find the right dog sitter to take care of your dog while you are away.
What kind of sitter do you want?
When considering hiring a dog sitter, it's important to know what kind of sitter you want. Are you looking for someone to take your dog to their home to watch while you are traveling? Or would you prefer to have a pet sitter that will temporarily move into your home, taking care of your dog and sleeping at your house overnight?
Many dogs know when their people are getting ready to leave for vacations, which can be stressful but dogs thrive on consistency of routine and many prefer to being in their own homes. With that in mind my preference is always to have a sitter stay in my home that I know is dog-proofed with a securely fenced yard, but different dogs have different preferences, and you may need to experiment with different sitter styles to figure out what works best for your pup.
If you're looking for a dog sitter, it can be helpful to ask for referrals from people you know. Your vet may have a list of pet sitters who they recommend, groomers also often have these list. Sometimes staff members who work part time at the clinic even work as dog sitters on the side. If you have friends in the neighborhood who also have dogs etc. it's also helpful to ask them who they use as a dog sitter when they need to leave their dogs. Word of mouth and a personal connection is a great way to find a quality dog sitter.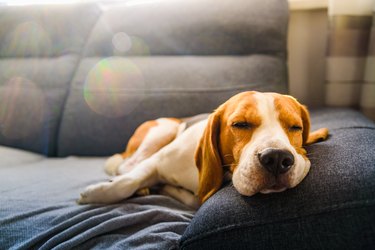 The qualifications you're looking for in a dog sitter are going to be unique to your situation and what kind of care your dog(s) need. Pet care in the United States is an unregulated industry (just like dog training), meaning anyone regardless of their experience working with dogs can call themselves a professional dog sitter.
When looking for a potential dog sitter, ask about what kind of experience they have working with dogs. Do they just like dogs, or have they worked professionally dog walking and/or as a dog sitter? Are they a vet tech? Do they also train dogs? Did they use to work at a doggy daycare or grooming salon? None of these things are required, but can be helpful in letting you know how much experience a person has with dogs.
Other qualifications to look for would be if they are a member of the National Association of Pet Sitters. You can also ask if they have been trained/certified in Pet CPR and First Aid. Many local humane societies offer classes in canine first aid and CPR, and the American Red Cross also has an online course. It can also be helpful to ask if they have business insurance as a dog sitter. Of course, none of these things are a guarantee that a potential dog sitter will be a good match for your family.
The idea "you get what you pay for '' isn't always the rule of thumb to follow when hiring a dog sitter. The most important thing is to find a dog sitter who you feel good about hiring, and who you feel like will take the best care of your dog possible. Although dog sitting is sometimes seen as a casual gig, it's a good idea to hire experienced dog sitters who have made caring for dogs a core component of their careers. This is especially important if you have a dog with special health or behavioral needs, a puppy, or a senior dog who need special care and attention.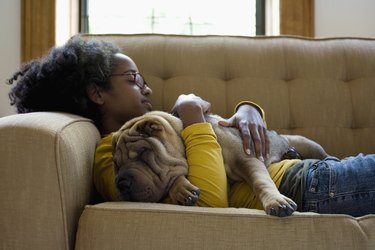 For many pet parents, hiring a dog sitter can be stressful and overwhelming. A comprehensive interview process will tend to weed out people who aren't serious and help you make sure the potential sitter is someone that you feel good about.
When interviewing potential dog sitters, it's helpful to ask about their experience working with dogs like yours. For example, if your dog is reactive, you might ask about a sitter's experience walking reactive dogs, or administering medication if you have a dog who needs medication regularly. It can also be helpful to ask about a sitter's experience working with large or high energy dogs if that sounds like your dog.
When interviewing new dog sitters, it is helpful to ask about the sitter's general availability. Do you tend to need to travel on short notice or are you able to schedule trips further in advance? Discussing scheduling demands can help you to get a sense of if you'll be able to use the same sitter for each trip, or if you'll need to find a new sitter for your dog each time you travel.
It's important for your dog to have a chance to "interview" the prospective sitter as well. This will give your dog a chance to meet a prospective sitter and also help you to get a sense of how your dog feels about the sitter.
In addition to interviewing the dog sitter you'll want to check references. As part of the interview process, be sure to ask for contact information of past or current clients who would be willing to talk to you about their work, and then check those references.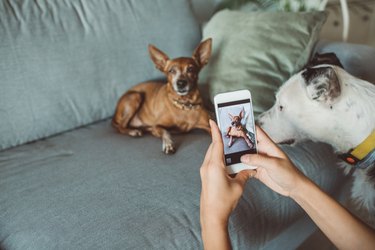 Your dog sitter doesn't have to become your best friend, but it is important that you hire someone whose values match with yours. Make sure that your dog sitter is personally and professionally committed to utilizing positive reinforcement approaches to training. Even though your dog sitter isn't (usually) going to be a dog trainer, they will be working closely and directly with your dog, and so it's important to make sure you are comfortable with the way they will be handling your dog. When interviewing prospective sitters, it can be helpful to ask how they would respond to different scenarios that could come up like if your dog were to chew something up, steal food from their plate, jump up etc. and if they utilize only positive reinforcement training methods of handling dogs.
It's important to be clear with your dog sitter about what your boundaries are for what they will do while watching your dog. For example, how long can they leave your dog home alone each day? Are you ok with them taking your dog out hiking or would you rather they stay closer to home? Do you want your dog to go out on walks or would you rather they only be exercised in your yard? It's important to be clear about your expectations for the dog sitter before you leave town. If your dog is going to be walked, are there specific routes you want the sitter to take (or avoid)? What gear (harness vs collar etc.) should your dog be wearing if they are to be walked? Is it ok for the dog sitter to let your dog play off leash?
You'll also want to specify if they can have guests over in your home. Even the best dog sitters aren't mind readers, so if there are any instructions or rules that are important to you for keeping your dog happy and safe those need to be clearly communicated to your dog sitter in advance.
Once you've found the right dog sitter for your family it's time to get ready to go on vacation! Most of us are very particular about how our dogs are cared for, and what their daily routines look like. To help your dog adjust to staying with a sitter it's important to leave clear instructions about your dog. In addition to walking your new dog sitter through the house and going through your dog's routines it's helpful to leave written instructions the dog sitter can reference while you are away in case they need a refresher about any part of your dog's routine like how much they eat or what time they need to go outside. Don't forget to give your pet sitter information they might need about your home like the code to your alarm system, WIFI password, what day the trash needs to be taken to the curb etc.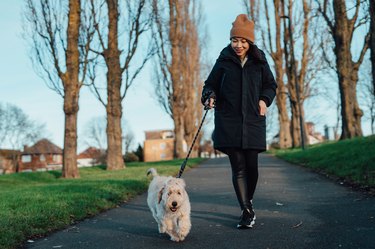 Be very clear about what you want to happen in the unlikely case an emergency does arise. For example, should your dog sitter call you before taking your dog to the vet, or do you want them to go to the vet and then contact you?
Before you travel, it's helpful to alert your vet clinic to let them know that your dog will be staying with a sitter. Some clinics will be willing to make a note of the dog sitter's name and allow you to put a credit card on file to cover vet bills in case an emergency happens while you are away and for some reason couldn't be reached. Leave a list of emergency phone numbers and addresses easily accessible for your sitter. Be sure to include your cell phone number, the name and phone number for the hotel where I'll be staying as well as your vet, and my preferred emergency veterinary clinic. If you have a close friend or family member who knows your dog well it can also be useful to list them as an additional emergency contact with your dog sitter.
Establish communication expectations
If you're anything like me you can only check out and enjoy your vacation when you have the peace of mind knowing that your dog is happy, safe and comfortable with their sitter. In advance of your trip, talk with your sitter about what kind of check-ins and communication you expect to receive. Do you want daily pictures? Text morning and evening? Daily emails are another option if you are traveling internationally or on a cruise ship and will only have WIFI access and no cellular service. Whatever will make you feel comfortable that your dog is doing well is what you should ask your sitter for.
It can feel stressful to think about leaving your dog with a sitter. Start as early as possible before your trip, so you can interview prospective dog sitters until you find a dog sitter who you feel confident will take great care of your dog while you are away. If you're nervous about leaving your dog with a sitter, it can also be helpful to start with short one or two night trips to give you peace of mind that your dog sitter is a good match for your pup. When you get home, don't forget to tip your dog sitter for a job well done!