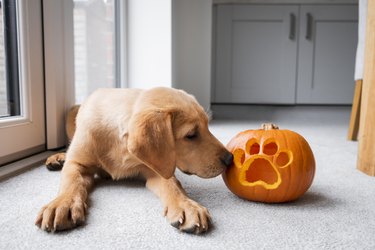 With the return of pumpkin spice lattes comes a deluge of other fall-flavored goodies, including dog treats. Beyond its rich and earthy taste, pumpkin provides dogs with a long list of digestive health benefits. It's packed with soluble fiber, which can help treat mild diarrhea or constipation in dogs, according to the American Kennel Club. It also contains important vitamins and minerals, as well as prebiotics to regulate your pup's gut microbiome.
If you're looking to incorporate pumpkin into your dog's diet in a fun and playful way, consider purchasing some gourd-infused goodies. Here we've rounded up six healthy and delicious pumpkin-flavored treats that your dog is sure to fall for.
1. Riley's Organic Pumpkin & Coconut Bone Dog Treats, 5 oz. Bag
Ever contemplated taking a bite of your dog's treat to see what all the fuss is about? Now you can thanks to Riley's Organic's 100 percent human-grade recipe. Made from just six ingredients that are all easy to pronounce, these pumpkin and coconut treats come in sizes small and large. They're made right here in the USA, and the company promises to donate five meals for shelter dogs with every purchase.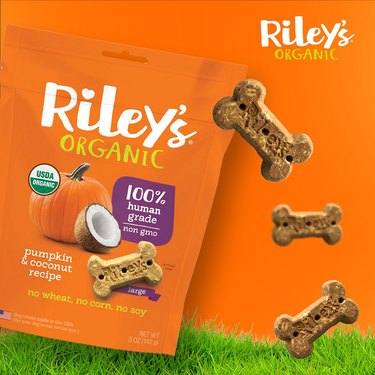 2. Hill's Grain-Free Soft-Baked Naturals with Duck & Pumpkin Dog Treats, 8 oz. Bag
If your dog prefers savory over sweet treats, these soft-baked morsels from Hill's should hit the spot. Real duck is the first ingredient, followed by whole foods like potatoes, peas, and pumpkin. The treats are grain-free and don't include corn, wheat, soy, or added artificial preservatives, colors, or flavors. They're bone-shaped and just over 1 inch wide, with less than 12 calories per treat. Hill's bakes the treats in the U.S. using globally-sourced ingredients.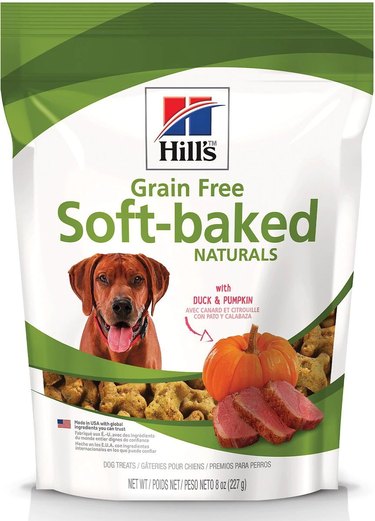 3. Greenies Pumpkin Spice Flavor Dental Dog Treats, 12-Count
Looking for a convenient way to improve your dog's dental health? The grooved texture of these vet-recommended treats helps ward off plaque and tartar. Greenies are American-made and available in four different sizes to accommodate dogs that weigh between five and 100 pounds. The pumpkin spice flavor is a limited-time release for fall, but the scent isn't overpowering if PSLs aren't your thing. Unfortunately, this flavor doesn't come in a value pack, but the plaid-printed bags are sure to get you and your dog into the fall spirit.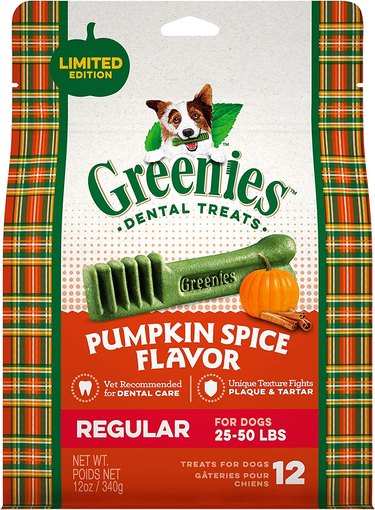 4. Only Natural Pet® Frozen Yogurt Dog Treat, 4-Count
During those early fall days when it feels like the dog days of summer just won't quit, treat your pup to a frozen yogurt treat. Made in the USA using only eight ingredients, these pumpkin and cinnamon-flavored goodies have added prebiotics and digestive enzymes for dogs with tummy troubles. While you can buy these frozen treats online, you do have to pick them up in-store or use same-day delivery through DoorDash (available in select areas) for melting-related reasons.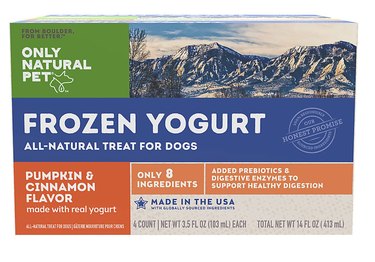 5. ACANA Singles Freeze-Dried Beef and Pumpkin Dog Treats, 3.25 oz. Bag
Remember the utter joy of biting into an astronaut ice cream sandwich as a kid? Now your dog can feel like they too are floating around the International Space Station with these freeze-dried goodies from ACANA. Both the ranch-raised beef and whole pumpkins are sourced from Kentucky, and the freeze-drying process helps to lock in nutrients and fresh flavors.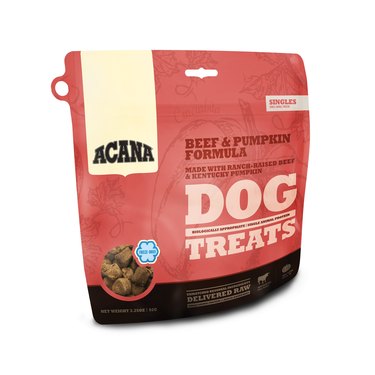 6. Good Lovin' No Rawhide Pumpkin Flavored Puppy Teething Rings, 4-Count
Those in search of a boredom-buster will want to grab a pack of these puppy teething rings made from highly digestible ingredients. Offered in three different chew types—Light, Moderate, and Aggressive—the gum-massaging rings are intended to be long-lasting, although some reviewers said their puppies gobbled them up quickly. The pumpkin-infused chews are made outside of the United States, so puppy owners concerned about sourcing only local ingredients might want to seek out an alternative.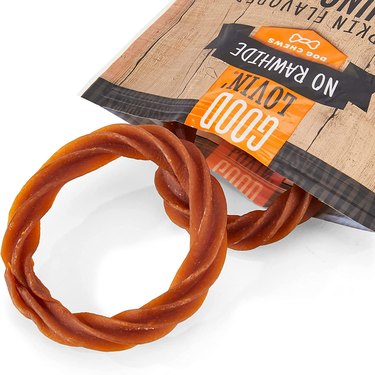 7. Portland Pet Food Company Pumpkin Biscuits, 5 oz. Bag
If your dog suffers from allergies or food sensitivities, try these grain-free and gluten-free pumpkin biscuits. They're baked twice, meaning they have a light, crunchy texture, and are free of artificial flavors, colorings, and ingredients. All of the ingredients are sourced in the U.S. and the treats are hand-crafted in the U.S. as well. There are 12 calories per biscuit and the ingredients include garbanzo bean flour, pumpkin, peanut butter, molasses, and cinnamon—that's it!