The autumn season has begun! What does that mean? Pumpkin spice everything! We're only half kidding. Your dog might not be able to enjoy a pumpkin spice latte from the way you can (although these pumpkin-flavored dog treats are sure to hit the spot), but there are still are plenty of ways to get your dog into the fall spirit, whether he knows what that means or not. Check out our list of delicious-looking, fall- friendly dog toys and accessories, with a little bit of pumpkin spice.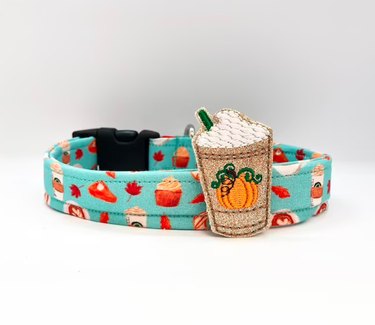 1. FuzzYard Pumpkin Spice Puppuccino Plush Dog Toy
This pumpkin spice puppuccino dog toy by Fuzzyard might look even more mouthwatering than the real thing. Featuring a super soft plush material that's stuffed with fluff, it also contains a loud squeaker inside that will make it irresistible to your dog. It's approximately 7 inches long, 4 inches wide, and 2 inches thick, so while it's appropriate for all dog life stages, it may be on the larger side for a puppy or small dog.
2. Squeaker Pumpkin Pie Dog Toy by CherryWillowPets
Made of 100 percent cotton yarn and stuffed with polyfill, this handmade dog toy by CherryWillowPets on Etsy looks just like a delicious slice of pumpkin pie, complete with a dollop of whipped cream. Perfect for playing fetch, it's also durable enough for chewing and contains a squeaker inside. It measures approximately 4 1/2 inches long, 4 inches wide (at the edge of the "crust"), and 1 1/2 inches thick.
3. Pumpkin Spice Dog Collar With Pumpkin Spice Latte Embellishment by PawesomePups
This seasonally appropriate dog collar by PawesomePups on Etsy is handmade to order. It's constructed out of multiple layers of fashionable cotton fabric that are sewn over waterproof and mildew-resistant webbing tot reinforce the fabric and make the collar sturdy, yet comfortable. Heavy-welded D-rings and contoured side release buckles provide additional durability and comfort. The pumpkin spice latte embellishment comes with the collar, but is removable.
One of the best things about this dog collar is that it's machine-washable: Use cold water, a mild detergent, and lay it flat to air-dry. It comes in four sizes ranging from X-Small to Large, with widths ranging from 5/8 inches to 1 inch, as well as adjustable lengths ranging from as short as 7 inches to as long as 24 inches.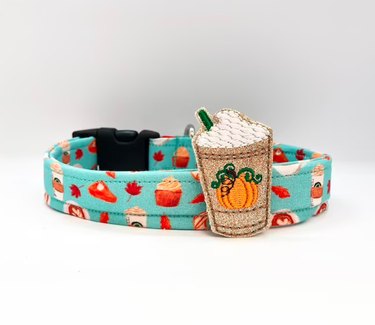 These adorable dog (or cat) ID tags by HomeSweetPet on Etsy are perfect for pumpkin pie-lovers. They're made of lightweight aluminum and are available in three different pattern choices and sizes. You also have the option of customizing one or both sides — in case you want to put your contact information on the back, for example. Packaged in a small gift box, this would be a great personalized present for a friend with dogs or cats.
5. PrideBites Fall Leaf Durable Dog Toy
This durable leaf-shaped dog toy squeaks and floats, making it ideal for chewing, playing fetch or throwing in the pool. If it gets dirty, just toss it in with your laundry as it's machine-washable. Best of all, every purchase from PetFlow helps feed a pet in need. PetFlow's mission is to help shelters spend less money on food so more money can be invested in healthcare, rehabilitation, and housing.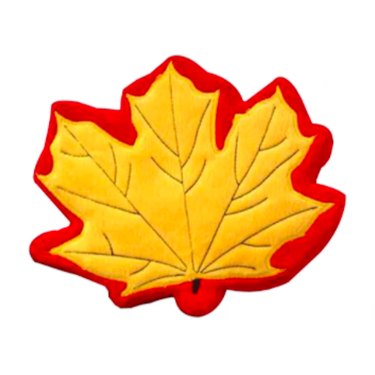 6. Pumpkin Organic Knit Dog Toy by WhiskersWorld
This cute hand-knit dog toy is both adorable and functional. Made from organic materials, the handwoven style helps clean dogs' teeth and gums as they play. It's stuffed with an organic cotton filler and includes a loud squeaker inside. Measuring approximately 3 to 5 inches, this toy is on the smaller side and ideal for puppies.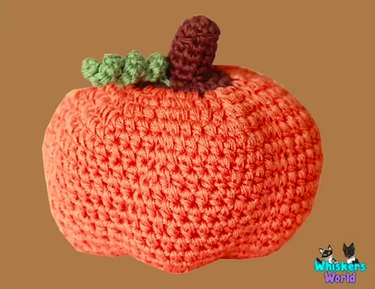 7. ZippyPaws Holiday Burrow Cornucopia Interactive Squeaky Hide and Seek Dog Toy
Your dog can get hours of fun out of this creative, harvest cornucopia-inspired plush dog toy. The super soft horn features a cavity that can hide cute-faced vegetable toys (included) inside. Each smiling veggie toy also contains a squeaker for added amusement. Your dog will love mastering the tricky task of digging out the vegetables from inside the horn. This imaginative toy is suitable for dogs of all sizes, but not recommended for very heavy chewers. However, it's an excellent dog enrichment toy.