Winter is approaching quickly, and as temperatures in the air and on the ground continue to drop, you may be wondering if you need to invest in some winter gear for your dog. While many dog breeds generally have enough fur to keep their bodies sufficiently warm in chilly temperatures (except for those in extremely cold climates), the need for paw protection is universal.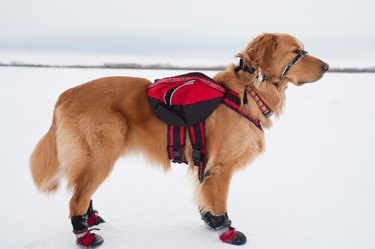 Winter weather can pose some risks to your dog's paws. For example, snow and ice can increase your dog's risk of frostbite and dry out their paw pads, leaving the skin chapped or cracked. Just as we humans find dry and chapped lips uncomfortable or even painful, the same goes for cracked paws—which dogs have to walk on all day.
Fortunately, there's an easy preventative solution. According to the Animal Humane Society, winter boots are the best way to protect your dog's paws from the cold. We've compiled a list of the best dog boots on the market so you can choose the ones that best suit your and your dog's situation and needs.
Tip
If your dog will be spending a lot of time in frigid temperatures and you don't want a dogcicle on your hands, check out The Best Dog Winter Coats.
What to consider when purchasing dog winter boots
Dog winter boots are not only the perfect complement to winter coats, especially in snowy conditions but the best way to keep your dog's paws safe from cold weather and the elements. When shopping for dog winter boots (or booties), keep these tips in mind:
The material of the sole should be textured for good grip and traction.
The sole should also be flexible so your dog can walk naturally and comfortably.
Look for boots made from waterproof or water-resistant materials.
Make sure the boots are the right size. The dog boot manufacturer should have a size chart on their page. If your dog is between sizes, consider getting the next size up so your dog's paws are more comfortable.
Consider how well the boots will stay on when your dog is playing in the snow—or how inexpensive and replaceable they are if your dog should lose one. Semi-reusable rubber booties tend to be less warm but usually come in a large pack, so if your dog loses a few, it's not a big deal.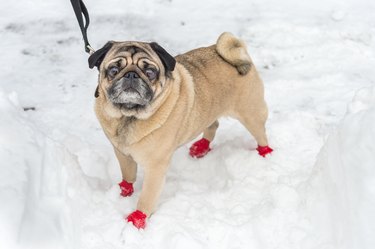 Tip
To measure your dog's paw size, have your dog stand on a blank piece of paper. Instead of tracing the paw, mark the front and back of the paw (including the toenail) for length measurement. Measure the distance between the lines. Do the same on the left and right sides of the paw for width measurement.
Since most dogs don't like the feel of shoes or boots, consider training yours by letting them try some on in your home for short periods of time while using positive reinforcement—but remember, wearing them for too long indoors can increase your dog's risk of overheating.
1. QUMY Waterproof Dog Boots
These dog boots feature an anti-slip molded rubber bottom to provide traction and feature water-resistant material to keep your dog's feet warm and dry. Adjustable, reflective strips provide some visibility in the darkness. Each pack comes with four boots and is available in dog sizes 2 through 8.
2. EXPAWLORER Waterproof Dog Boots
These durable, weather-resistant dog boots are perfect for adventurous dogs who spend a lot of time hiking and running in the snow. Made from waterproof material, they feature non-slip, grooved soles that provide good traction. Each boot sports an ergonomic shape designed to provide maximum comfort, including an anti-collision toe nap to protect your dog's toes effectively against impact. Convenience hooks and fasteners keep each boot secure at all times, while making it super easy to put on and take off. Reflective lines on the outside also help improve visibility at night. Each pack comes with four boots and is available in dog sizes 1 through 8.
3. RUFFWEAR Grip Trex Outdoor Dog Boots
While these boots aren't designed for snow in particular, they'll still keep your dog's feet warm in cold temperatures and protect them from all types of terrain, making them well-suited to dogs that frequently go on hikes with their humans. Featuring a rugged and resilient Vibram outsole that provides excellent grip, the body consists of a breathable mesh that keeps out dirt and snow, but prevents your dog's paws from overheating—the best of both worlds. The closure system uses hooks and loops and cinches around the narrowest part of your dog's leg, keeping it secure. The boots are available in pairs (as some dogs' front and back paws differ in size) or sets of four. For the active dog, these boots are an excellent choice in either temperature extreme.
4. Canada Pooch Soft Shield Dog Boots
These fashionable dog boots extend well above the paw and cinch up snugly, making it nearly impossible for snow and sleet to get in, keeping your dog's feet warm and dry. If your dog gets little snowballs stuck to their fur, this is a good option for them. An ultra-wide opening makes each boot easy to slip onto your dog's feet, while a drawstring keeps it from slipping off. The body is made of polyester and spandex, while a rubber grip sole provides traction and minimizes skidding. Reflective straps provide nighttime visibility. The boots come in a pack of four and are available in dog sizes 1 through 6.
5. PawZ Dog Rubber Booties, 12-Count
While these semi-reusable rubber booties from PawZ aren't the toughest (or most fashionable) of the bunch, they're a smart choice for dogs visiting a cold climate, but not staying all season. For example, if you're taking a family trip to the snowy mountains but normally avoid the cold, these booties are an inexpensive option that will still protect your dog's feet from the snow and cold ground. Each boot is easy to put on, made from natural rubber that's 100 percent biodegradable, and lasts for multiple wears before needing to be replaced. They come in a pack of 12, which is helpful since they won't last forever, and if your dog happens to lose one in the snow, you'll have extra as backups.
Bonus: Musher's Secret Paw Protection Natural Dog Wax
Not all dogs want to wear booties—some even hate it! If your dog refuses to wear them, but you want to provide them with paw protection in extreme temperatures, this dog-friendly wax is a great alternative. Simply spread some wax onto your dog's paws and within minutes, the non-toxic solution will form a temporary protective seal on their paw pads, designed to protect them from ice, snow, sand, and rock salt. The moisturizing formula is made from 100 percent pure natural waxes, including white and yellow beeswax, plus contains Vitamin E that not only protects but also soothes cracked paws and paw pads.