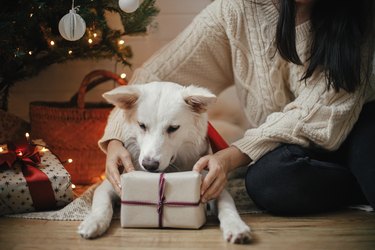 Chewy has made shopping online for pet supplies more convenient than ever. You can set orders of your dog's kibble to autoship so you never run out, or fill a prescription and have them contact your veterinarian for approval. This year, the company is even making holiday shopping a breeze by giving pet parents six days to score amazing deals on toys, treats, apparel, home decor, tech devices, and more. Chewy is also running buy two get one free promotions and daily flash deals on select items.
The Cyber Savings Event is taking place from Nov. 24 to Nov. 30 at 11:59 p.m. EST. Here we've rounded up all the best deals and highlighted some of the products worth gifting your pup this holiday season. If you've got a blended family of dogs and cats, be sure to check our guide to Chewy's Best Cyber Monday Deals for Cats.
1. 30% Off Frisco Steel-Framed Elevated Dog Bed​
If your dog overheats easily, has mobility issues, or likes to lounge outdoors, an elevated dog bed is a worthwhile investment. A powder-coated steel frame is paired with a PVC-coated sleeping surface for a bed that's as durable as it is comfortable. The breathable fabric stays taut, helping to alleviate pressure on joints, and can be wiped clean with a cloth or sponge. The bed comes in five earthy colors and three sizes, accommodating dogs that weigh up to 85 pounds. ​​The feet are skid-resistant for added stability and the sleeping surface can be thrown in the washing machine on a gentle cycle in cold water if it starts to smell.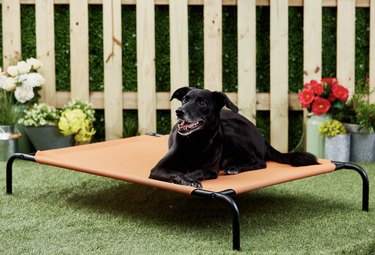 2. 30% Off Frisco White Marble Ceramic Personalized Dog & Cat Bowl​
Just because your dog is illiterate, doesn't mean he can't have a bowl with his name on it. Your pup's name is scrawled across a marble-printed band with an adhesive backing that wraps around this white ceramic bowl. You can choose from a 1-cup or 4.75-cup capacity, although the smaller size is better suited for a cat or a very small dog. The small bowl measures 5 inches long, 5 inches wide, and 2 inches high, while the large bowl measures 7 inches long, 7 inches wide, and 3 inches high. While it's certainly a great holiday gift idea, the bowl is not microwave or dishwasher safe—you'll need to hand-wash it after mealtime.
3. Buy 2 Get 1 Free Select Disney Toys
Spread Disney magic to your dog by gifting them a toy of your favorite character. This buy two get one free deal includes holiday-themed toy sets, hide-and-seek puzzles, squeaky tennis balls, wagazoo plushies, rope toys, and more. Several toys are priced under $5, so you can fill your pup's stocking with all the classic Disney characters including Mickey, Minnie, Donald, Daisy, Goofy, and Pluto.
4. 20% Off Fi Series 2 GPS Tracker Smart Dog Collar
Some dogs are escape artists who warrant a smart collar that uses cellular and GPS tracking technology. This waterproof model includes a customizable LED light and a monitor that measures activity levels. If your dog ever escapes, you'll receive a notification on your phone right away. Switching to Lost Dog Mode in the app allows you to get minute-by-minute location information for up to two days. Although the collar is super durable and has a long battery life, some users have reported issues with the accuracy of the GPS. You also have to purchase a subscription ($99/year) to gain remote access to your dog's whereabouts, meaning outside the range of your smartphone, charging base, or WiFi.
5. 20% Off Wisdom Panel Essential Breed Identification DNA Test for Dogs
If you've got a mysterious-looking, mixed-breed dog, the Wisdom Panel Essential Dog DNA Test can shine a light on their "ancestry, medical complications risks and genetic predisposition." Its DNA database is comprised of 350 breeds (using samples from over 1.7 million dogs) and can trace your pup's family tree all the way up to their great-grandparents. It'll also tell you about their ideal weight range and which medications they might be sensitive to. As a pet parent, all you have to do is swab the inside of your dog's cheeks, seal the test swabs, and mail it back in the carton with a pre-paid shipping label. Wisdom Panel claims to report breed mix down to 1% and results are typically delivered to your online account within two to three weeks after the swabs arrive at the lab.