It's always a good time to play fetch with your dog—at least, according to your dog. Even though life can sometimes get in the way of a fun game of fetch, it's an important activity for dogs. Playing fetch has some major benefits for dogs, like improving mood, lowering anxiety, and stimulating the brain. Plus, the exercise is great for dogs' overall physical well-being. As it turns out, your dog isn't the only one benefiting from a game of fetch—playing fetch with your dog is also good for your overall well-being. The quality time spent together strengthens your bond, and playing can lower stress and get you moving. But before you can play fetch with your dog, you need a good fetch toy.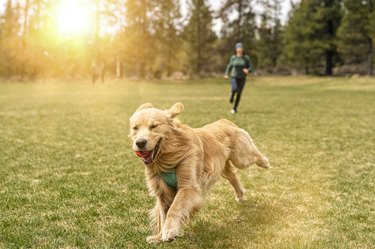 What to Consider When Buying a Fetch Toy for Your Dog
​Size:​ It's important to make sure a fetch toy (or any toy for that matter) isn't too big or too small for your dog's mouth. If it's too big, it might be hard for your dog to grasp and hold onto. If it's too small, it could be a choking hazard or easily swallowed. Choose a toy that's small enough to fit inside the front of your dog's mouth and large enough not to fit into the back of the mouth. The goal is to find the size that won't cause any risk.
​Durability:​ Not all dogs are rough on toys, but some can rip toys to shreds in less than a minute (you know who you are, dogs). So, if you want a fetch toy to last beyond a few uses, you should make sure it's durable. If it's not, you'll probably find out after it's too late. If a toy ends up in pieces, it's important to quickly discard those pieces so your dog doesn't ingest them.
​Material:​ Ideally, dogs should play with toys that are made of non-toxic materials, as well as those that are BPA- and phthalate-free and FDA compliant (meaning they're safe to eat off). But let's be realistic—that isn't always reasonable. So, you have to decide which materials work best for your dog. No dog toy is indestructible, but some are certainly sturdier than others. Hard rubber toys hold up well, even for the most active chewers, as do tough plastics like frisbees. Toys made with multilayer construction add durability. Most fetch toys are water-resistant, so a little saliva here and there won't hurt, but if you plan on playing fetch in the water, you'll need to buy a waterproof toy.
Take a look at our top-rated fetch toys for dogs below.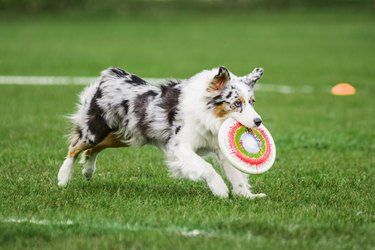 1. ChuckIt! Sport Ball Launcher
Do you have a dog who seems to want to run forever, and do you have the space to let them? The ChuckIt! Sport Ball Launcher is the perfect toy for active breeds. Made of durable plastic, the launcher firmly grasps a tennis ball then releases it as you swing. Once you get some practice under your belt, you should be able to throw the ball anywhere from 100 to 140 feet. The company offers small, medium, or large balls along with launcher options between 14 inches and 26 inches in length. There's also a foldable launcher option that comes with four balls.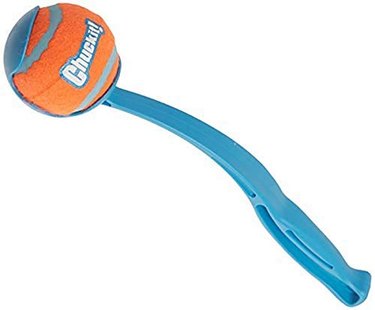 The KONG Classic Flyer is a disc (think frisbee but a lot softer) that can provide hours of fun for both you and your dog. The accuracy of flight with this disc is pretty spectacular, even if you don't have the best aim. In other words, it's hard to mess up a game of fetch with this toy. Made of soft rubber, the flyer is flexible and gentle on your dog's mouth and teeth. It isn't designed to be a chew toy, so make sure you keep an eye on your dog during playtime.
3. EASTBLUE Rubber Squeaky Toy
It can be a challenge to find durable toys for heavy chewers, but this squeaky ball for medium and large breeds is as tough as it gets. The ball is shaped like a football, so you should be able to get some distance when throwing it. Aside from being a great fetch toy, it also works well as a chew toy, as it's made of non-toxic natural rubber and has an irresistible squeaker inside. Choose from four colors: blue, pink, teal, and yellow.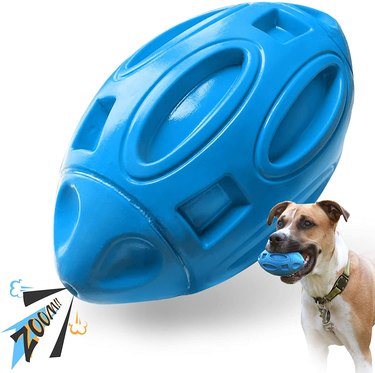 4. Nerf Dog Tennis Ball Blaster
Now, this is a toy that's just as fun for humans as it is for dogs. Why throw a tennis ball when you can Nerf blast it? The blaster launches up to 50 feet, but if your environment doesn't allow for that, you can easily change the distance using the adjustable power settings. The 20-inch blaster comes with three tennis balls that can safely be used with small, medium, and large breeds. Perhaps the best feature of the toy is being able to reload the blaster without touching the ball, saving yourself from all that slimy dog saliva fun—you know the kind.
5. West Paw Zogoflex Air Skamp
There's a lot to love about the Air Skamp, so we'll jump right in. This lightweight toy is designed for large dog breeds, and it makes an ideal fetch toy because it's easy to throw and easy for your dog to pick up. It's made of a non-toxic, latex-free, dishwasher-safe material, so it's safe enough (and durable enough) to also work well as a chew toy—even for tough chewers—as well as a sturdy tug toy. Choose from three colors: orange, purple, and green.
The Hyperflite Jaws Disc isn't your average frisbee. This puncture-resistant disc is made to withstand the rough and toughness of dogs' teeth. Designed by frisbee world champions, the disc is capable of record-setting throws, but of course, your dog won't care if you break any records. Its professional quality offers fantastic aerodynamics, hi-tech polymers, and patented dual gripping surfaces to make things easier for both you and your dog. Don't let all the bells and whistles throw you off though—you don't need to be a frisbee pro to have success with this toy (and on the other side of things, we totally get that throwing a frisbee can be tricky, but you got this).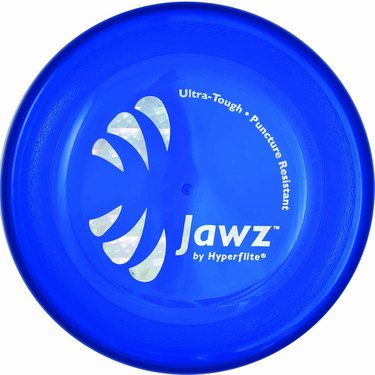 7. KONG Wubba Classic Toy
Your dog will love the Wubba because it's easy to hold onto while playing fetch and tug, but most importantly, it's equipped with a squeaker. While the outside is made of durable nylon and reinforced fabric and stitching, inside there's a tennis ball for bouncing and a squeaky ball for chew time. The Wubba comes in three sizes: small, large, and extra-large. Unfortunately, you don't get to choose the color, but either blue, purple, or red will be randomly sent after your purchase.
If you have the space, fetch can be a fun indoor game (even if you don't have the space, you can probably get creative and figure it out). You'll just need an indoor fetch toy, aka one that won't break windows, lamps, or other fragile household items. This indoor ball from ChuckIt! is the perfect solution to rainy days, late-night games of fetch, or if you just don't feel like going outside. The ball is lightweight and made of multilayer construction along with Bounceflex Core Technology, making it soft enough for indoor play with the right amount of bounce for a fun game.