If your monthly subscription boxes and weekly trips to the pet store have resulted in an astronomical number of dog toys, don't worry: experts say there's no limit to how many plushies, tennis balls, and chew toys your pup should have. That being said, if you care about keeping your floors clutter-free, a storage basket is absolutely necessary to corral all those toys.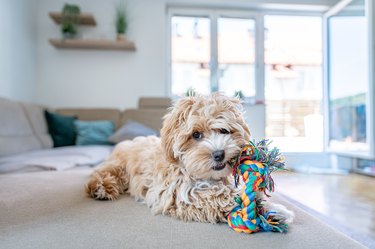 Whether you're looking for a solution that will blend in with your home decor, keep toys out of sight when playtime is over, or make it easy for your dog to retrieve toys on their own, our list of the best dog storage baskets covers all the bases. Before we take a look at our top choices, here are a few things to keep in mind when selecting the toy storage basket that's right for you and your pup.
What to Consider When Purchasing a Dog Toy Storage Basket
​Size:​ The size of your storage basket should depend on how many dogs you have and how many toys they own. Although "the limit does not exist" when it comes to the acceptable number of dog toys, if you live in a smaller space, you might want to consider a multi-purpose piece of furniture in lieu of a basket, such as a bench with pull-out drawers or a storage ottoman.
​Open or Closed Storage:​ Although your dog would surely prefer that their toys be kept out at all times, when company comes over, you'll probably want to tuck them away. Choosing a lidded storage basket offers a tidier look, but you will have to assist your dog since most designs feature a zipper or velcro closure. An open basket ensures that your dog has easy access to their toys and can be an equally effective storage method—it all comes down to personal preference.
​Style:​ If you long for a storage basket that doesn't scream "dog," fear not, there are plenty of design-forward options on the market made from materials like jute and velvet. Choose a style that blends well with your home decor, or say "fluff it" and go all out with a bone-print basket embroidered with your dog's name.
​Durability:​ Some dogs think the storage basket for their toys is a toy itself. If that sounds like your pup, consider investing in a container made from something tough like steel wire, cotton rope, or BPA-free plastic. If your dog has previously damaged her basket while trying to retrieve a toy, look for something with fold-down sides that makes it more accessible.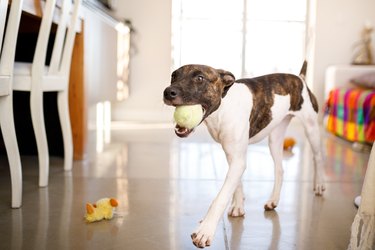 The most compelling feature of this gray felt storage basket from BarkBox is the foldable side, which tucks neatly into a half-loop. This provides your dog with easy access to their toys, meaning they're less likely to flip it over or cause damage. Another aww-factor is the tag that reads: "Property of: __ (But I'll Share for Treats). The basket is only available in "standard size," which measures 13 inches wide, 13 inches in diameter, and 12 inches high, but it still manages to hold a considerable number of toys. The charcoal-colored felt handles are quite sturdy and the basket can be spot-cleaned if it gets dirty. Keep in mind that if your dog is a particularly aggressive chewer, he may be able to tear through the felt material.
2. Bone Dry Bone-Shaped Hyacinth Storage Basket
Now here's a storage basket that won't look out of place in your living room. Woven from dried water hyacinth, the bone-shaped basket measures 24 inches long, 15 inches wide, and 9 inches high. This is the largest size available and is a suitable height for most dog breeds. If your pup has a difficult time reaching their toys, you could add a towel at the bottom of the basket to prop them up. A reinforced metal frame trimmed in seagrass fiber allows the basket to maintain its shape. While hyacinth is a fairly durable material, it's not recommended for dogs that are teething or aggressive chewers.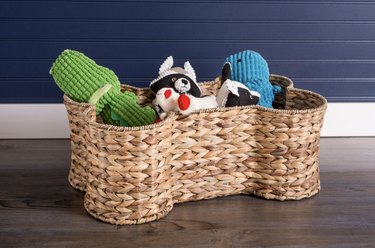 3. Morezi Large Dog Toys Storage Box
When you want to keep your dog's toys out of sight, reach for this two-compartment storage box with velcro-fastened lids. Pictured here is the large size, which measures 17 inches long, 12 inches wide, and 10 inches high. The removable middle divider allows you to separate plush toys from tennis balls or dedicate one half to supplies like leashes and poop bags. The canvas box also folds flat, making it easy to store when not in use. There are 18 colorways to choose from, available in various styles and messages like "Dog Toys" or "Dog Treats." With this version, the brown faux-leather handles are a sophisticated touch.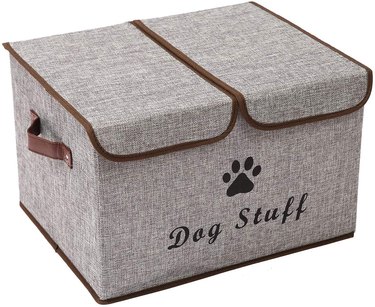 4. INDRESSME XXXLarge Cotton Rope Basket
This oversized, cotton rope basket can hold a heck of a lot of dog toys. It's 21.7 inches long, 21.7 inches wide, and 13.8 inches high—the ideal size for multi-pet households or spoiled pups. The reinforced handles are built-in, rather than attached, so they're less likely to rip. The cotton material is soft to the touch and the sides have some flexibility for dogs that like to retrieve their own plushies. The basket is shipped flat, so it may take some time for it to achieve its desired, round shape, but it's extremely versatile and can be used to store towels, blankets, pillows, and more. You can choose from eight color-blocked styles (mostly neutral hues) and the basket is machine-washable if you place it in a laundry bag.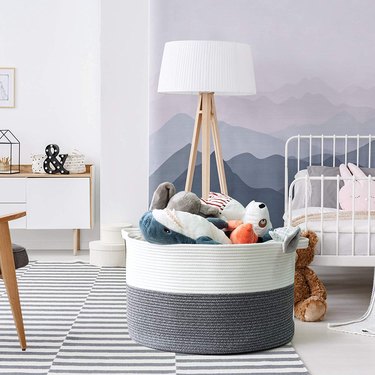 5. Spectrum Diversified Scoop Wire Basket
Thankfully, a steel wire basket can't be ripped to shreds by your dog. This pretty copper version is sturdy yet lightweight and has a scooped front that makes toys more accessible, even to smaller breeds. It's on the smaller side, measuring 13 inches long, 12 inches wide, and 8 inches high, but you could always purchase two and place them side by side. If you're not a fan of the copper color, the medium-sized basket comes in a satin nickel or cool gray finish. Unlike fabric baskets which need to be spot-treated or machine-washed when they get dirty, this basket could simply be rinsed off in the sink and then dried with a tea towel.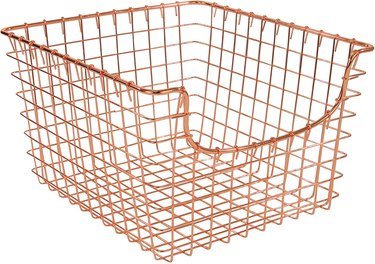 6. Yellow Velvet Storage Bin
Looking for a storage solution that's colorful ​and​ trendy? This super-soft velvet bin has a quilted triangle pattern and comes in teal, mustard yellow, and mauve. The latter color is more of a dusty rose than a pastel pink, so that's something to keep in mind when ordering. The bin is 12 inches high and 15 inches in diameter, but the sides are pliable enough for a dog to reach in. The bin is surprisingly sturdy and holds a lot of toys. Plus, the little strings on your pup's rope toys won't get caught on anything like they sometimes do with wire baskets. While these bins are certainly more expensive than other options on our list, we think the luxe look is worth the splurge.
7. Behrens High Grade Steel 3GS 17 Gal Silver Galvanized Steel Round Tub
This one's for the dogs that drool, the dogs that chew, and the dogs that own more toys than most children. If you require a near-indestructible storage basket for your dog's toys, you can't go wrong with a galvanized steel tub. With a 17-gallon capacity, this version measures 24 inches long, 24 inches wide, and 11 inches high. It's best suited for large breeds or dogs with long legs that can crane their neck over the threshold. This round tub has a shiny, silvery finish and is rust-, heat-, and fire-resistant. It also features attached metal handles so it can be toted around easily. Is it the most aesthetically pleasing storage basket on this list? Absolutely not, but it does hold dozens of toys and stands up to wear and tear.