Stainless steel dog bowls are often praised for their unmatched durability and hygienic properties, but for the design-conscious pet parent, their utilitarian aesthetic leaves much to be desired. Ceramic dog bowls, especially those that are handmade, offer an authentic, perfectly-imperfect look that blends in with most decor styles. Plus, they come in myriad colors, textures, and patterns—allowing you to pick a bowl that suits your dog's personality, and perhaps your own exquisite taste.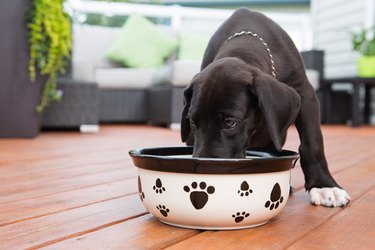 If you're in the market for a ceramic food or water bowl, but need some tips on selecting the right one for your dog, keep scrolling.
What to Consider When Purchasing a Ceramic Dog Bowl
​Durability:​ Ceramic is a hardy material, but it is breakable, especially if dropped on a hard surface. Generally speaking, the heavier the bowl, the less likely it is to chip or shatter. A ceramic bowl with some weight also makes it harder for your dog to push it around the kitchen or flip it over. To extend the lifespan of a ceramic bowl, it's best to wash it by hand even if the label says it's dishwasher-safe.
​Glaze:​ Unlike stainless steel, ceramic dog bowls are porous, meaning they can harbor bacteria if not cleaned regularly. Some manufacturers add an antimicrobial glaze to give the bowl a glossy finish and make it easier to clean. However, glazes used on cheaply-made ceramic bowls sometimes contain lead, mercury, and other harmful chemicals. It's important to verify that the ceramic bowl you select for your dog is non-toxic and food-safe.
​Size and Depth:​ We recommend choosing a ceramic bowl that's appropriate for your dog's size and face shape. The capacity should depend on how much food your dog consumes at mealtime, while the depth should depend on the shape of their nose. If your dog has a flat face, like a Pekingese or a French bulldog, choose a scooped, shallow bowl that makes it easier for them to access their food. If your dog has a long snout, such as a Dachshund or a German Shepherd, opt for a deeper bowl. Dogs with long ears, or those that tend to make a mess while eating, can also benefit from a steep-sided bowl.
Now that you know what to look for in a ceramic dog bowl, here are our top picks for 2022.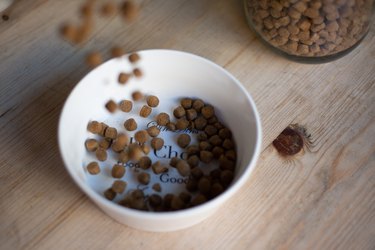 The Best Overall Ceramic Dog Bowl
Available in two sizes, Fable's minimalist ceramic bowl features a matte finish on the exterior and a glossy finish on the interior. The glaze has antimicrobial properties and makes it easier to clean by hand or on the top rack of the dishwasher. If your dog takes delight in tipping over her water bowl, this model has a weighted bottom to discourage that behavior. It also boasts steep sides to keep kibble in the bowl, not all over your floors. Certified BPA- and lead-free, you can rest easy knowing that this ceramic bowl is safe for your pup. It can even be popped in the microwave if they prefer their meals warmed up. Size XS/S measures 6 inches in diameter and 2.5 inches tall, while size M/L/XL measures 8.5 inches in diameter and 3.5 inches tall. There are four muted colors to choose from: Rose Dust (pink), Dark Shadow (dark grey), Mineral Grey (light grey), and Tofu (off-white).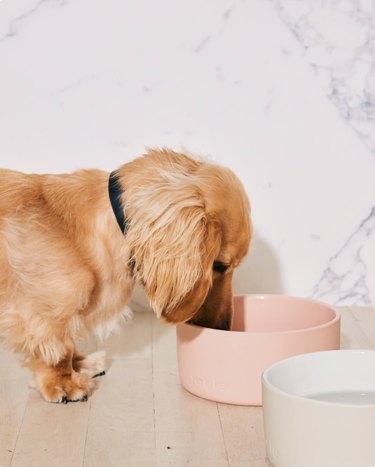 The Best Design-Forward Ceramic Dog Bowl
Desert Mountain Stoneware Pet Bowl
Is it a piece of mid-century pottery or a vessel for your dog's kibble? We'll never tell! This glazed ceramic bowl by Fringe Studio touts a mountain-inspired motif and an earthy terracotta color. The exposed stoneware base gives it a wabi-sabi vibe, and the wax resist design prevents gunk from sticking to the sides of the bowl. This size measures 6 inches in diameter and 2.37 inches tall, so it's suitable for small and medium breeds. The bowl is dishwasher and microwave-safe, but we'd recommend hand-washing it with warm, soapy water to preserve the finish. If terracotta isn't your color, it also comes in charcoal (just note that it's a much smaller size).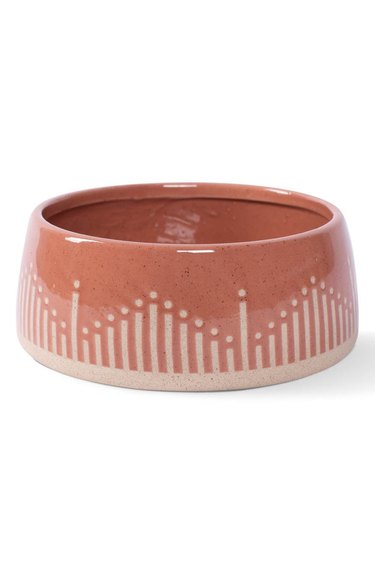 The Best Ceramic Dog Bowl for Flat-Faced Breeds
PetRageous Designs Metro Oval Ceramic Dog & Cat Dish, 1-cup
For flat-faced dogs, a wide and shallow bowl makes for a more enjoyable dining experience. This oval-shaped ceramic bowl has 1.5-inch, gently curved sides that allow your Pug or Boston Terrier to comfortably reach their food. It holds one cup of food and measures 6.5 inches in diameter, which is helpful if your dog has whisker sensitivity or breathing difficulties as it gives them more space. This high-quality ceramic bowl is hand-crafted and oven-fired, ensuring durability. It's fully compliant with FDA regulations for human consumption and is safe to use in the microwave or dishwasher. The paw motif at the bottom of the bowl is a cute touch, too. While it's suitable to use as a food bowl, it's a bit too small for a water bowl.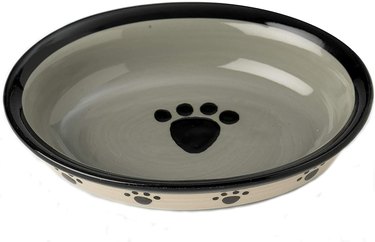 The Best Ceramic Dog Bowl for Long-Snouted Breeds
Waggo Ripple Ceramic Dog Bowl
This ripple-design bowl looks good, and your long-snouted dog will feel good eating or drinking out of it, too. It's made with ceramic that meets FDA standards for human consumption and comes in a 4-cup or 8-cup capacity. The smaller size measures 6.5 inches in diameter and 2.75 inches tall, while the larger size measures 8.5 inches in diameter and 3.25 inches tall. There are six colors to choose from, all in a modern matte finish. At three pounds, the bowl is heavy enough to discourage your pup from moving it around. It can be placed in the top rack of the dishwasher and is safe to use in the microwave.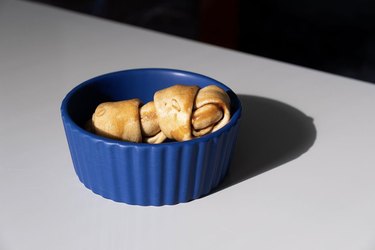 The Best Ceramic Dog Bowl for Long-Eared Breeds
PAIKKA Cubist Cone-Shaped Ceramic Dog Bowl, 6.5-cup
While you could buy your dog a knit snood to prevent their long ears from coming into contact with their food or water, there are cone-shaped bowls designed specifically for their needs. This lead-free ceramic model has a 6.5-cup capacity and weighs over 2 pounds for added stability. It's 8.3 inches in diameter and stands 3.4 inches tall. The tactile geometric pattern on the exterior gives it a unique flair and the creamy white color complements most decor styles. The bowl is safe to use in the microwave or dishwasher, but hand-washing would probably give you better access to the sloped interior.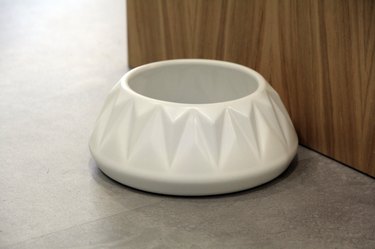 The Best Ceramic Dog Bowl for Messy Eaters and Drinkers
Waggo Heavy Ceramic Gloss Dog Bowl
Dog bowls with steep sides can help curb messy eating and sloppy drinking. This stylish ceramic bowl is available in 2-cup, 4-cup, and 8-cup capacities and four eye-catching colors—Dolphin (dark grey), Rose (light pink), Rust (terracotta), and Midnight (navy blue). The small is 5.2 inches in diameter and 2 inches tall, the medium is 6.5 inches in diameter and 2.75 inches tall, and the large is 8.5 inches in diameter and 3.25 inches tall. The biggest size weighs 3.64 pounds, making it difficult for even large breeds to flip it over or nudge it with their nose. The glossy finish is easy to clean and the company, Waggo, designs all of its products in Los Angeles. It's safe to use these bowls in the microwave or dishwasher if they prove too heavy to hand-wash.