When it comes to choosing the right material for your dog's food and water bowls, there's no better option than stainless steel. Durable, non-porous, and easy to clean, these hard-wearing bowls will last for years, even if you've got a pup that gets particularly excited about mealtime.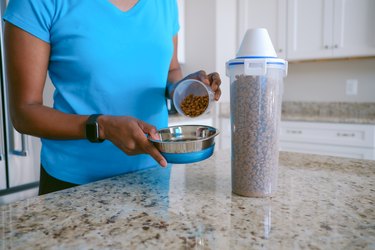 Compared to ceramic bowls, which come in a wide variety of colors, textures, and patterns, stainless steel bowls can seem a little boring. But we're here to tell you that there are personality-packed stainless steel bowls aplenty—you just have to know where to shop! Before we take a look at the top-rated stainless steel bowls, here are a few things to keep in mind when choosing a set for your dog.
What to consider when purchasing a stainless steel dog bowl
‌Non-Slip Backing or Mat:‌ Perhaps the only downside to a stainless steel bowl is that without a non-slip backing or silicone mat, it will slide all over the place, leaving a trail of kibble in its wake. A non-slip base is an essential feature of a dependable stainless steel bowl, even if it costs a bit more.
‌Insulation:‌ Double-wall insulation is a nice-to-have but by no means necessary feature that helps the food or water maintain its temperature. If you live in a hot climate or want to ensure that your dog stays hydrated, it's a good idea to provide them with a fresh supply of cool water throughout the day. Insulated stainless steel bowls come at a premium price, but are a worthwhile investment for some pet parents. Plus, they tend to feature colorful powder-coating for a dash of personality.
‌Food-Safe:‌ Always verify that your dog's stainless steel bowl is food-safe and BPA-free. Look for the label "type 304 stainless steel," which is non-toxic and puncture-resistant. It's the most popular food-safe stainless steel grade and is often referred to as 18/8. If manufacturing processes are a concern, you could source a stainless steel bowl that's made in the U.S. and tested for contamination.
Now that we've outlined what you need to know about stainless steel food and water bowls, here are our top picks.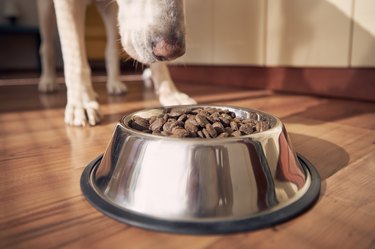 The best non-slip stainless steel dog bowl
Does your dog nudge his bowl all around the kitchen during mealtime? This food-grade stainless steel bowl features a permanently bonded rubber ring around its base that prevents slipping and sliding. It comes in six sizes, holding 1.25 cups to 13 cups of kibble, and is dishwasher-safe. Pictured here is the 5-cup design, which the company says is suitable for medium-sized dog breeds like beagles and corgis. It measures 6.85 inches long, 6.85 inches wide, and 2.54 inches high.
The best insulated stainless steel dog bowl
A 2005 study from the University of New England found that dogs prefer cool (not cold) water of around 59 degrees Fahrenheit. Encourage your dog to stay hydrated by gifting them a stainless steel bowl with double-wall insulation to keep their water at the perfect temperature. Made of food-grade stainless steel (type 304), each Hydrapeak bowl features a dishwasher-safe powder coating in one of 17 colors. Pet parents can choose from a 4-cup or 8-cup capacity, complete with a lifetime warranty against the manufacturer's defects. The bottom of the bowl has non-slip rubber pads to keep it firmly in place while your dog is chowing down. This insulated dog bowl is about half the price of the coveted YETI Boomer but offers many of the same design features.
The best stainless steel dog bowls with mat
Non-slip rings are great and all, but sometimes they're just not enough to prevent your dog from making a mess. This set of two stainless steel bowls comes with a food-grade silicone mat featuring a raised edge to keep spills contained. The product comes in four sizes, with each bowl ranging from 6.5 ounces (0.8 cups) to 50 ounces (6.25 cups). There are also 11 colors to choose from, including mint green, navy blue, and burgundy. The stainless steel bowls are easy for humans to release from the flexible silicone mold, and the bowls and the mat are dishwasher-safe. Beyond the mat's adorable bone shape, each bowl mold is encircled with a subtle bone motif.
The best customizable stainless steel dog bowls
Wild One's personalized bowl kit allows you to add your dog's name, fun emojis, or whatever 26 characters you so choose. Constructed with food-grade stainless steel, the set of two bowls comes in lilac, spruce, tan, and black. Each bowl measures 7.72 inches long, 7.72 inches wide, and 3.15 inches high, holds up to four cups of water or kibble, and has a non-slip silicone base ring. The "perfectly scooped" design ensures that wet food doesn't get stuck in any corners, but regardless, the bowls are easy to clean in the top rack of the dishwasher. Wild One's bowl kit is also available in a non-personalized option for $48.00.
The best stainless steel dog bowls with stand
While we don't recommend elevated food bowls for dogs (contrary to popular belief, they can actually increase the risk of bloat), a low-to-the-ground stand allows you to keep everything conveniently in one place. This black melamine stand has an eye-catching, wavy texture and is paired with stainless steel bowls that can be placed in the dishwasher. The base has a raised edge to catch any spills and non-slip feet discourage your dog from pushing the "double diner" around. Each bowl can hold up to 3.75 cups (30 ounces) of food or water and the overall dimensions of the stand are 16 inches long, 9 inches wide, and 2.75 inches high. The only downside is that it's only available in one size—however, it does come in a tan color if that blends better with your home decor.
The best slow-feeder stainless steel dog bowl
Some dogs get so excited about mealtime that they gobble down their kibble in seconds, not minutes. But eating too fast increases their risk of bloat (a potentially life-threatening disease) and regurgitation. If that sounds like your pup, it's probably time to make the switch from a traditional bowl to a slow feeder. Although many slow feeders are made out of hard plastic—a porous material that can harbor bacteria—this food-grade stainless steel version is "durable and high-quality" with a shallow moat and a raised circle to curb speed-eating.
Like the other Durapet bowl on this list, it features a non-slip rubber ring at the base and is dishwasher-safe. The slow feeder bowl comes in three capacities, 3 cups, 5 cups, or 8 cups. It's not the best option for voracious eaters as the design is pretty simple, but you could always opt for a more complicated, puzzle-like feeder if that's the case.