While most cats have an affinity for interactive toys, some also enjoy a good old-fashioned chew toy. Chew toys can be beneficial for cats as they can give them a chance to act on their predatory and hunting instincts. They can also help your cat get some physical exercise, offer mental stimulation, and keep their teeth clean and busy, you know, instead of gnawing on your furniture, wires, shoes, or accessible body parts.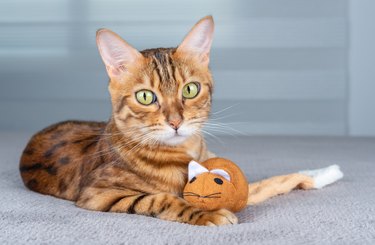 If you aren't sure what type of chew toy your cat would prefer, consider purchasing several options, especially since cat toys are relatively inexpensive. Some toys are designed to be played with solo and others are meant to be played with interactively, which is a great way to strengthen your bond with your cat or kitten.
As any cat would likely tell you by giving you side-eye and a cold shoulder, chew toys for cats and chew toys for dogs are not the same. While dogs love a fun fetch toy or one that has a loud squeaker, cats want a chew toy with features that are interesting to ... well, cats.
What to consider when purchasing a cat chew toy
‌Safety and Durability:‌ A cat toy that isn't durable isn't safe. If your cat is an aggressive chewer and biter, it's important to choose a toy that is durable enough to withstand a lot of wear and tear. Any toy that can easily be torn apart can be a choking hazard and should be avoided. Of course, after a certain period of time, most cat toys that are consistently played with will need to be replaced—that's just the nature of pet toys. No toy is indestructible.
‌Materials:‌ You may not know right off the bat what types of materials your cat prefers for a chew toy. Some cats enjoy toys that are hard and rubbery while others prefer crinkly plush toys or ones made of mesh. Some toys combine the best of both worlds and offer different types of materials to keep cats interested.
‌Toy Type:‌ Many cat chew toys are laced with catnip because if there's one thing all cats can agree on, it's their love of catnip. Chew toys that make quiet sounds can also be intriguing to cats, and ones that clean their teeth can be equally intriguing to cats and their humans.
Check out the best chew toys for cats below.
1. Petstages Pretzel Cat Toy
Petstages dental chews come in a variety of shapes, sizes, and designs. This pretzel-shaped chew toy is made with a mesh material that gently cleans soft plaque and tartar off your cat's teeth as they chew. It's stuffed with dried catnip to entice your cat to chew, and it's perfect for engaging your cat in a fun game or letting them play alone.
With KONG toys, you know you're getting something durable. The Wubba is designed to stimulate your cat's sense of smell, taste, sight, sound, and touch, as well as appeal to your cat's natural tendency to stalk prey. The soft toy features a fun rattling noise and tails that make a crinkling sound, and it's infused with KONG's premium catnip.
3. Pet Craft Supply Cactus
Although it looks oddly gigantic in the photo below, this fun little cactus is actually the perfect size for any cat. Made of 100% natural rubber, the toy is durable, safe, chew-resistant, and great for your cat's dental health. It comes with natural catnip and silvervine bags that can be placed inside the toy. It's easy to clean by either hand-washing or throwing it in the dishwasher.
4. Vibrant Life Catnip Filled Banana
Your cat will love this catnip-filled, banana-shaped chew toy. They won't care that it's shaped like a banana—that's more fun for you—but they'll definitely be all about the nontoxic, North American-grown catnip herb inside. When the dried catnip is pinched, it gives off a strong scent that most cats love. The toy encourages exercise, mental stimulation, and an all-around fun time.
5. Potaroma Flopping Fish Cat Toy With Silvervine and Catnip
This plush fish takes things up a notch in the cat chew toy department. It moves around like a real fish, enticing your cat to play and hone in on their natural instincts to hunt. Luckily for you, it doesn't smell like a real fish. The fish is a great toy for cats to play with when they're home alone or just choosing to spend time playing by themselves. It's charged via USB, but it can be taken apart to be washed when needed, and it doesn't contain any toxic or harmful materials.
6. Petlinks Rowdy Roller Dental Chew
The Rowdy Roller Dental Chew may look simple, but it provides lots of stimulation for cats. Cats are attracted to the feathers and ribbons, which entice them to swat, pounce, hunt, stalk, play, and chase. The soft ridges on the ball massage the gums while it's being played with or chewed on. The toy is hand-washable and should be immediately discarded if pieces begin to fall off, which is bound to happen eventually with pet toys.
7. Petstages Catnip Filled Mice
Is there anything better than a mouse toy for a cat? How about two mouse toys? This two-pack of small mice is made of mesh netting and other fabrics that are gentle on the gums while helping to remove soft plaque and tartar. The toys are stuffed with catnip to attract your cat (in case the mouse shape isn't enough).
8. Bawan Organic Silvervine Sticks
It's always nice to find an organic toy that's fun for your pet and also good for their health. These silvervine chew sticks are rich in plant fiber and supplemental vitamins, and they promote gastrointestinal motility and enhance your cat's appetite. They're made of natural silvervine without any additives, so they're safe for your cat to chew. Of course, not all cats will be into the sticks, but those that are go wild over them and even play for hours at a time. Choose from a pack of one, three, five, or 12.
9. Legendog Catnip Filled Cartoon Mice
This five-pack of plush mice are great for several reasons. To start, there are five of them. The more mice, the higher the chance there will always be one around for your cat to play with. They are small—the perfect size for cats or kittens to play with or snuggle up with. The plush fabric is durable enough to withstand your cat's teeth. They also come in three different color schemes and cartoon faces.
10. Our Pets Interactive Carrot
It may look like a basic toy, but this carrot adorned with feathers can cure your cat's boredom. Filled with 100% natural catnip, the toy gives off a strong aroma that entices cats. The feathers also attract their attention and encourage physical play. There are five different designs to choose from, so if carrots aren't your cat's thing, maybe they'd rather go for a pepper, banana, fish, or cactus.
11. OHALEEP Catnip Ball for Cats Wall, 3-Count
Your cat will always know where to find this three-pack of catnip balls as they easily stick to the wall or other surfaces. When your cat licks the ball, it can rotate 360 degrees for the best all-around flavor. The catnip is 100% natural and made of pure plant extracts, so it's safe for your cat to chew on. It includes three flavors: catnip, silvervine, and the fruit of silvervine (AKA gall fruit).