Catnip is a bit of an acquired experience. Not all cats respond to catnip the same way, and in fact, most kittens aren't responsive or interested in catnip until they reach adulthood. A scientific study showed that two-thirds of adult cats were responsive to catnip. Catnip is interesting to cats because of nepetalactone, an essential oil found in the plant's stems and leaves. When given catnip, or toys that contain catnip, many cats will respond quite dramatically to the smell and begin rolling, rubbing, and seeming almost intoxicated. Playing with catnip and catnip-infused toys is pleasurable and can be relaxing for cats.
What to consider when purchasing a catnip toy
‌Material:‌ When selecting a catnip toy for your cat, it's important to consider what material it is made of and how your individual cat likes to play. Some cats prefer to rub on toys, while others seek more active play and will be drawn to toys that they can sink their claws into.
‌Durability:‌ Depending on how your cat plays, some catnip toys will be more durable than others. If you know your cat has a tendency to chew and claw when they play, look for toys made of corrugated cardboard or paper. Or, opt for a hard-wearing fabric that will be easier for your cat to get their teeth and claws into without tearing apart during playtime.
‌Supervision:‌ As is the case with any toy, it's important to supervise your cat while they are playing with a catnip toy. Although cat toys are designed for play, over time, small pieces can break off as cats chew on them and could be dangerous if consumed. Observe your cat while they are playing with the catnip toy and replace it if it becomes damaged.
1. Whisker City Pineapple Catnip Dental Chew Cat Toy
Feline dental care is extremely important and this fun pineapple-shaped dental toy is designed to help keep your cat's teeth clean between routine cleanings. Infused with catnip, the dental toy will massage your cat's gums while they chew. The ridges are also designed to help remove built-up tartar on your cat's teeth. The infused catnip will attract cats to the dental toy and keep them interested in playing with it. The toy's unique shape works well for chewing, batting, and rubbing against.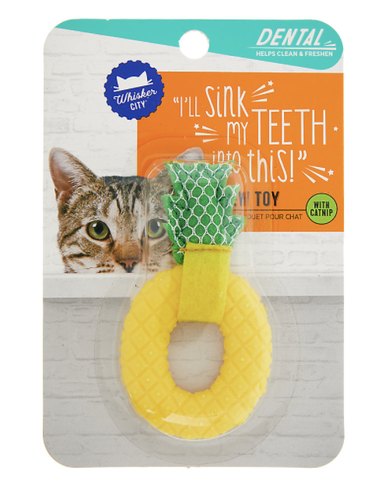 2. Silvervine Stick and Catnip Ball Toys (2-Pack)
Made of 100% natural silvervine vine and combined with catnip, this toy is designed to inspire play and chewing for cats. The silvervine sticks can help maintain healthy teeth by removing plaque and tartar, which can also improve your cat's breath. When your cat becomes less interested, the outer layer of the silvervine bark can be peeled off, revealing fresh catnip and silvervine to re-engage your cat.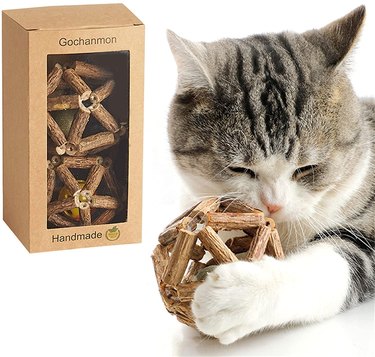 3. Frisco Refillable Catnip Cat Toy, Brown Squirrel
For cats who enjoy playing with plush toys, this squirrel with a refillable compartment that can be stuffed with dried catnip is an enriching toy. The synthetic fur might even channel your cat's inner hunting instincts. The toy comes with a vial of catnip for easy refills. When not filled with catnip, this plush toy can be washed in the washing machine between uses to keep it clean.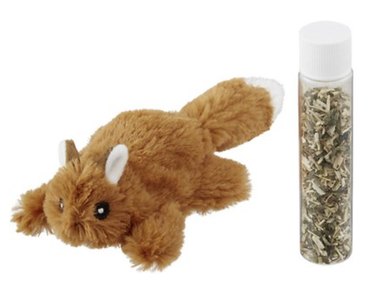 4. Yeowww! Catnip Rainbow Cat Toy
This adorable toy contains 100% organic catnip that is grown without pesticides. The rainbow is stuffed with only the leaves and flower tops from the catnip, with no additives or fillers. This gives the toy a strong scent of catnip. The brightly colored fabric is cotton twill, and the dyes used are derived from vegetables or soy beans. This toy is hand stuffed and sewn in the United States.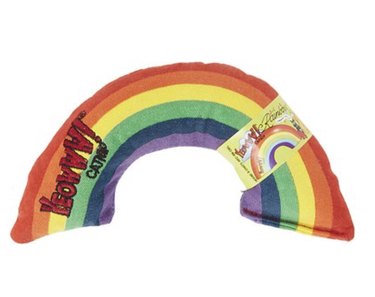 5. Pet Greens Catnip Live Cat Grass
If your cat enjoys catnip toys, they might have a lot of fun with their own catnip plant to play with. This plant is 100% live, all-natural catnip. The aromatic quality of the plant can inspire cats to play. You can snip off bits of the catnip for your cat to play with, and overtime as the plant grows, you could transfer it from the 8-ounce container it's in to a larger pot so it can grow to become a renewable source of catnip for your cat's enrichment.
6. Pet Qwerks Incredibubbles for Cats
If you're looking to provide some enrichment games for your cat, nontoxic, catnip-infused bubbles are a great interactive game for them to play. With a thicker consistency than bubbles intended for children, these pet-friendly bubbles can be a bit messy, so it's a good idea to use them in a kitchen or bathroom that can be easily wiped down. The smell of the catnip will encourage cats to investigate and the bubbles provide ample opportunities to chase, pounce, and catch.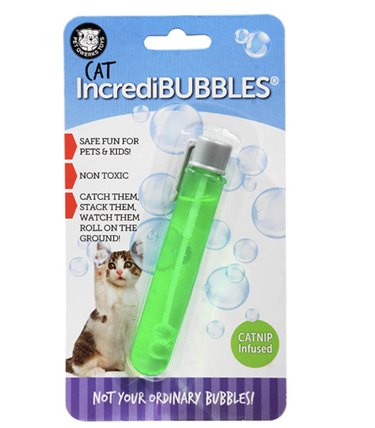 7. OurPets 100% North American Catnip Filled Cat Toy
This cute catnip toy is filled with North American-grown catnip. It's extremely aromatic, especially when played with as the dried catnip leaves move around. The more your cat plays with the chili pepper, the stronger the catnip aroma becomes, encouraging your cat to continue interacting with the toy. It's made with a soft and durable felt material that holds up to active cat play and measures 7 inches long and two inches wide.
8. Potaroma 3 Silvervine Catnip Balls
These catnip balls are made of pure catnip plant extracts without any chemical additives. Each compressed catnip ball fits into a plastic holder with an adhesive backing that can be attached to any smooth surface including windows, walls, the floor, or furniture. The balls also have plastic lids that can be applied to keep them fresh when not in use. These hard catnip balls can be licked, chewed, and rubbed against, creating an enriching catnip activity station anywhere in your home.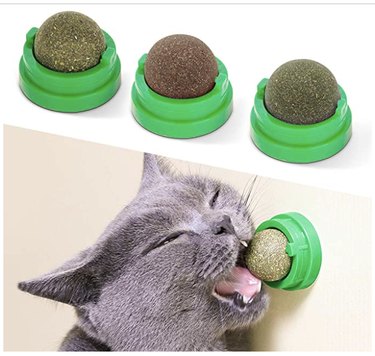 9. AREIIA Catnip Ball Toy
Made of 100% recycled, eco-friendly corrugated paper, this cat ball is designed with a hollow center that can be filled with catnip (included with purchase). The irresistible catnip eventually makes its way through the corrugated paper ball, enticing your cat. The paper construction inspires cats to grip and scratch as they play with it, and the corrugated texture causes the ball to roll in exciting and unpredictable ways.