Is there anything cuter than a dog wearing rain boots? Arguably, no. Rain boots for dogs aren't just adorable though, they're also protective. Technically, dogs don't ​need​ rain boots. Their feet are generally perfectly fine when they're wet. But rain boots do add a layer of protection from wetness and other elements, like when walking on hot pavement or in an area with foxtails or burrs. They also keep your dog's feet out of the mud, which makes clean-up a whole lot easier when they come inside. While many dogs love playing in water and being wet, some dogs don't enjoy wetness and may even refuse to go outside to relieve themselves when it's raining, so rain boots can really come in handy (or paw-y).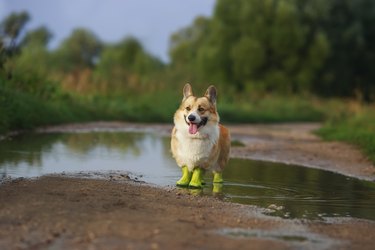 What to Consider When Purchasing Rain Boots for Your Dog
​Size:​ If rain boots don't fit right, your dog won't be able to walk properly. Boots that are too big won't stay on and boots that are too small probably won't go on to begin with. Take a look at the brand's sizing guidelines before making your purchase as the sizing can run differently from company to company. You should measure your dog's paws to make sure you're buying the right size according to accurate measurements.
To measure your dog's paws, place one paw on a piece of paper and gently press down. This will mimic how the paw spreads when your dog walks. Place a mark on the left and right side of the paw on the paper, then measure the distance between each mark and order the next size up. Measure one paw from both the front and back legs as the front paws and back paws tend to be different sizes.
​Material:​ Rain boots should be textured and have good traction so your dog doesn't slip and slide everywhere. Choose boots that are made from waterproof or water-resistant material. Ones that have a flexible sole will allow your dog to walk naturally—or at least as naturally as possible considering they'll be wearing boots. Adjustable velcro straps will also make the boots easier to put on and stay secure.
​Your Dog's Willingness:​ If your dog refuses to wear any type of shoe or boot, don't give up. The more they practice, the more willing they'll be to keep them on. You just need to be patient—just like you would with a toddler who refuses to wear shoes. They all do it eventually, right?
Check out the best (and most adorable) dog rain boots of 2022.
Your dog will be able to play in the rain and shallow water without getting their paws wet while wearing these blue rain boots. They come with four boots and they're waterproof, non-slip, have a reflective strip for early morning and nighttime walks, and feature an adjustable strap to help the boots stay on. They come in blue and there are five sizes to choose from.
With a rugged sole and high-quality waterproof fabric, these rain boots are a great option for longer walks and hikes. They have adjustable straps and a wide split seam opening, making them easy to put on and take off. They also have a reflective strip. There are eight size options to choose from based on measurements of your dog's paws as well as their weight. Have your pick from four colors: blue, brown, green, and red.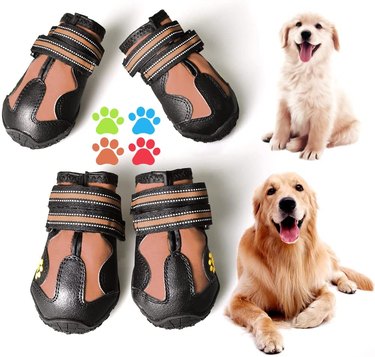 3. Lavaport Waterproof Dog Boots
These waterproof boots are great for snow play, but they're also a great option for rain play when it's cold outside. They'll keep your dog's feet warm and dry, and they have a non-slip rubber sole. To ensure the boots stay on, make sure the velcro straps are as tight as they can safely be. Available in five sizes, the boots also come in four colors: black, blue, red, and orange.
4. Pawz Biodegradable Disposable Dog Boots
If you're looking for a simple rain boot for your dog that can be reused and disposed of after enough use (they can be worn many times), the Pawz Waterproof Dog Boots are perfect. They are no-frills but get the job done. The booties are made from eco-friendly natural rubber and are 100% biodegradable. Each boot comes in a bright, fun color that's specific to its size. Tiny will be shipped in a lime shade, extra-extra-small will be yellow, extra-small comes in orange, small in red, medium in blue, large in purple, and extra-large in green.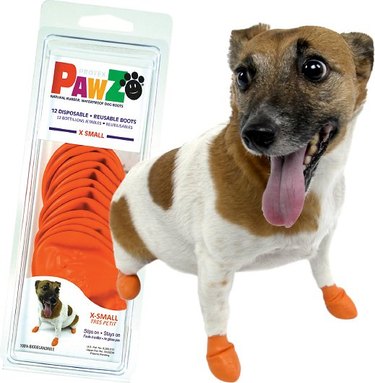 5. Canada Pooch Unlined Wellies
Canada Pooch's Unlined Wellies have a wide selection of sizes, from extra-small all the way to 5-XL. The all-season, non-slip wellies come in a pack of four and protect against rain and mud. They have an ultra-wide opening and a velcro secure strap, and they're made from a waterproof silicone material that allows dogs to actually feel the ground when they walk. The booties come in yellow, red, and black,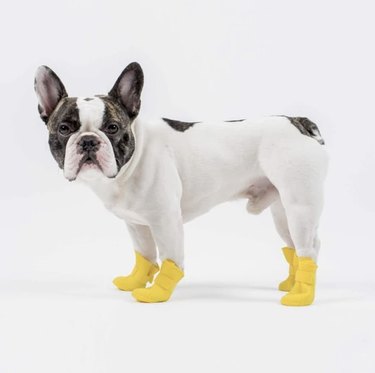 6. Qumy Waterproof Dog Shoes
The best feature of these waterproof shoes is the secure fit. The boots stay on even when dogs get the zoomies, which as you probably know, is pretty impressive. The boots are easy to put on and take off with a split seam opening, and they have a rugged anti-slip sole. They come in six colors: black, blue, pink, leopard, red, and purple. Choose from eight sizes.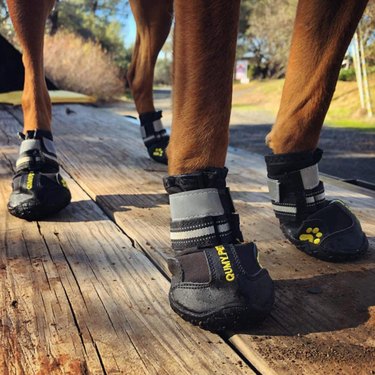 Here's another solid option for waterproof and reflective boots for dogs. These boots have two velcro straps that offer a customized, supportive, and secure fit. They are soft and breathable, so they're good for the snow and for warmer days in the rain. They come in eight sizes and four color options: black, leopard, orange, and pink.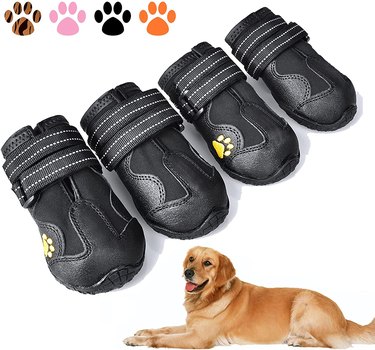 8. Weewooday Dog Rain Boots
These cute waterproof boots are designed for small dogs only. They have a wide seam opening for easy on and off and a velcro strap for a secure fit. The boots are made from a polyurethane rubber sole with elastic reflective fabric and swimsuit fabric. They're non-slip and abrasion-resistant, breathable, and comfortable for your puppy or small dog. These boots come in a 12-pack and in a variety of color combinations. They're available in two sizes.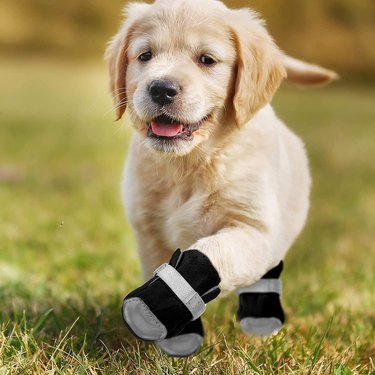 The final option for dog boots isn't unlike the others included on this list, but it does have many useful features. A wide slit opening makes it quick and easy to put these boots on, and reflective and velcro straps make them safe and secure. They come with four boots and are available in eight sizes, so chances are high that you'll find a pair to fit your dog.