When it comes to dog diapers, the last thing you need is a diaper that doesn't work. Whether it fits strangely or isn't as leak-proof as it should be, a lot can go wrong—and it may seem like the only way to tell if a diaper will work for your dog is through trial and error. But a little knowledge can go a long way when choosing dog diapers. By identifying your dog's needs and narrowing down the many options out there to fit those needs, you're much more likely to find a diaper that makes you and your dog happy.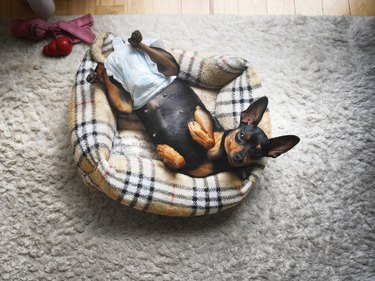 Dogs need diapers for a variety of reasons, from female dogs going into heat to older dogs who have become incontinent. Dogs also come in many shapes and sizes, and dog diapers reflect that: There are diapers that are best for small female dogs, diapers that are designed for large male dogs only, and diapers that can accommodate both female and male dogs of any size. Just like diapers for human babies, you can choose between disposable or washable versions depending on your budget and how long you expect your dog to need a diaper. Whatever the situation, there's a diaper out there to fit it.
What to consider when purchasing dog diapers
‌Size:‌ Not all diapers come in size ranges that will fit all dogs. Some are specifically designed for small breeds, while others are designed for large breeds. Most diaper brands have size charts based on your dog's waist measurements, and we recommend measuring before buying. Even if the waist measurements are adequate, always check to make sure that the diaper is the appropriate length for your dog's back.
‌Activity Level:‌ Many diapers are designed with older, sedentary dogs in mind. If your dog is still very active, opt for a design that will not leak if your dog wags his tail too hard or suddenly gets the zoomies. The main thing to look for in that department is flexibility and features like extra foam around the tail to allow for movement without leaking.
‌Duration:‌ Depending on your reason for buying diapers, disposable or washable diapers may better suit your needs. For dogs who are recovering from an illness that is making them temporarily incontinent or for female puppies who are experiencing their last cycle before being spayed, disposable diapers may be the best choice because they are inexpensive and won't become unnecessary clutter once you no longer need them. However, if you are dealing with a long-term issue or want to lessen your environmental impact, washable diapers can save you money and reduce the waste you produce.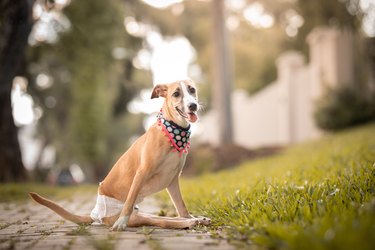 The best overall dog diapers
These affordable and reusable diapers come in four sizes—extra-small, small, medium, and large—and three different colors or patterns. They also have a velcro waist to allow for maximum adjustability, and, unlike many velcro diapers, the velcro used in Pet Magasin diapers does not stick to fur. The inside is made up of several layers of highly absorbent fleece fabric with a soft outer layer for comfort. The outside is waterproof and leak-resistant, so you don't need to worry about messes. Finally, they are machine and hand-washable and can be air-dried or tumble-dried on low heat.
The best disposable diapers for female dogs
Simple Solution female disposable diapers come in five sizes—extra-small, small, medium, large, and extra-large. They are made of a stretchy fabric that allows for wide adjustability and a snug fit. The fasteners are a patented technology that won't catch on your dog's fur. The interior of these diapers is also a patented technology designed for maximum absorption with an elastic outer layer and a super absorbent tail hole that prevents any leakage. Finally, Simple Solution equips these diapers with a wetness indicator that will let you know when it's time for a change.
The best disposable diapers for male dogs
All-Absorb Male Dog Wraps come in four sizes—extra-small, small, medium, and large—and are more affordable than a lot of disposable diapers. They have a two-layered interior made up of a super absorbent pad and several leak-proof layers. The entire wrap is stretchy, including the adjustable waistband. The fasteners will not get caught in your dog's fur, and they allow for re-fastening in case you need to make an adjustment. They also have a wetness indicator to tell you when your dog has urinated. Finally, the material itself is extremely breathable, so these wraps will not cause your dog to overheat.
The best reusable diapers for female dogs
These reusable dog diapers come in five sizes—small (for newborns or teacup-sized dogs), medium, large, extra-large, and extra-extra-large—and nine different color and design options. The interior is made up of several layers of fleece with a jersey lining for maximum absorption and comfort. Unlike many disposable diapers, the leak-proof outside is designed not to be crinkly or make noise. They also have hook and loop closures with added button snaps for maximum adjustability. Finally, these diapers can simply be tossed in the washing machine and then tumble-dried on low.
The best reusable diapers for male dogs
We recommend the same brand for male reusable diapers. These wraps come in six sizes—extra-small, small, medium, large, extra-large, and extra-extra-large—and seven color and design options. They are much like the female version, but they wrap around your dog's middle instead of covering the whole backside. Like the female Weegreeco diapers, they have a super absorbent interior made of layers of fleece and jersey with a leak-proof outer layer. They are breathable and flexible without the annoying crinkling of many diapers. These diapers are also fastened with hook and loop closures that allow for adjustment to fit your dog's waist. After use, you can throw them in the washing machine and then tumble dry them on low heat.
The best budget dog diapers
Although washable diapers will probably save you money in the long term, if you need an affordable option for a temporary incontinence issue, Out! Disposable Diapers are hard to beat. The female and male diapers are sold separately, but you can buy both in various counts, ranging from 14 to 96 depending on your needs. The male diapers come in only two sizes, but these two sizes can accommodate waists of 13 to 25 inches. The female diapers come in three sizes and can accommodate waists of 9 to 25 inches. These diapers are extremely flexible with moisture-lock technology to prevent leaks. The waistbands are adjustable using fasteners that will not stick to fur. These also have a wetness indicator. Finally, Out! Disposables have added baking soda to prevent odor.
The best dog diapers for large breeds
These diapers come in four sizes, but we especially recommend them for dogs who weigh over 20 pounds. The tail hole on these diapers is stretchy and padded with foam to prevent leakage and allow for maximum maneuverability for dogs with powerful tails. These diapers are designed for male and female dogs and cover more than male dog wraps normally do in case your male dog's incontinence extends beyond urination. They have a double-stitched leak guard and leak-proof adjustable fasteners as well as a wetness indicator (the diaper changes color).
The best dog diapers for small breeds
These disposables have male and female versions (listed separately on Amazon) and come in four sizes—extra-small, small, medium, and large. In general, these diapers run small, which means they are great for dogs on the small side. The extra-small and small sizes accommodate waists between 9 and 19 inches, which covers everything from a Yorkie to a Boston Terrier. The diapers are leak-proof and super absorbent, and they have stretchy waistbands to allow for movement. Finally, they come with a wetness color indicator to let you know when your dog needs a fresh diaper.