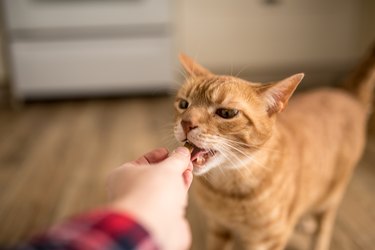 If you're looking for a good old-fashioned crunchy treat for your cat, you may quickly be overwhelmed by the number of options out there. Crunchy cat treats are perhaps the most popular type of cat treat—and for good reason. Cats seem to love them, they are useful for trick training, and the coarser texture is great for cats' dental health. But when it comes down to choosing a particular brand, it can be difficult to know what to look for. The size of each treat, its flavor, calorie content, and ingredients are all important factors, but looking into each of those aspects can be overwhelming. If you're unable to decide, check out our picks for the best crunchy cat treats in 2022.
What to Consider When Purchasing Crunchy Cat Treats
​Size:​ Cats' mouths are small, so you want to make sure to buy treats that are not too large. For training purposes, choose smaller treats that can be quickly chewed up so that you're not waiting too long for your cat to finish eating before training can continue. For dental health, larger treats that take a bit longer to chew up are ideal since they give the treat time to clean your cat's teeth. Finally, if you simply want a crunchy cat treat to give as a, well, treat, you may want to opt for something that will last a bit longer so that your cat has time to savor it.
​Flavor:​ Not all cats like the same thing. If your cat goes crazy for salmon but is not a big fan of poultry, make sure not to buy treats that say they are salmon-flavored but also contain chicken meal or some other poultry-derived ingredient. It can sometimes be difficult to find something that is healthy ​and​ delicious since many of the fillers and mystery ingredients in cat treats are added to enhance flavor and not because they are healthy. Nonetheless, there are plenty of companies out there who know how to balance both aspects.
​Calories:​ When it comes to cat treats, you do not want something that is going to lead to weight gain if you give your cat a few morsels every day. Opt for cat treats that have 2 calories or fewer per piece, especially if you are using the treats for training or otherwise anticipate giving your cat several in a day. And always check the serving sizes on the back of the package.
​Ingredients:​ Speaking of health, check those ingredients for corn and soy fillers, grains (if your cat does not eat them), or obscure ingredients like "animal digest." Generally, the shorter the ingredients list, the better. Many cat treats also contain added vitamins and minerals. If you're looking for something specific (for example, a treat that benefits dental health), look up the vitamins and minerals that are beneficial to that purpose.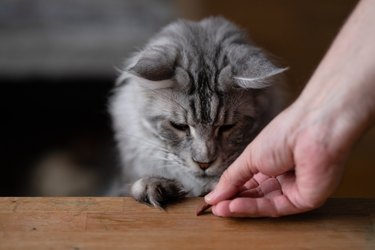 The Best Overall Crunchy Cat Treats
Greenies Feline SmartBites Healthy Skin & Fur Salmon-Flavored Cat Treats,16-oz Tub
These salmon-flavored treats have a crunchy outer layer with a soft inside. SmartBites were designed by veterinarians to benefit cats' skin and fur with added vitamins, minerals, and nutrients, including flaxseed and fish oil, which contain plenty of omega-3 fatty acids. They are a great size for cats—neither too big nor too small—and their dual texture gives cats a little something extra to chew on. The salmon flavor is sure to be a hit with most cats, although there is also a chicken flavor if your cat is more into land animals. These treats contain no artificial ingredients, and each treat contains no more than two calories. However, they do contain grain, so they are not suitable for cats on a grain-free diet.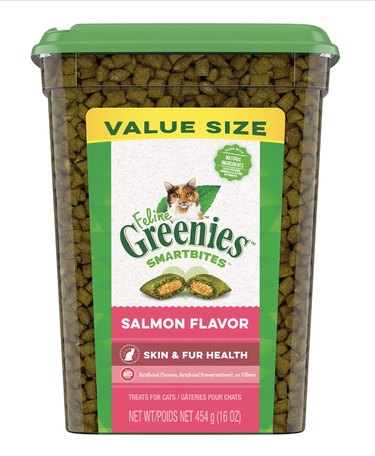 The Best Teeth-Cleaning Crunchy Cat Treats
Greenies Feline Tempting Tuna-Flavored Adult Dental Cat Treats, 4.6-oz Bag
Greenies are most well-known for benefiting cats' and dogs' dental health, and these crunchy cat treats do just that. They are approved by the Veterinary Oral Health Council (VOHC) to combat tartar, although the fine print makes it clear that an average adult cat would need 16 treats a day to see any of these benefits. You can buy them in a 21-ounce tub, however, and each treat only contains two calories, so that shouldn't be too difficult. These tuna-flavored treats are also high in protein (27%). They contain no artificial flavors but do have a ton of added vitamins, minerals, and nutrients, including vitamins E, B1, B2, B5, B6, and B12.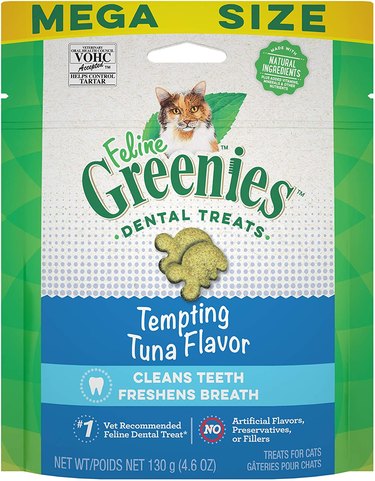 The Best Crunchy Kitten Treats
Blue Buffalo Baby Blue Crunchies Natural Grain-Free Kitten Treats, 2-oz Bag
These bite-sized Blue Buffalo treats are designed for a kitten's mouth and made with the nutrients growing cats need. The ingredients list is a short one, with salmon and chicken meal listed first, which means that these treats do not contain a bunch of fillers. They are grain-free, chock-full of protein (28%), and contain only 1.3 calories per piece, meaning they are a great reward when training your kitten.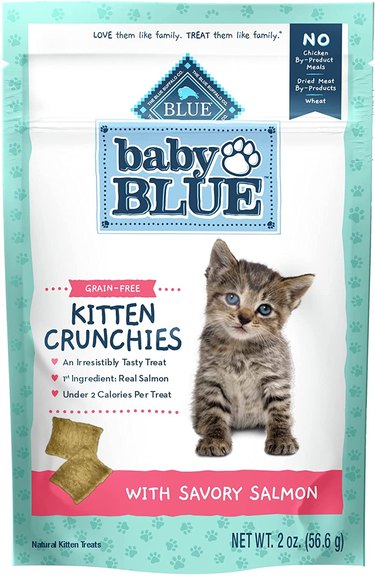 The Best High-Protein Crunchy Cat Treats
Wellness Kittles Grain-Free Salmon & Cranberries Recipe Crunchy Cat Treats, 6-oz Bag
For the low price, Wellness Crunchy Cat Treats are a fantastic source of healthy ingredients for any cat. They are made of 100% natural ingredients, including salmon, peas, cranberries, blueberries, and flaxseed. They contain no grains and are each only 1.1 calories, so you have nothing to worry about for cats who cannot digest grains or who are on a diet. They also contain more protein than most treats (31%). Finally, these crunchy cat treats are small enough to be given to adult cats and kittens, and their nutritional makeup means they are ideal for grown and growing cats.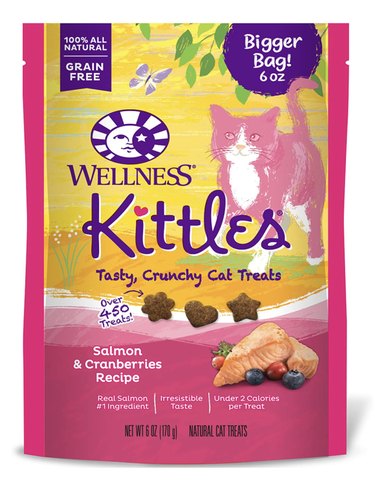 The Best Organic Crunchy Cat Treats
Castor & Pollux Organix Chicken-Flavored Organic Cat Treats, 2-oz Bag
Castor & Pollux Cat Treats are USDA-certified 95% organic, and their main ingredient is organic free-range chicken. Unlike many cat treats, these contain no corn, wheat, or soy. Besides chicken-derived ingredients, they contain peas, brown rice, oats, barley, flaxseed, and rosemary extract. That's it. They are high in protein at 14.5%, and each treat is only 1 calorie. The only caveat is that the flavor may or may not appeal to your cat. Nonetheless, if you want something that you ​know​ is good for your cat, these are the best treats out there.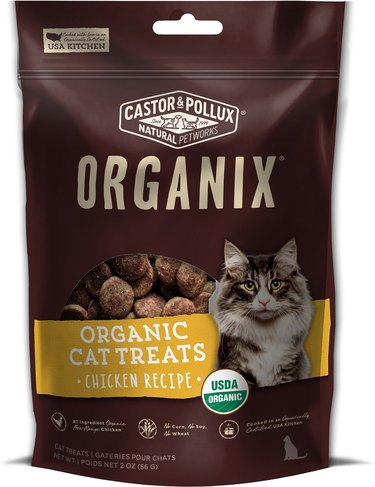 The Best Budget Crunchy Cat Treats
DentaLife Savory Salmon-Flavored Dental Cat Treats, 1.8-oz Bag
These VOHC-approved treats have a porous texture that allows teeth to penetrate rather than crumble each treat, giving a more thorough clean than other crunchy treats. They contain calcium, which helps build healthy bones and teeth, and taurine, which is an amino acid responsible for vision, heart, and immune system health. The salmon flavor is almost always a hit with cats, and the low-calorie content in each treat (1.5) means you don't have to worry about giving your cat too many. Some of the contents are questionable, including a few corn-based ingredients and animal digest, which is a flavor-enhancing component made up of unspecified animal tissue that has already been broken down by enzymes. We still recommend them for their benefits to dental health, especially for the low price.