Do you brush your dog's teeth? Using a doggy toothbrush and a dog-specific toothpaste is an important, although often overlooked, aspect of grooming. Some breeds are more likely to develop tartar buildup, which can lead to periodontal diseases (aka gum infections), but all dogs benefit from having their teeth brushed regularly. Keeping your dog's teeth clean can help fend off dental problems and can sometimes delay or even prevent the need for invasive veterinary dental procedures. Before we get into the best dog toothbrushes on the market, here are a few things to keep in mind when making a purchase.
What to Consider When Purchasing a Toothbrush for Your Dog
​Size of Dog:​ When picking a toothbrush for your dog, you should select one that's the right fit for your dog's mouth. Especially with small dogs, it's important to opt for a toothbrush that fits comfortably in your dog's mouth and allows you to easily clean all of their teeth.
​Style of Toothbrush:​ There are two main styles of toothbrushes for dogs: Toothbrushes with soft bristles and a handle (reminiscent of one you might use), and finger toothbrushes that slip onto your finger and end at the knuckle. Some dogs have preferences for one style of toothbrush over the other. If you're just starting to brush your dog's teeth, it can be helpful to try out both styles to determine which is best for you and your dog.
​Durability:​ When purchasing a toothbrush for your dog, you'll want to factor in the durability of the options you're considering. Just as you regularly replace your own toothbrush, you'll want to replace your dog's toothbrush once it becomes worn. Some toothbrushes for dogs are designed to be replaced more regularly, while others are easy to clean long-lasting.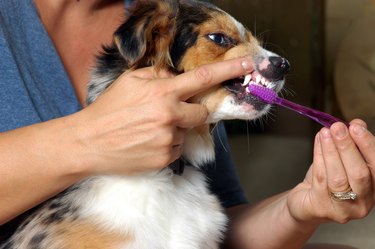 The Best Dog Toothbrush Kit
Arm & Hammer for Pets Tartar Control Kit, 3-Piece Set
Ideal for getting your dog accustomed to having her teeth brushed, this dental kit comes with a finger toothbrush, a handheld double-ended toothbrush, and beef-flavored dog toothpaste. These toothbrushes help to freshen your dog's breath while removing tartar buildup. With both a finger toothbrush and handheld options, you can easily figure out which style your pup prefers. The toothpaste is made with natural ingredients and is safe to use on both adult dogs and puppies. Infused with baking soda, it will help to keep your dog's teeth sparkling white.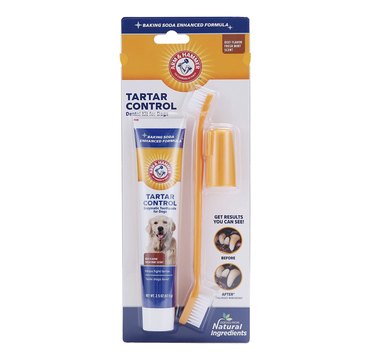 The Best Value Pack of Dog Toothbrushes
Bodhi Dual Ended Long Dog & Cat Toothbrush, 50-Count
This 50-pack of dual-ended dog toothbrushes is intended for breeds of all sizes. The toothbrushes have different-sized brush heads on either end, so they're suitable for both large dogs and small dogs. The soft bristles are comfortable for dogs and allow pet owners to brush away plaque and debris. The toothbrushes can help prevent the build-up of tartar and combat bad breath. The brush heads are angled and narrow, making them easy for owners to use in their dog's mouth. Buying in bulk also allows pet owners to easily change to a new toothbrush anytime one gets worn down.
The Best Eco-Friendly Dog Toothbrush
Prymal Pets Bamboo Toothbrushes for Dogs, 4-Count
These eco-friendly toothbrushes have handles made from natural bamboo. Due to its quick growth and self-regeneration, bamboo is a highly sustainable material. Each toothbrush in the four-pack is double-sided, accommodating both large dogs and small dogs. Designed to clean teeth exceptionally well, the gentle bristles are made from nylon and don't contain BPA. The ergonomic toothbrush handle is comfortable for dog owners to hold while brushing their dog's teeth and allows for precision control.
The Best Extra-Small Dog Toothbrush
Petosan Double Headed X-Small Dog Toothbrush, 1-Count
This double-headed toothbrush was created specifically for small and extra-small breeds. This innovative toothbrush allows pet owners to clean both sides of their dogs' teeth at the same time to quickly remove the build-up of tartar and plaque. Made just for tiny mouths, it's best suited for dogs weighing between 6 and 13 pounds. The brush's construction reaches teeth at a 45-degree angle, which allows pet parents to reach below the gum line to achieve a deep clean.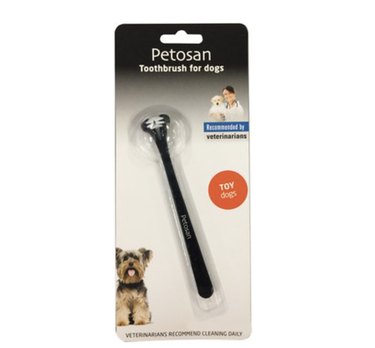 The Best Three-Sided Dog Toothbrush
Orgrimmar 3-Sided Dog Toothbrushes, 4-Count
These uniquely-shaped, three-sided toothbrushes feature ergonomic handles that are easy for owners to grip. Designed for small dogs, medium dogs, and large dogs (although perhaps not extra-large breeds), this four-pack of toothbrushes cleans all sides of the teeth. The handle is made of nonslip rubber and has a hole at the far end, making it easy to hang up for storage. The manufacturer claims that this style of toothbrush can reduce the amount of time spent brushing. The four-pack includes a purple, white, blue, and orange toothbrush.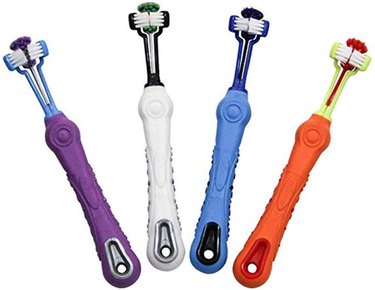 The Best Variety-Pack of Finger Toothbrushes
BOSHEL Dog Finger Toothbrush Set, 8-Count
These finger toothbrushes are designed to make teeth brushing more comfortable for dogs, while also being easy for people to use. This 8-pack comes with six silicone finger toothbrushes and two additional plastic finger toothbrushes that have nylon bristles. The silicone toothbrushes have a one-inch finger opening, while the plastic toothbrushes have 3/4-inch openings, which allow for comfortable use by most adults. These toothbrushes work for large and small breeds and can help reduce bad breath and decrease the risk of periodontal disease. These thoughtfully-sized finger toothbrushes make it easy to get into those hard-to-reach places in your dog's mouth for a complete clean.
The Best Inexpensive Finger Toothbrush
Vet's Best Dog Toothbrush, 10-Count
This affordably-priced 10-pack of finger toothbrushes is made of food-grade, BPA-free silicone. Each toothbrush has a 3/4-inch diameter opening, creating a snug fit that gives you more control while brushing your dog's teeth. These toothbrushes have soft bristles so they're gentle on your dog's gums, yet effective when removing built-up tartar and plaque from their teeth. They promote fresh breath, white teeth, and healthy gums. The toothbrushes can be replaced once a month or as needed.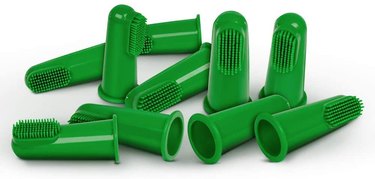 The Best Dual-Ended Dog Toothbrush
Petrodex Dental Care Kit for Adult Dogs, 3-Piece Set
This all-inclusive dental health kit comes with a finger toothbrush, a dual-ended toothbrush, and peanut butter-flavored enzymatic toothpaste. The bristle toothbrush is dual-ended so it can be used on small or large dogs. Meantime, the finger toothbrush is great for puppies or dogs with sensitive mouths. Perfect for traveling, this dental hygiene set provides pet parents with everything they need to keep their dog's teeth clean.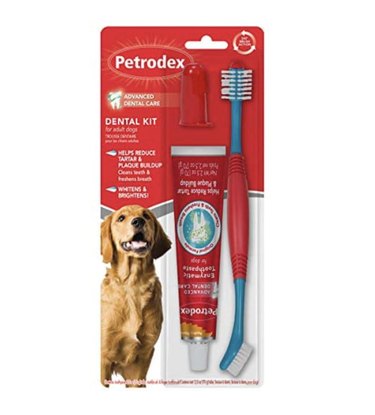 The Best Dog Toothbrush to Remove Plaque
Jasper Finger Dog & Cat Toothbrush, 2-Count
With a unique, 360-degree brush design, these finger toothbrushes with silicone bristles provide exceptional oral care. Each toothbrush has 12 times more bristles than standard finger toothbrushes. The bristles are gentle on your dog's gums, yet fantastic for removing plaque. They're also free of BPA and phthalates. The silicone is flexible, so will fit different-sized fingers. On small fingers, the silicone creates a seal to prevent the toothbrush from slipping off. For larger hands, water can be used to help the silicone expand and fit better. These toothbrushes come in a two-pack and tout individual cases to keep the toothbrushes clean between uses.