Administering medication to cats can be stressful and frustrating for cats and owners alike. Giving your cat a pill is sometimes necessary, and it doesn't have to be a fight. Instead of trying to force your cat to take their medication, giving it to your cat in a pill pocket or another edible pill hider can make medication time something your cat looks forward to. Pill pockets and pastes look and taste like regular cat treats but are designed to conceal medication. This encourages your cat to eat it, not even realizing they have taken a pill! Before we examine the best pill-hiding options on the market, here are a few things to keep in mind when making a purchase: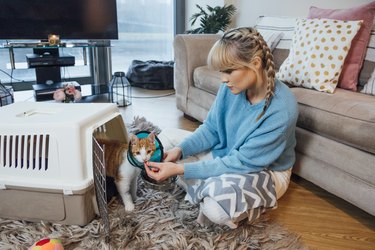 What to Consider When Purchasing Pill Pockets for Cats
​Preferences:​ Some cats have strong flavor preferences or types of proteins they do or do not like. When selecting a pill hider for your cat's medication, opt for proteins or flavors that you know are attractive to your cat. This will help encourage your cat to take their medication.
​Medication Type:​ When selecting a pill hider, take into consideration the type of medication your cat needs to take. Some pills can be crushed and mixed into a high-value lickable treat, while others must be taken whole and wrapped or concealed in a treat. Confirm that type of medication your cat has been prescribed will work with the pill pockets or pill wraps you plan to purchase.
​Allergies:​ If you have a cat who has allergies or sensitivities, be sure to examine the ingredient list for the pill hider you are considering purchasing. You'll want to avoid any pill pockets or pastes that contain those ingredients your cat can't have. The goal is to make your cat feel better through medication, not for the pill pocket to cause them to feel worse!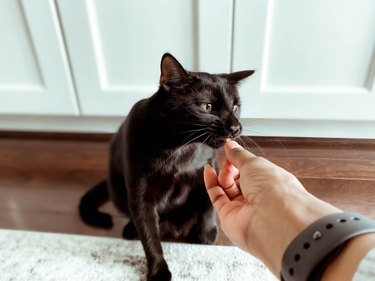 1. Feline Greenies Pill Pockets, Salmon & Tuna Flavor, 3-oz. Bag
This 3-ounce value pack contains 85 individual pill pockets. The salmon-flavored treats are made with natural ingredients (real chicken is listed first) and have a strong aroma that's enticing to cats. The pill pockets are designed to mask the taste as well as the smell of medication, so your cat will think it's just a regular 'ole treat. The treats are soft with an opening where you can place the pill and then pinch the pocket closed. For especially sensitive cats, use one hand to touch the medication and your other hand to hold the treat to avoid any scent transfer from the pills to the pill pocket. These pill pockets are made in the U.S. and don't contain any artificial flavors, preservatives, or fillers.
2. Pet MD Wrap A Pill Peanut Butter Flavored Pill Paste, 4.2-oz. Jar
A flexible pill-hiding option that works well with various shapes of pills, vitamins, and supplements, this peanut butter-flavored paste allows you to pinch off as much—or as little—as you need to hide your cat's medication. It's very aromatic to effectively mask the scent of medication. This pill paste is also a diet-friendly option with only 9 calories per serving. The manufacturer claims there are 59 servings per container but that will ultimately depend on the size of your cat's medication. To use the paste, scoop up as much as you need, sculpt it into a pocket, put the pill inside, and wrap the paste around the medication. This pill paste is made in the U.S. and is suitable for cats or dogs.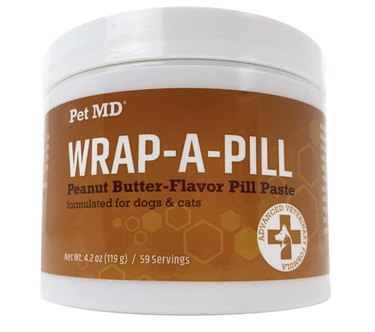 3. Stashios Wrap-Ups Bacon Flavor Grain-Free Dog & Cat Treats, 2.1-oz. Bag
Think of these as Fruit Roll-Ups for your cat or dog—the unique design allows you to discreetly hide pills and supplements of various sizes. This bacon-flavored, grain-free treat is made without corn, wheat, or soy, making it a good option for cats with food sensitivities. These treats include vitamin-rich carrots and sweet potatoes, plus minerals and fiber to boost your cat's immune system. The wrap-ups can be torn to size and then wrapped and sealed around your cat's pills. The bag is resealable to keep the contents fresh between uses. There are approximately 30 servings per pouch.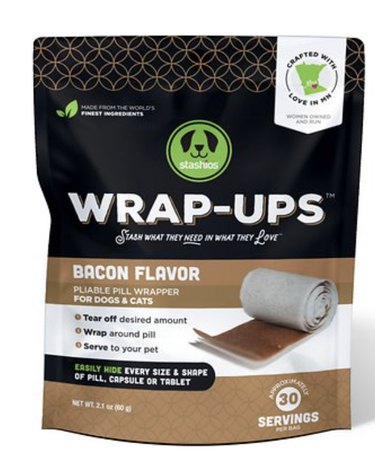 4. TOMLYN Pill-Masker Original Bacon-Flavored Paste for Dogs & Cats, 4-oz. Jar
This bacon-flavored paste allows owners to make edible pockets to hide their cat's pills. It can be molded to fit any sized pill or supplement and is intended for both cats and dogs. The paste successfully masks the scent and flavor of medications. You can even use it to make secure pockets to hold liquid medication doses for cats. The container seals tightly to prevent the paste from crumbling or drying out between uses. There are over 50 servings in each 4-ounce jar.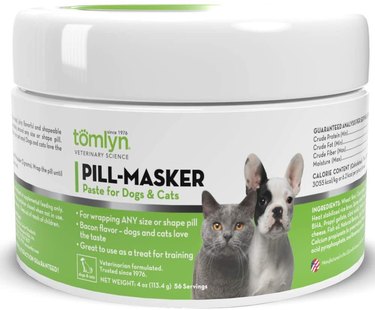 5. Vetoquinol Pill Wrap for Dogs & Cats, 4-oz. Jar
This pill hider is a flexible paste that can be molded around any pill your cat needs to take. Made with food-grade ingredients and loaded with flavor, this treat masks the smell and taste of the medication, making it easier to give your cat his daily dose. Each container includes 4 ounces of pill-hiding paste, which can conceal around 56 tablets or capsules. The product is made in Canada and is low in fat for cats who are on special diets.
6. Pet MD Wrap-A-Pill Cheese & Bacon Flavor Pill Paste, 4.2-oz. Jar
This cheese and bacon-flavored paste can be adjusted to fit any size pill. To use, just pinch off as much paste as you need to hide your cat's medication. This pill-hider is low in calories (only 9 per serving) so it's suitable for cats who are on a strict diet. It's manufactured in the U.S. and doesn't dry out easily. The pill paste is a convenient and affordable solution for cats who are on long-term medication they need to take regularly. It's sold in a 4.2-ounce or 8-ounce container.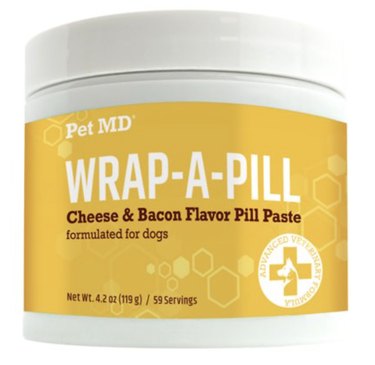 7. Greenies Pill Pockets Feline Tuna & Cheese Flavor Cat Treats, 1.6-oz Bag
Quick and easy to use, these pre-formed pill pockets fit most tablets and capsules. The tuna and cheese flavor masks the taste and smell of medication to encourage cats to take their pills. To use, simply place a pill in the pocket and pinch it closed. These tasty treats are made with natural ingredients (again, real chicken is listed first) and don't include any artificial flavors or preservatives. The pill pockets come in a resealable package to keep them fresh and are easy to take with you on the go. There are 45 treats in this 1.6-ounce pouch.
8. INABA Churu Lickable Purée Natural Cat Treats, 0.5-oz. Tubes, 50-Count
These lickable cat treats are ideal for encouraging cats to take powdered or liquid medication. There are 50 tubes in each jar, a mixture of tuna and chicken recipes. The ingredients are healthy as the treats are made with wild-caught tuna or farm-raised chicken and contain only 6 calories per tube. This liquid treat is made without grains, preservatives, or artificial colors and flavors. To use, tear open an individually-packaged treat and mix it with your cats' medication. The treats are also 91% moisture, which can help keep cats hydrated.