Cat treats are a great way to spoil your cat, reward them for behavior that you like, and support them through stressful situations like grooming and vet visits. What constitutes a high-value treat is going to differ from cat to cat based on their individual preferences for flavor, texture, and scent. High-value treats can also be utilized to encourage a cat to try new activities, play with toys or puzzles, or learn new tricks.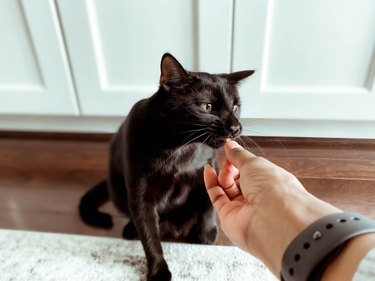 What to consider when purchasing high-value cat treats
‌Texture:‌ Cats tend to have individual preferences regarding treats. Some cats prefer crunchy treats, while others prefer soft cat treats. When selecting a treat that will be of high value for your cat, consider what preferences your cat has about treat texture. If you aren't sure what your cat likes best, you may need to experiment with different treat textures to see which type your cat finds to be the most irresistible.
‌Allergies:‌ If you know your cat has any allergies or sensitivities to certain proteins or ingredients, be sure to check the label of any cat treats you are purchasing to ensure that the treats don't include any of the ingredients your cat struggles with. If you have a cat with a sensitive stomach or allergies, you may want to look at limited or single-ingredient options when purchasing high-value treats.
‌Training Goal:‌ Some treats will be easier for cats to eat in certain situations or will keep them occupied for longer. When picking a high-value treat for your cat, consider what you're going to be using the treat for. Is it just an occasional treat to give your cat? In this case, any treat your cat enjoys will work well. If you are wanting to use the treat while grooming your cat, or if you have plans to teach your cat complicated tricks and cues, a soft and lickable treat may be more effective as cats eat the treat slowly and stay engaged with it. Alternatively, if you want to use treats in a treat/food dispensing toy, crunchy treats are best.
Now that we've discussed what to look for in a high-value cat treat, here are our top picks.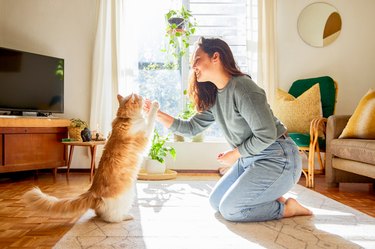 The best overall cat treats
INABA Churu Cat Treats, 0.5-oz. Tubes, 10-Count
Made with human-grade ingredients, this purée treat is ideal for getting your cat's attention with its enticing scent and creamy texture. Available in either farm-raised chicken or wild-caught tuna flavors, this treat comes in individual portion packets. Easy to rip open and give to your cat while training, grooming, or at the vet, this tube treat contains 91% moisture and only 6 calories. It's a low-calorie option that will also help keep your cat well-hydrated. This treat doesn't include grains, artificial colors, or preservatives. The unique tube dispensing treat is designed to be hand-fed to cats, making it a good bonding activity between cats and cat owners.
The best crunchy cat treats
Wellness Kittles Cat Treat Variety Pack, 2-oz. Bags, 3-Count
For cats who enjoy crunchy treats, these morsels are a high-value favorite. This variety pack has three flavors: chicken and cranberries, tuna and cranberries, and salmon and cranberries. The treats come in star, heart, and flower shapes and are grain-free. They don't include any meat by-products, wheat, corn, soy, or artificial colors, flavors, and preservatives. These crunchy treats can help keep your cat's teeth clean by removing tartar buildup. Each treat is under 2 calories, and each treat pouch includes over 150 treats.
The best dental cat treats
Feline GREENIES Natural Dental Care Cat Treats, 21-oz. Tub
With a crunchy texture, these dental cat treats contain natural ingredients and are fortified with vitamins and minerals. The treats are available in oven-roasted chicken, tuna, salmon, catnip, and shrimp flavors. The crunchy treats can help improve dental health by cleaning teeth, reducing the buildup of tartar, and freshening your cat's breath. Each treat has less than 2 calories per treat, making them a good choice for cats on a diet. These tasty treats are great for positive reinforcement and work well in treat-dispensing toys to keep cats engaged in play.
The best healthy cat treats
MEOW Lamb Green Tripe Treats, 1.4-oz. Bag
Bringing together the nutrition and flavor of fresh raw treats with the convenience of crunchy treats, these freeze-dried bites are easy to feed, and their fresh scent will get your cat's attention. The freeze-drying process maintains the natural enzymes and nutrients. Made in New Zealand in small batches, these limited-ingredient cat treats are made with sustainably farmed green mussels and grass-fed lamb tripe. Tripe contains natural enzymes, prebiotics, and probiotics that support cat digestion, and the green mussels encourage healthy connective tissue and joint health. The treats are free of gluten, grain, corn, soy, and GMOs, making them a good option for cats with allergies.
The best freeze-dried cat treats
Vital Essentials Minnows Freeze-Dried Cat Treats, 0.5-oz. Bag
Don't be surprised when you open the bag—these treats are whole, freeze-dried minnows! Made from a single-source protein and freeze-dried to preserve vital nutrients, these cat treats are high in protein, and the fresh scent and look are attractive to cats. These healthy cat treats don't contain any added hormones, antibiotics, or grain. The freeze-drying of the minnows locks in their nutrients and flavor without losing anything to the cooking process. Perfect for training, these 2-calorie fish treats are sure to grab your cat's attention.
The best cat treat sticks
Sheba Meaty Tender Sticks Chicken Cat Treats, 0.14-oz. Sticks, 50-Count
Made with real meat, these soft, high-value cat treats are ideal for getting and keeping your cat's attention. The tender sticks can be broken into smaller pieces to treat your cat while training or spending time together. You can also give your cat the entire stick to chew on and consume. Each treat stick is individually wrapped to preserve freshness. Touting a delicious chicken flavor, these treats don't contain any artificial colors, flavors, wheat, corn, or soy.
The best lickable cat treats
Hartz Delectables Bisque Variety Pack Lickable Cat Treats, 1.4-oz Pouches, 12-Count
These lickable cat treats keep cats engaged and are ideal for grooming, vet visits, and training. Each case comes with three flavors of treats: tuna and chicken, shrimp and tuna, and tuna. The bisque-like cat treats have a smooth texture that encourages cats to eat. They're high in protein and can be used as a topper to your cat's food or fed directly out of the 1.4-ounce pouch. The unique lickable texture brings meat and juices together to keep your cat engaged with the treat. You can even spread it on a lick mat or toy as a fun engagement activity for your cat.
The best low-calorie cat treats
PureBites Shrimp Freeze-Dried Raw Cat Treats, 0.38-oz. Bag
These freeze-dried cat treats are another single-ingredient option, containing only wild-caught, human-grade shrimp. These tiny morsels will attract cats with their fresh aroma and unique texture. The freeze-drying process removes any water but preserves the natural flavor and nutritional value of the shrimp. They're easy to digest, especially for cats with allergies or food sensitivities, and are free of added preservatives. Each high-protein shrimp treat is only one calorie, so these are ideal for training or weight management.
The best single-ingredient cat treats
Applaws Cat Treat, 1.6-oz Filet
This fish filet treat is also made up of a single ingredient. Free of any artificial preservatives, colors, or flavors, this high-quality treat is available in mackerel, tuna, salmon, and tilapia. Each 1.06-ounce fish filet is individually packaged, making it easy to keep fresh and share with your cat. The 100% natural treat is gluten-free and was developed for cats with sensitive stomachs or health conditions. It can be given to your cat as an occasional treat, as a topper at mealtime, or during training sessions. We're partial to the salmon flavor, as its omega-3 fatty acids can contribute to a healthy coat and skin.