Cats are fastidious groomers, with many felines dedicating hours each day to washing themselves in an effort to stay clean and fresh. Sometimes, cats can use a little extra help in the cleaning department, but because many cats don't appreciate being soaked in water, bathing is a task that's easier said than done. Waterless shampoos are a great way to clean cats who don't prefer to be washed with a full-blown bath and offer an option for freshening up cats in between standard grooming appointments. Finding the best waterless shampoo for your cat will depend on their needs, tolerance levels, existing conditions or concerns, and of course, everyone's fragrance preferences.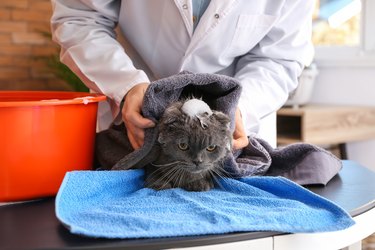 What to consider when purchasing waterless cat shampoo
‌Needs:‌ Most dry shampoos for cats are designed to remove excess oils and grime and freshen fur, but some waterless formulas offer even more. In addition to cleansing your cat, some shampoos detangle, others prevent fleas and ticks, and some even condition the fur or add shine to the coat. Shop for a shampoo that addresses your cat's hygiene needs for the best results.
‌Age:‌ It's definitely possible to find a waterless cat shampoo for kittens, but for the most part, many shampoos are formulated for use on cats over 12 weeks of age. Because dry shampoo doesn't require rinsing as standard shampoos do, the ingredients used should be safe for cats to ingest. As very young kittens are groomed even more than adult cats, certain ingredients like essential oils are not recommended for use on such young pets. If you need to give your kitten a thorough clean, try using a damp washcloth or a wipe designed for young felines, or shop for a hypoallergenic dry shampoo with no added fragrances, dyes, or harsh chemicals.
‌Ingredients:‌ Just like hair care products designed for people, waterless shampoos for cats rely on different ingredients to tackle various issues. Some shampoos use surfactants to clean the fur, others use natural oils like neem oil or coconut oil to condition, and some use essential oils for pest control or as a natural fragrance option. Always check the ingredients before applying anything to your cat's fur, especially if they have skin or digestive issues that may be irritated by certain things.
‌Tolerance:‌ Waterless shampoos are ideal for many cats as they offer a cleansing option for a pet who isn't exactly known for tolerating water very well. However, if your cat will tolerate a wet bath, using water and cat-safe shampoo may offer a deeper clean and can result in less build-up on the skin over time. If you prefer the convenience of dry shampoo or need to keep your cat clean on the go, then waterless options are a great choice to consider.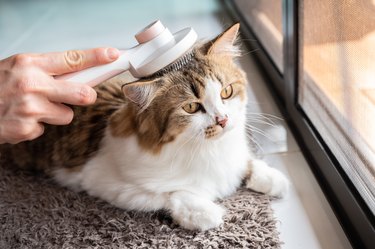 The key to giving your cat a good waterless bath is finding a shampoo that won't irritate their skin, cleans well, and isn't too heavily scented. This dry shampoo is hypoallergenic and pH balanced to maintain a healthy acid mantle on your cat's skin, resulting in a nourished coat and reducing things like dander, dry skin, itching, and other skin conditions. Lightly scented with plant-derived lavender and chamomile fragrance, this is a no-rinse formula that you just apply, towel dry, and brush through for an easy clean.
For cats who have sensitive skin, skin allergies, or conditions that may result in dryness or flaking, finding a hypoallergenic shampoo will be your best bet for keeping them clean without causing discomfort. This is a mild soap-free cleanser that's fortified with oatmeal and cucumber extracts to soothe the skin, and scented with coconut to freshen fur. Listed first as a deodorizing shampoo, this contains an odor neutralizer in addition to coconut fragrance, and also reduces dander as it's meant to be massaged in, then brushed out, no rinsing required.
You can absolutely freshen up your feline friend without water and without spending too much money on a great shampoo. The natural ingredients in this shampoo include apple and honey, which are loaded with vitamins, minerals, and amino acids for a healthy coat. Additionally, this formula is made with no sulfates, dyes, harsh chemicals, or artificial fragrances, and a 10-ounce spray pump bottle will cost you less than $5. While many waterless shampoos are foaming formulas, this is a fine mist spray that you can either spritz right onto your cat, or in your hand and then wipe through.
A lot of waterless cat shampoo comes in a foam formula, which applies evenly and is easy to brush through. With this particular shampoo, the brushing is optional, and the foam can be sprayed directly onto their fur or in your hand if massaging it onto your cat is your preferred delivery method. This is a natural botanical formula made with oil of balsam, rosemary, cedarwood, and orange, all of which deliver a light scent while removing dirt, grime, and odors outside of the tub. As with any dry shampoo, always avoid allowing this to contact your cat's mouth, nose, and eyes to prevent irritation.
Dry skin in cats can occur for a number of reasons, from the climate they live in, to the ingredients in their food, and even due to their grooming, or lack of grooming, habits. Dryness can result in itchy skin, dandruff, and even hot spots, so finding a product that cleans and moisturizes without irritating the skin further is essential. Made for sensitive skin, this shampoo is created with tried and true nourishing ingredients like vitamin E, neem oil, colloidal oatmeal, and aloe vera to condition and moisturize while cleansing the skin. This line is formulated by veterinarians, and won't interfere with or affect topical flea and tick medication.
Artificial and even natural fragrances simply aren't for everyone, so if you're looking for a scent-free cleanser for your cat, this is an excellent choice to consider. This shampoo is incredibly gentle, making it great for cats with sensitive skin or other skin conditions, and is free of sulfates, parabens, phthalates, and fragrances, resulting in a hypoallergenic shampoo that's safe and effective. Like many dry shampoos, this is foaming, tearless, and even safe for kittens (again, this is a wonderfully mild and gentle cat shampoo for the most sensitive of felines).
Even foams and sprays can sometimes prove to be too much for certain cats, and that's OK! For the feline who won't tolerate too much when it comes to hair maintenance, or for the cat owner who just likes to keep things super simple, cat wipes are a great way to help your friend stay clean and fresh without getting wet. Created with glycerin, oatmeal, and aloe vera, along with cleansing surfactants and soothing conditioners, these wipes remove dirt and grime quickly and easily. They tout a soft floral scent and contain no alcohol, harsh chemicals, parabens, or sulfates, so they're gentle enough for cats with sensitive skin.
What's the main cause of hairballs in cats? Fur! Namely, heavily shedding fur, which may be the result of poor grooming habits. One way to reduce shedding is to clean your cat with a de-shedding dry shampoo like this one, which is formulated with B vitamins to prevent hair breakage and to keep the skin and coat healthy and strong. Made with mineral and plant-derived ingredients, this no-rinse foaming formula contains blueberry and kiwi extracts for hydrating and soothing, reducing shedding, and will leave your feline freshly scented without overwhelming the room.
If you're looking to prevent fleas and ticks from hitching onto your cat but prefer to use natural ingredients to do so, this veterinarian-formulated shampoo can help you do just that. Made with safe amounts of essential oils, including peppermint and eugenol, which comes from the clove plant, you can kill fleas, flea larvae, and flea eggs—just apply in small sections, allow it to dry, and leave your cat to groom themselves as usual. As this product may require repeated applications over a few days for the most effective results, this may not be ideal for anyone looking to treat a severe flea infestation, so be sure to speak to your veterinarian if problems persist.