Blankets aren't just for people. Whether for warmth, furniture protection, or simply because your pet likes it, pet blankets are an extremely useful item to have in the pet owners' toolbox. We all know pets are not easy on the surfaces they inhabit, so it's important to spend your money wisely when selecting a pet blanket. They should be durable, washable, ‌and‌ comfortable. But options vary depending on how you intend to use them. If you're struggling to pick out your pet's new snuggly, check out our list of the best pet blankets on the market.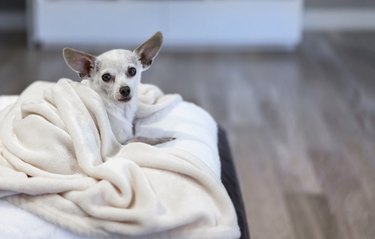 What to consider when purchasing a pet blanket
‌Intended Use:‌ If you have a dog or cat who simply prefers a blanket on the floor to a bed, opt for something denser so that your pet isn't just sleeping on a slightly softer floor. If you want a blanket to protect furniture, you'll want to make sure it's big enough and durable enough to withstand your pet's claws. If you're looking for something to protect your floors or furniture from pet messes, finding something that is both comfortable ‌and‌ waterproof is important. In other words, pin down what you want a pet blanket for before your click 'buy.'
‌Size:‌ Make sure you buy a blanket that is big enough or small enough for its intended use (and user). Some blankets only come in very small sizes and are ideal for small pets who want to snuggle up in them. If you intend to use it to cover the whole couch or spread out over the backseats to protect them from your German Shephard, however, opt for something that is at least 50 inches in width. If you want to use it for travel, don't pick the heaviest, thickest blanket. Instead, go for something that won't take up a lot of room while also covering up a lot of space, which means avoiding heavy fabrics.
‌Material:‌ If you want a blanket to protect furniture from pet messes—say, if your pet is getting on in age and can't always control his bladder—opt for something that is waterproof. It's more than possible to find comfortable blankets that also prevent liquid from seeping onto surfaces underneath. Also, no matter your situation, make sure the blanket is easy to clean. You don't want something that can't handle the washing machine without shedding or shrinking.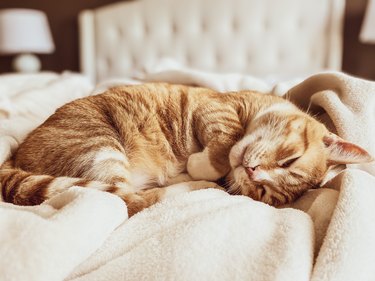 The best overall pet blanket
The Furrybaby Fleece Dog Blanket is extremely customizable, available in eight colors, many of which can be double-layered, and five sizes, ranging from small to jumbo. It is made of 100% environmentally friendly fleece, and it is machine-washable and will not shrink or shed in the dryer no matter how many times you wash and dry it. It's extremely soft and lightweight, so it's bound to be a hit with your pet, and it's easy to bring on trips either to protect your car or your host's couch. The only issue is that it is pretty thin, so it may not be the best option for warmth.
The best pet blanket for the car
This lightweight blanket comes in four colors and four sizes. It is made of 100% ultra-soft fleece that can be thrown in the washer and dryer. The size range means it's suitable for everything from newborn kittens to full-grown Rottweilers, and its versatility means it's a great blanket for a variety of surfaces. The design is also adorable, featuring polka dots in every color, so it will look good no matter where you put it. It compacts very well, making it ideal for trips, especially for laying out in the car to protect your seats and keep your pet comfy.
The best waterproof pet blanket
The PetAmi blanket comes in 15 different colors and four sizes, ranging from 29-by-40 inches to 90-by-90 inches (well over 7 feet across). It is made of soft sherpa and fleece, but one side is reinforced so that it will not leak onto the surface underneath it if your pet is prone to accidents. It can be thrown in the washer and dryer if it gets soiled and washes well without shedding or shrinking. We also love the design and color options—it comes in a variety of solid colors as well as some classic plaid patterns to fit any style of decor.
The best value pack of pet blankets
If you have multiple pets or find yourself having to wash your pet's bedding frequently, Comsmart Warm Blankets are a great option. They come in packs of six with various colors and a cute pawprint pattern on all of them. They are made of fleece, which means they are both machine-washable and will not shrink or shred in the dryer. They also come in three sizes, although none are more than 3 feet across, so these are not ideal for large pets. They are also not very thick, which makes them great for traveling or storage but not the best choice for warmth.
The best faux fur pet blanket
We love this blanket for puppies and kittens since the faux fur feel will remind your pet of snuggling up with his or her mom and siblings. It is made of vegan faux fur material and nylon, so it is machine-washable and dryer-safe. It comes in tasteful and understated color options to blend into any room, and it can be used as a blanket to protect furniture equally as well as it can cover a dog bed. It's incredibly soft, so your dog is guaranteed to love it. You may even want one for yourself!
The best reversible pet blanket
This blanket has a side made of soft sherpa and another of plush. A third internal layer traps in liquids so that accidents don't seep through onto surfaces underneath the blanket. Its reversibility means that you get two blankets in one depending on what your pet prefers. One side is colorful (cream, pink, or gray) and the other side is bright white, so it blends in with most decor styles. Currently, it's only available in one size (large, 60-by-50 inches), so it may be overkill for very small pets, but its size is great for medium or large pets. Finally, it can be safely thrown into the washing machine and dryer for easy clean-up.
The most versatile pet blanket
This pet blanket has it all. It comes with two layers of soft, plush microfiber that dogs will love. All its materials are environmentally friendly and it's reversible, although the blanket looks the same on both sides. The materials are shed-resistant, but it's not quite as durable as some of the other blankets on this list. You can choose between plush and quilted, both of which are a soft gray color. What truly makes this blanket the most versatile is the number of size options, which are designed to fit under car seats, over beds, in dog crates, on the floor, or wherever else. It has a 12-month guarantee should you come across any issues, and it's pretty affordable even in the largest sizes.