In addition to a human first aid kit, it's important to have a first aid kit for your dog. First aid kits help you care for your dog if they are injured until you can get to a vet clinic. It's a good idea to purchase dog first aid kits for your home and vehicle, as well as a portable option to take with you when you travel. If you and your dog hike or do other outdoor activities, you may also want to consider having a first aid kit for your dog in your hiking bag. You never know when an accident will occur, and a canine first aid kit can help you to be prepared in the event that your dog gets injured.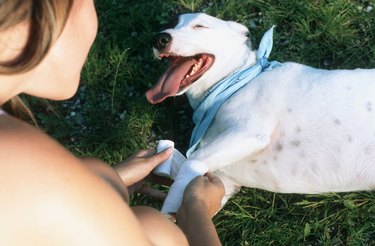 What to consider when purchasing a first aid kit for your dog
‌Get Educated:‌ A first aid kit is only useful if you know how to use it. When you purchase a first aid kit for your dog, be sure to familiarize yourself with all of the supplies and make sure you know how to use them. In addition to purchasing a first aid kit, consider signing up for veterinary first aid classes through your local humane society or The Red Cross. These classes will teach you basic first aid and what to do in the event of an emergency where your dog is injured.
‌Replenish:‌ Don't forget to keep that first aid kit well-stocked and updated. When you use something from your first aid kit, it's important to purchase a replacement item. You'll also want to make sure that the supplies are fresh and haven't expired. It's also helpful to keep a printed copy of your dog's updated medical records and vaccination history in the first aid kit in case your dog needs to be seen by a veterinarian.
‌Find Support:‌ Having a first aid kit for your dog isn't a replacement for seeking emergency veterinary care. If your dog has scrapes or a minor cut, you may be able to treat it on your own but for more serious injuries, you should make sure your dog is seen by a veterinarian or taken to an emergency clinic as soon as possible.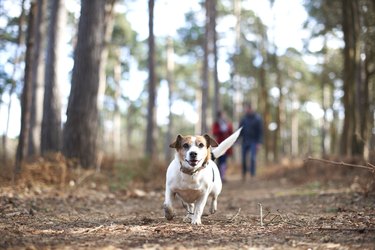 The best travel first aid kit for dogs
This 72-piece first aid kit includes all of the supplies you need to support your dog in an emergency. It includes antiseptic wipes, gauze rolls, moleskin, bug repellent, sterile pads, waterproof bandages, antibiotic ointments, burn creams, poison ivy wipes, and other essentials. If you're going to be hiking in grassy or wooded areas, the kit also includes tweezers and tick removers. Other thoughtful supplies include a collapsible bowl, pet cleaning wipes, and a whistle. The bag is made of nylon and has well-organized interior compartments to keep everything in place.
The best first aid kit for hiking with dogs
Ideal for adventurous dogs and their owners, this first aid kit includes everything you might need to administer first aid to your dog on the trail. The kit contains a splinter picker and tick remover for injuries and bites, as well as a muzzle, irrigation syringe, self-adhering bandages, triple antibiotic ointment, antihistamines, alcohol swabs, a saline solution for flushing out eyes and cuts, and much more. Designed for the most common hiking-related injuries, this first aid kit includes an assortment of dressings and bandages that you can use on your dog until you're able to get off the trail and seek veterinary care.
The best compact first aid kit for dogs
Perfect for pet owners on the go, this 35-piece first aid kit includes all the essentials you need in one small pouch that measures 5.25 inches tall and 7.5 inches wide. This dog emergency kit can be thrown into a purse, glove compartment, or backpack—it even has a clip for attaching it to your belt or rucksack. The kit boasts gloves, bandages, antiseptic, tweezer, scissors, eyewash, tick removers, sting relief pads, and more. There's also a whistle and an emergency thermal blanket should you or your dog ever need it. The pouch it comes in is reflective, tear-resistant, and has a waterproof interior. This small but mighty first aid kit can help you solve minor emergencies when you're away from home. Everything comes individually packaged and the kit is FDA-approved.
The best first aid storage bin for dogs
If you prefer to build your own first aid kit for your dog, you can corral your supplies in this practical and decorative storage bin. It features a two-tier design that makes it easy to organize your dog's medication and first aid supplies like bandages, disposable gloves, alcohol pads, scissors, and adhesive tape. The powder-coated metal storage bin includes a removable top tray that can be lifted out to make your most-used supplies easy to find. The overall dimensions are 9.2 inches long, 7 inches wide, and 7.8 inches high. It makes for a stylish addition to your home and is easily identifiable in an emergency situation.
The best instructional first aid kit for dogs
Created by a veterinarian, this first aid kit for dogs is easy to carry and use. Among the first aid items are bandages, an ice pack, wound cleaning supplies, a thermometer, tweezers, hydrogen peroxide, sting cream, and antihistamine. Beyond that, the kit includes a pet piller, pill-splitter, styptic matches for bleeding nails, bandage scissors, and a flashlight. The bag has two different handle lengths to make it easy to carry, and the interior touts a variety of compartment sizes (open and zippered) to keep everything neat and tidy. Best of all, this kit comes with a pet first aid manual written by a veterinarian to provide step-by-step instructions on how to handle common emergencies. It also offers links to online videos with more detailed instructions.
The best car first aid kit for dogs
This 60-piece first aid kit includes all the supplies you'll need to manage minor injuries. It contains a variety of bandages, gauze, gloves, tweezers, scissors, tick remover, antiseptic wipes, an ice pack, an emergency blanket, and much more. The case it comes in is particularly handy as it has a hard shell to prevent the contents from getting crushed. There's even a carabiner to attach the kit to your backpack. The first aid kit also includes an emergency care handbook to support dog owners in learning how to handle emergencies with their dogs such as how to make a splint or clean a wound. This first aid kit is compact and easy to store in your car or bring on a camping trip.
The best comprehensive first aid kit for dogs
This dog first aid kit has everything you need to manage emergency situations with your dog. It includes an emergency leash with reflective tape, antiseptic wipes, sting relief pads, latex-free gloves, gauze, a cold pack, a thermal foil emergency blanket, a syringe, poop bags, tweezers with a magnifying glass, and a variety of dressing pads. There's a waterproof information card where you can jot down emergency phone numbers for vet clinics, an emergency ID tag that can be written on, and a collapsible waterproof bowl. This lightweight kit is easy to carry with you while traveling or hiking and is perfect for home use as well.