Do you have an anxious dog? An increasingly popular opinion for supporting dogs struggling with fear and stress is anxiety vests. These vests fit tightly and apply consistent pressure to a dog's torso. This pressure can be comforting to some dogs and may reduce symptoms of panic and anxiety, especially during a high-stress event like a thunderstorm or nearby fireworks show. Although they can be helpful for dogs, it's important to remember that an anxiety vest does not treat the root cause.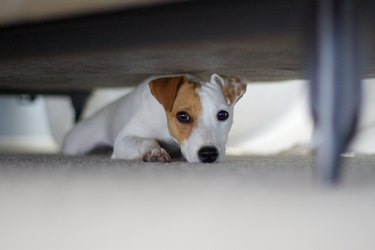 Dogs suffering from severe anxiety need support from their veterinarian, a dog trainer, and potentially a veterinary behaviorist. These professionals will help you develop a training and treatment plan, which may include counterconditioning training opportunities to help shift your dog's response to triggers, and in some cases, prescription anti-anxiety medication to be used in conjunction with training.
What to Consider When Purchasing an Anxiety Vest
‌Effectiveness:‌ There has not been a lot of scientific research into the success rate of anxiety vets for dogs who are stressed or experiencing panic. However, anecdotal evidence suggests that some dogs have responded positively to the use of an anxiety vest, which creates a sensation that's much like swaddling a baby. These drug-free soothers are a good first option to see if you can naturally reduce your dog's anxiety at home.
‌Supervision:‌ If you try an anxiety vest on your dog, make sure that your dog is supervised anytime they are wearing the vest. Supervision is important to make sure that your dog doesn't become entangled in the vest or distressed by the presence of the vest. If your dog is uncomfortable in the vest, it should be removed immediately.
‌Sizing:‌ Pay special attention to the sizing of any anxiety vest that you are purchasing. It's important for the vest to fit your dog well. A vest that is too baggy won't give any of the comforting compression and could be a trip hazard if your dog's legs get caught in it. Similarly, a vest that is too tight will be uncomfortable for dogs
‌Use:‌ If your dog is anxious, try putting an anxiety vest on them. It is helpful to pair the calming wrap with chews and music to mask any upsetting noises. You can also introduce pheromone diffusers, which can help calm dogs.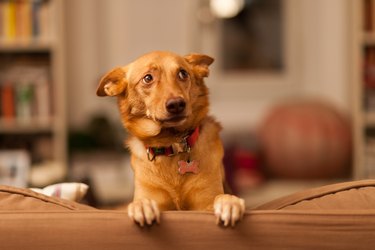 The Best Overall Anxiety Vest
The ThunderShirt Classic dog anxiety vest is available in sizes extra-extra-small to extra-extra-large. It's designed to calm dogs during stressful situations such as fireworks and thunderstorms. The vest's patented design provides consistent, gentle pressure to help soothe and relax anxious dog—kind of like giving your dog a prolonged hug. The vest is made of breathable, soft fabric and is machine-washable to keep it clean between uses. Plus, it's easy to take on and off, so you can slip it on your dog in seconds.
The Best Anxiety Vest With Multiple Sizes
This ZenPet anxiety vest exerts constant, gentle pressure on a dog's body to decrease anxiety. It's available in six sizes, ranging from extra-small to extra-extra-large, and can accommodate dogs weighing 8 pounds to over 85 pounds. Be sure to measure your dog carefully and always size up if your dog is in between sizes. The anxiety vest is machine-washable, made with four-way stretch fabric that's lightweight and breathable to prevent dogs from overheating while wearing it. This vest can be used for dogs struggling with situational anxiety and nervousness at vet visits, car rides, and during thunderstorms.
The Best Budget Anxiety Vest
Made of ultra-soft, breathable material, this vest was developed to help reduce your dog's anxiety during stressful situations such as thunderstorms, separation, travel, and vet visits. To put the vest on, have your dog step into the armholes, then zipper it along the back. Then, loop the belly band through the slit, tighten it as desired, and secure the band with the heavy-duty hook and loop fastener. This design is particularly effective for dogs who often wriggle out of their anxiety vests.
The Best All-Senses Anxiety Vest
This anxiety vest is unique in that it combines touch, sound, and smell to soothe dogs. It has a built-in speaker that emits relaxing instrumental music to help calm dogs and drone out any unpleasant noises. The vest also includes insertable scent diffusers in lavender and chamomile to bring additional comfort to dogs via aromatherapy. The vest's adjustable strap acts as a swaddle to provide consistent pressure that can help calm stressed and fearful dogs. This 3-in-1 vest is available in sizes extra-small, small, and medium. It's currently sold in gray but it is sometimes also available in a bright pink color.
Different from a traditional anxiety vest, this cap is designed to go over a dog's head instead of around his torso. The behavior management tool can help decrease anxious behavior in stressful and triggering situations. The see-through and single-panel sheer fabric hood masks visual stimuli that can be upsetting for anxious or reactive dogs. The calming cap has two adjustable straps and is made of soft fabric with elastic to ensure a comfortable, yet secure fit for most dogs. If your dog has never used a calming cap before, you may want to work with a trainer to help your dog get comfortable with the product.
The Best Compression Hoodie
This is another variation on the calming cap that wraps around the head to muffle loud noises. It's particularly useful for dogs with sound sensitivities to things like construction, thunderstorms, vacuuming, or even the blowdryer during grooming. The cap produces a calming effect by swaddling the dog's ears and neck in an effort to relieve anxiety. It's available in sizes small, large, and extra-large and in five colors.
The Best Adjustable Anxiety Vest
This highly adjustable anxiety vest comes in sizes extra-small through extra-large to fit most dogs. It has three adjustable bands—two that go under the belly and another that goes across the chest—to keep dogs securely swaddled but also comfortable. The material feels like a soft T-shirt, so it's very breathable and lightweight. It consists of 62% viscose fiber, 33% polyester, and 5% spandex for stretchiness. There's even an included elastic band to help keep the chest band secure. This vest is easy to put on and take off and is machine-washable for added convenience.
The Best Colorful Anxiety Vest
This budget-friendly vest can support anxious dogs who struggle with thunderstorms, fireworks, loud noises, separation, and other stressful situations like travel or vet visits. It comes in four colors: pink, blue, green, or gray. It's also available in four sizes: small, medium, large, and extra-large, the latter of which is suitable for dogs weighing up to 100 pounds. The anxiety vest is made of breathable, lightweight fabric that's flexible and provides consistent pressure. There are two straps that wrap around your dog's belly and a chest strap that secures in the front.
The Best Breathable Anxiety Vest
If your dog is anxious about loud noises, sometimes you only have a couple of minutes to act before they dash under the bed. This anxiety vest is super easy to put on and take off, thanks to its three adjustable straps. It feels like a hug and helps dogs relax during high-stress moments. This particular vest can be washed by hand or simply thrown in the washing machine. It's sold in five sizes: extra-small, small, medium, large, and extra-large, as well as four colors: light gray, dark gray, navy, and rose (magenta).