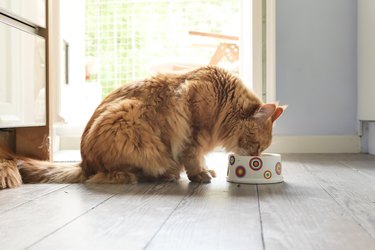 Your cat bellies up to her empty food bowl, gives you a reproachful look and meows for more. While she once took a sip or two of water from her water dish, she's now lapping it up for minutes on end. Excessive hunger and thirst can be signs that your cat has diabetes and will need special care, including a special diet.
Feline diabetes
About 0.5 percent to 2 percent of cats have been diagnosed with diabetes, but the number may be higher because the condition often goes undiagnosed. Most cases in cats are similar to type 2 diabetes in humans. A cat's cells no longer respond to insulin, which helps sugar enter cells, and the cat ends up with high blood sugar.
Older, neutered male cats are at the highest risk for diabetes. As the rate of obesity in cats grows, so does the incidence of diabetes, as fat cells are more resistant to insulin. Most cats will need daily injections of insulin to ensure their blood sugar stays in check.
Diabetic cat diet
Lower-carbohydrate, high-protein foods can help lower the number of blood sugar spikes. About half the calories in the food should come from protein and 40 percent from fat, with just 10 percent carbohydrates. This kind of low-carb cat food usually means canned food, because dry food has a high carbohydrate content.
Some cats who switch to a special diet for diabetic felines may no longer need insulin. Because diabetic cats are often very hungry, finding a food for even finicky eaters can be an easy transition.
Some food for a diabetic cat diet requires a prescription from your vet, while others can be purchased online, at pet stores, and even in your local grocery store.
Prescription canned food
One food often found on a diabetic cat food list is Purina Pro Plan Veterinary Diets Dietetic Management formula, which is a high-protein, low-carb prescription food. The minced food is high in antioxidants.
Royal Canin Veterinary Diet Glycobalance Morsels In Gravy is another prescription diet food. It was created specifically to help maintain healthy blood glucose levels in adult cats who have been diagnosed with diabetes, but it can also be fed to help manage bladder and urinary health.
Hill's Prescription Diet m/d Glucose/Weight Management is pork-flavored with a pate texture. It has a high level of taurine to help maintain normal levels of insulin.
Nonprescription foods
ZiwiPeak Venison is a nonprescription food that is composed of 93 percent venison and has no chemical preservatives, artificial ingredients, or animal byproducts.
Tiki Cat Succulent Chicken canned food's first four ingredients are chicken broth, tuna, chicken, and sunflower seed oil. It has almost no carbohydrates.
Hound & Gatos Canned Salmon delivers just what its name denotes: nearly all salmon in broth with no chemical preservatives, artificial ingredients, or animal byproducts.
On grocery store shelves
Fancy Feast Fish and Shrimp Feast is one of the lower-cost foods that is good for diabetic cats. Its low-carb formula is primarily comprised of ocean fish, fish broth, shrimp, and vegetable oil.
There are several kinds of Friskies for diabetic cats. These include Friskies Senior Turkey & Giblets, Friskies Canned Cat Beef and Liver Dinner, and Friskies Canned Cat Turkey and Giblets Dinner.
Diabetic cat treats
Most cat treats have a high level of carbohydrates, which makes them appealing and tasty for your cat but won't help his diabetes management. You might consider feeding a few bites of chicken or salmon as a treat. A few brands of wet treats can also fit the bill.
PureBites Mixers come in several fish flavors with just fish or chicken and water as ingredients. PureBites also makes freeze-dried bits of shrimp and fish that come in pouches.
Always check with your veterinarian before changing your pet's diet, medication, or physical activity routines. This information is not a substitute for a vet's opinion.