Juggling poop bags, treats, your phone, and keys can be a lot when walking your dog. A hands-free leash is a convenient way to keep your dog attached to you while on a walk, run, hike, or other outings. Hands-free leashes are generally worn across the dog walker's body or around their waist. A hands-free leash can also be a helpful backup when working with a reactive or anxious dog as it prevents the owner from accidentally dropping the leash if the dog lunges or moves erratically.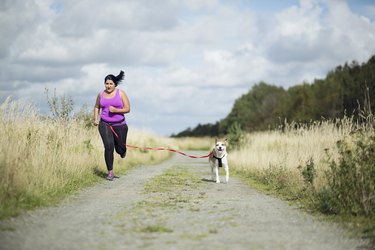 What to consider when purchasing a hands-free dog leash
​Style:​ Hands-free dog leashes are generally worn around the waist like a belt or over the shoulder and across the body. Before purchasing, consider what style and design will be most comfortable and practical for you.
​Leash Length:​ When purchasing any leash, including a hands-free leash, consider where you will be walking or playing with your dog and just how much leash you want your dog to have. If you'll be walking or hiking in a crowded or populated area, it's best to have a shorter leash to keep your dog close to you and prevent them from interacting with other dogs or people.
​Dog Training:​ Taking your hands off your dog's leash can be a great way to give you and your dog more freedom on walks. That being said, make sure you are still paying attention to your dog and maintaining focus. By continuing to teach your dog proper on-leash etiquette, you'll keep you, your dog, and your community safe. And if you need help in that department, you may want to hire a qualified dog trainer.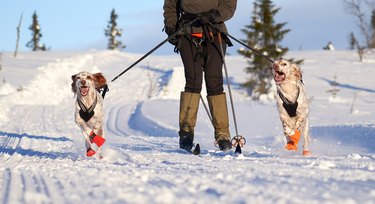 Waist belt hands-free dog leashes:
1. DOCO Hands-Free Dog Leash
Available in three colors (red, black, and turquoise), this handy leash attaches around the owner's waist. The belt boasts a pouch with multiple compartments for storing treats, keys, a phone, a water bottle, and other supplies needed while you're running or walking with the dog. There's even a built-in poop bag dispenser!
The leash and pouch are made with neoprene and breathable mesh. Reflective stripes help the dog and owner be more visible in low light. The belt fits waist sizes between 26 and 48 inches, and the leash measures 5 feet long. The leash features shock-absorbing bungee technology to make runs and walks more comfortable, and has two handles should you need to guide your dog away from a distraction. There are three metal D-rings for attaching the leash to the jogging belt, giving you plenty of hands-free options.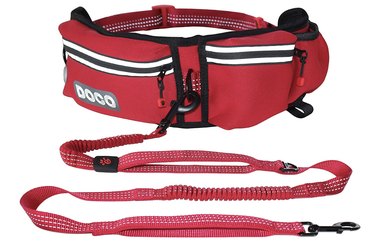 2. Tuff Mutt Hands Free Bungee Leash
If you live in an urban area and need to keep your dog close to your person, this four-foot hands-free leash is a great option. It's sold in gray/teal, gray/yellow, and gray/purple, and is lightweight and comfortable for dog owners to wear. The leash has a bungee component that expands from 48 inches to 60 inches, making it an ideal running leash for pullers. The belt clip moves easily from side to side, giving your dog more freedom of movement. There are also two traffic handles that, if needed, allow dog owners to keep their dogs closer while walking. The waist belt adjusts from 26 to 48 inches and the leash is recommended for dogs weighing between 25 and 110 pounds. The leash and belt also feature reflective fabric for improved visibility.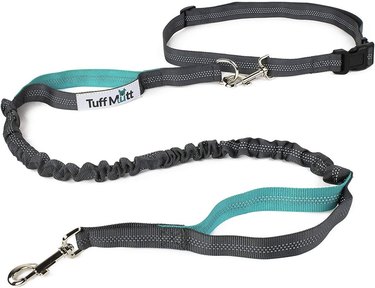 3. Hertzko Nylon Reflective Bungee Hands-Free Running Dog Leash
This budget-friendly, hands-free leash attaches to an adjustable waistband that fits waist sizes of 26 to 48 inches. The leash is made of weather-resistant nylon for durability. It has a bungee component that acts as a shock absorber as well as reflective stitching to improve visibility during early morning or evening strolls. An easy-grip handle offers better control and the metal clasp that attaches to your dog's collar or harness rotates 360 degrees. It's sold in two leash lengths: 36 inches or 48 inches.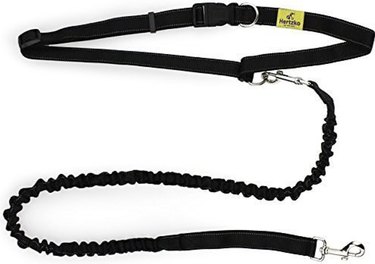 4. Kurgo Reflect & Protect Quantum Nylon Hands-Free Running Dog Leash
What's the best thing about this hands-free dog leash? It's actually six leashes in one. It can be worn around the waist or slung over the shoulder, it can be adjusted from a 3-foot training leash to a traditional 6-foot leash, and it can function as a double dog walker. The leash is made from nylon webbing, making it durable and easy to spot clean. Its handle is padded for a better grip and comfort, and reflective trim on the leash enhances visibility. The steel carabiner where you can attach a second leash also has a built-in bottle opener. This versatile leash is sold in multiple color options including green, blue, raspberry, red, and red/blue.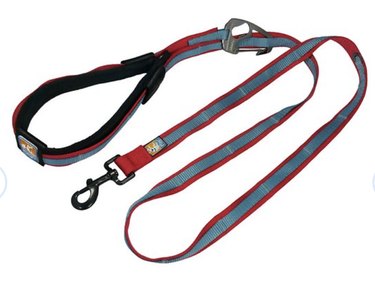 Cross-body hands-free dog leashes:
1. oneisall Hands Free Dog Leash
An affordable option in the cross-body category, this hands-free leash is adjustable from 4 feet to 7 feet. It's also double-ended, so you could use it to walk two dogs, although it lacks a proper handle in this mode so we wouldn't recommend it for everyday use. The leash is made of hardwearing nylon and comes in black or light blue. The handles are padded with neoprene for added comfort. Sturdy D-rings allow you to adjust the leash to different lengths and the metal clasps that attach to your dog's collar or harness swivel 360 degrees. This hands-free leash is useful for hiking and walking with your dog, allowing you to give your dog space to sniff and explore when safely allowed or pull them closer when on tighter sidewalks or trails. This budget-friendly leash is convenient to use and easy to adjust for both dog and handler.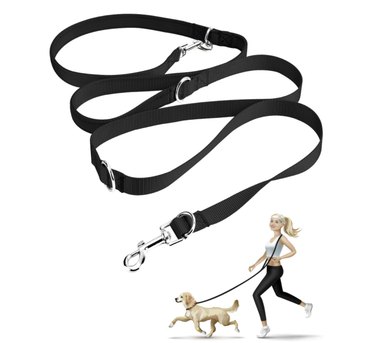 2. Dogs My Love 6 Way European Multifunctional Leather Dog Leash
This fashionable leash is available in black and brown leather and has high-quality, nickel-plated hardware for lasting durability. This style of cross-body configurable leash is popular with dog trainers, service dog handlers, and other dog professionals. It can be adjusted to three different lengths, ranging from approximately 45 inches to 79 inches, and three different configurations, quick-tie leash, shoulder leash, or double leash. This particular leash is intended for large and giant breed dogs and is 3/4-inch wide.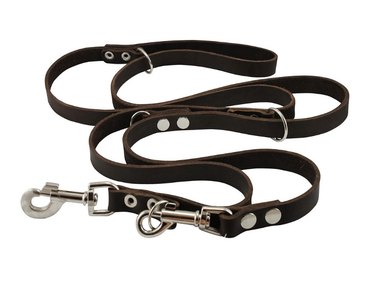 This customizable, hands-free leash is well worth the splurge. It's handmade with ultra-durable and waterproof BioThane, "a polyester webbing with a TPU or PVC coating" that makes it easy to wipe clean. It comes in brown, black, or red, and can be worn around the waist or across the chest. It's super lightweight but strong enough for use with dogs of all sizes, including large dogs.
The leash is available in 6-, 7-, and 8-foot options depending on your needs and preferences. There are three widths to choose from, 1/2-inch, 5/8-inch, or 3/4-inch. You can also customize the color of the tabs that allow you to adjust the leash's length or configuration. Like some of the other options on this list, you can use the leash as a double leash, a tether, or to have dual control (two attachment points) of a dog who pulls. What's not to love?
4. Found My Animal Adjustable Rope Dog Leash
Available in navy, light tan, dark tan, orange, and black, this stylish hands-free leash is made of marine-grade rope that's designed to withstand hundreds of pounds of pulling force. The end of the leash is also reinforced to prevent fraying. These adjustable leashes are handmade in Brooklyn, New York, and can be worn across the body or around the waist for added versatility. The hardware is all solid brass—there are multiple D-rings spaced throughout the leash to allow for various lengths and configurations. A lockable carabiner provides an extra layer of safety when attaching the leash to your dog's collar or harness. There are three different sizes (small, medium, and large) to choose from based on your dog's breed size, but all the leash lengths are the same at 7 feet. The only drawback to this leash is that it can be rough on the hands if your dog regularly pulls on walks.