June is the official Pride Month, the time to celebrate the LGBTQIA2S+ community. This year, your pets can get in on the festivities with a variety of fun (and even some useful) Pride-themed items available online at your favorite retailers. Giving your pets Pride-themed accessories and toys is also a great way to signal to neighbors and other people in your community that you are a part of the LGBTQIA2S+ community or a supportive ally.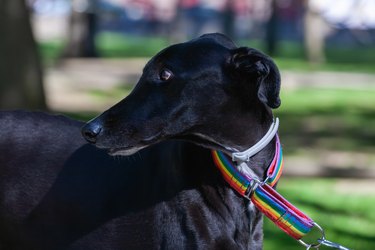 What to Consider When Purchasing Pride Merch for Your Pet
​Comfort:​ After appropriate introductions, some pets enjoy wearing costumes or outfits, but many don't. Make sure any apparel item that you purchase for your pet is comfortable and fits well. For most pets, it's best to stick to bandanas, collars, leashes, and other accessories that are lightweight and agreeable for pets to wear.
​Variety:​ There is a wide variety of LGBTQIA2S+ Pride items available for cats and dogs, so there's something for every pet's preference. When purchasing Pride gear for your pet, think about what kinds of toys they enjoy playing with the most and select Pride-themed items that match your pet's playstyle and interests.
​A Good Cause:​ Many companies with Pride collections are making donations or donating a portion of sales from those collections to nonprofit organizations that support the LGBTQIA2S+ community. When purchasing Pride-themed toys or supplies for your pets, you may want to seek out a retailer that is actively supporting such causes. For example, Petco is donating 10% of every purchase from its Pride collection to The Trevor Project.
1. Pride Basic Cat Scratch House - Boots & Barkley
This cardboard scratching house is decorated with a variety of different LGBTQIA2S+ Pride flags. The roof of the house features the phrase "What A Colorful World." With front and back doors as well as windows, the house is cozy, but also gives cats the ability to easily get in and out and keep an eye on their surroundings. The tile pattern of the scratching house includes transgender, bisexual, non-binary, pansexual, asexual, intersex, aromatic, genderfluid, and genderqueer Pride flags. The scratch house is easy to assemble and has a corrugated scratch surface as the flooring, which encourages cats to scratch.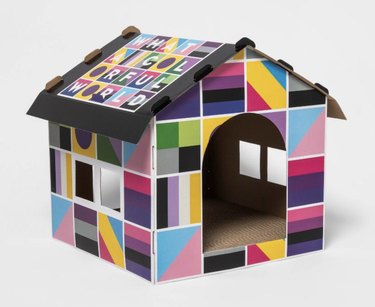 2. Pride Rainbow Swirl Dog Bowtie
This black bowtie for dogs has a rainbow swirl pattern, making it the perfect Pride accessory. The bowtie slides onto your dog's regular collar, so it's comfortable and stress-free for most dogs to wear. The bowtie is an ideal accessory if you're bringing your pup to any dog-friendly Pride events or are just looking to dress your dog up for a walk. The bowtie is made of polyester and can be wiped clean if it gets dirty.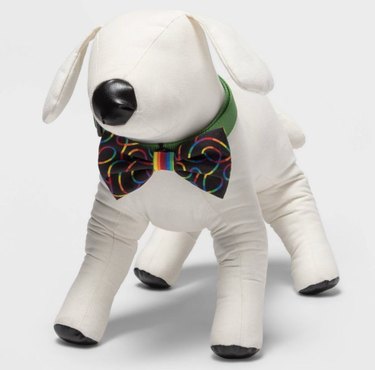 3. BARK Out Ollie the Octopus Dog Toy
This durable octopus toy incorporates an inclusive Pride flag design. The octopus has colorful "tentacles" that make this toy especially fun for dogs who like to shake and thrash while playing. The toy also includes a crinkle core to encourage dogs to play. Hidden inside the toy is a spiky squeaker ball, so if your dog likes to open toys, there is a second toy hidden inside. Currently, it's only available in size extra-small, which is recommended for dogs weighing between 9 and 20 pounds.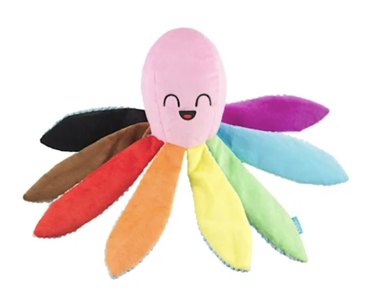 4. YOULY Pride Plush Flag Dog Toy
This plush dog toy brings the inclusive rainbow Pride flag to life for your dog to play with. The plush toy has built-in crinkle material to entice dogs to chase, shake and play. The toy is medium-sized at 9 inches long and could be a fun photo prop to use with your dog when they aren't busy playing.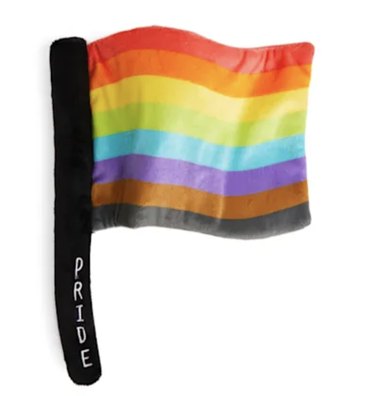 5. Canada Pooch Rainbow Dog Torrential Tracker
Available in sizes 3X-small to 3X-large to fit most dogs, this rainbow-colored raincoat is a practical way to show off your pride year-round. The vest features reflective trim to help keep you and your dog visible when out at night. The shell of the jacket is water-resistant to keep your dog dry, and the coat has full belly coverage for maximum comfort. The fun rainbow pattern of this coat includes two functional pockets for storing treats, spare poop bags, and other walk essentials.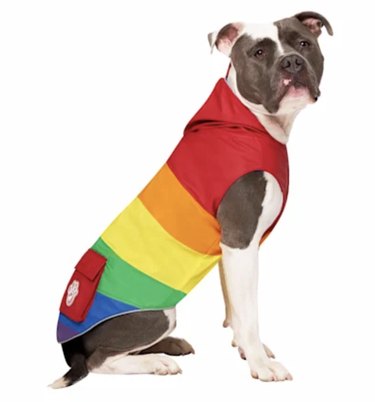 6. YOULY Pride Tennis Ball Dog Toy
This set includes three brightly-hued rainbow tennis balls. One of the balls in the set also has a rainbow printed on it along with the message "Be Proud." A percentage of each purchase goes to The Trevor Project, the largest suicide prevention organization for LGBTQIA2S+ youth. This tennis ball set will set your dog up for fun all summer long, whether the two of you are playing at home, at the park, or at the beach.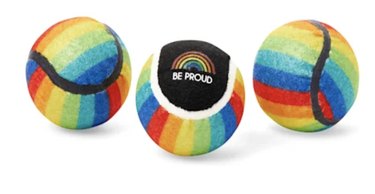 7. Fresh Pawz Pride Adjustable Mesh Dog Harness
This adjustable harness is a comfortable (and stylish) way to walk dogs of all sizes. The rainbow-colored mesh harness is festive for walking your dog in June or any other month for that matter. The harness has a back leash attachment to prevent your dog from putting pressure on his neck while pulling. This harness has reflective straps to make your dog more visible on nighttime walks. This harness is available in sizes extra-small to extra-large and features rainbow straps to complete the celebratory look.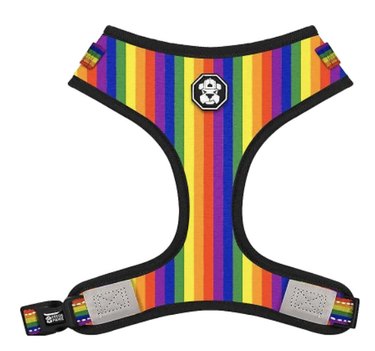 8. Hip Doggie Pride Reversible Pet Bandana
This reversible bandanna is a comfortable way to dress your dog up for Pride events. The bandanna has a scrunchy design that makes it easy to put on and take off your dog without having to tie it. Available in sizes extra-small to large, this bandanna has two different Pride designs, making it a versatile addition to your dog's wardrobe. One side has a splash of rainbow colors with the word pride, and the reverse side says pride in rainbow letters with a rainbow of paw prints around it.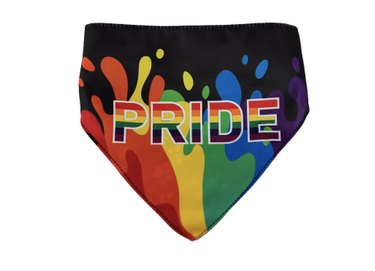 9. YOULY Rainbow Cat Scratcher
Your cat won't have to search somewhere over the rainbow to find a place to scratch and stretch with this arched cat scratcher. With a brightly colored front and a corrugated cardboard top, this rainbow-shaped scratcher will encourage cats to scratch and play. The scratcher has a shape that's interesting to cats, especially those that enjoy vertical scratching. It also comes with catnip to keep cats interested in the scratcher. The toy measures 15 inches long, 15 inches wide, and 8 inches high.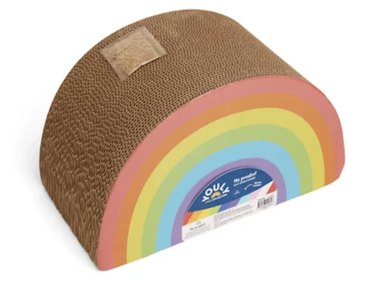 10. YOULY Pride 3-Pack Cat Toys
Update your cat's toy collection with these Pride-themed plush toys. The set includes a plush rainbow, a plush rainbow-hued mouse, and a plastic ball with ribbons and a bell (not pictured). The plush toys contain organic catnip, which will attract most cats and encourage them to play with the toys. This set is great for cats who enjoy chasing, pouncing, and wrestling with their toys. The bright rainbow colors and cheerful designs also make these cat toys fun to have around the house!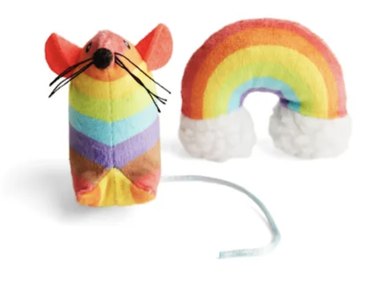 11. Transgender Flag Color Silicone Dog Bowl
When venturing outdoors with your dog this summer, it's important to carry water, and these collapsible, portable water bowls are perfect for taking with you on a walk or hike. Available in the transgender flag, inclusive flag, and bisexual flag options, these portable water bowls are a great way to show your Pride. Each bowl holds 3 cups of water or food, making it ideal for dogs of all sizes. The bowls are made of silicone, so they're easy to clean, and have an attached carabiner clip that can be attached to your treat pouch or backpack. The bowls are lightweight and easy to pop open and closed. Proceeds from these collapsible bowls benefit GLSEN, a national nonprofit that supports LGBTQIA+ students.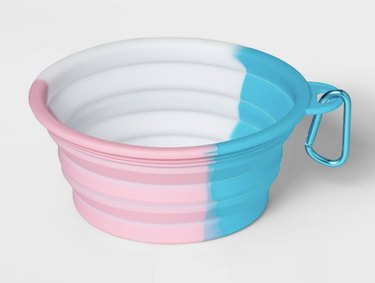 12. Fresh Pawz Pride Waste Bag Dispenser
A practical way to show your pride year-round is this rainbow poop bag holder. The pouch holds one roll of poop bags, and can then be attached to your dog's leash, your treat pouch, or your keys. This rainbow poop bag holder is easy to use and a convenient way to always have poop bags available, whether you're at Pride with your dog or just out for a neighborhood walk.