June is the official Pride Month, the time to celebrate the LGBTQ+ community. This year, your pets can get in on the festivities with a variety of fun (and even some useful) Pride-themed items available online at your favorite retailers. Giving your pets Pride-themed accessories and toys is also a great way to signal to neighbors and other people in your community that you are a part of the LGBTQ+ community or a supportive ally.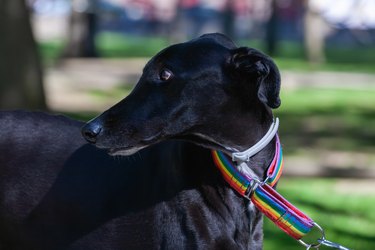 What to consider when purchasing Pride merch for your pet
‌Comfort:‌ After appropriate introductions, some pets enjoy wearing costumes or outfits, but many don't. Make sure any apparel item that you purchase for your pet is comfortable and fits well. For most pets, it's best to stick to bandanas, collars, leashes, and other accessories that are lightweight and agreeable for pets to wear.
‌Variety:‌ There is a wide variety of LGBTQ+ Pride items available for cats and dogs, so there's something for every pet's preference. When purchasing Pride gear for your pet, think about what kinds of toys they enjoy playing with the most and select Pride-themed items that match your pet's playstyle and interests.
‌A Good Cause:‌ Many companies with Pride collections are making donations or donating a portion of sales from those collections to nonprofit organizations that support the LGBTQ+ community. When purchasing Pride-themed toys or supplies for your pets, you may want to seek out a retailer that is actively supporting such causes.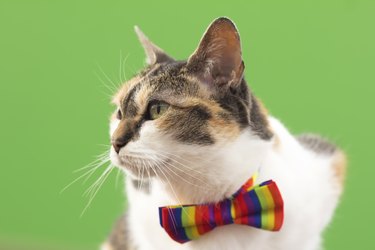 1. Frisco Pride Love Wins Cardboard Cat House
This cardboard scratching house is decorated with rainbows, faux sparkles, a dangling heart on a string, and the empowering message, "love wins." With front and back doors as well as windows, the house is cozy but also gives cats the ability to easily get in and out and keep an eye on their surroundings. The floor of the cat house is made of corrugated cardboard that's perfect for scratching. You can sprinkle the included catnip over the cardboard to pique your cat's interest. The cat house is super easy to assemble and measures 15 inches wide and 15.25 inches tall.
2. Over the Rainbow Dog Bow Tie
This whimsical rainbow bowtie is the perfect Pride accessory. It slides onto most standard-width collars and has two elastic loops to keep it in place. There are two sizes to choose from: small (4 inches wide, 2.5 inches high) and large (5 inches wide, 3.5 inches high). The bowtie is comfortable and stress-free for most dogs to wear, making it an ideal accessory if you're bringing your pup to any dog-friendly Pride events or are just looking to dress your dog up for a walk. The bowtie is made in the U.S.A., and there are many other rainbow-hued accessories in other styles and patterns sold by The Foggy Dog.
3. You Are Loved Pride Rainbow Single-Wide Cat Scratcher With Catnip
Your cat won't have to search somewhere over the rainbow to find a place to scratch and stretch with this Pride-themed scratcher. With brightly colored sides and a replaceable corrugated cardboard insert, this rainbow scratcher will encourage cats to scratch and play. It even comes with catnip to get your cat to interact with it. The toy measures 18.5 inches long, 4.75 inches wide, and 2 inches high. To celebrate Pride, PetSmart has donated $100,000 to GLSEN, an organization that supports and protects K-12 LGBTQ+ students.
4. Frisco Pride My Moms Love Me Plush Squeaky Dog Toy
This heart plush toy reads "My Moms Love Me," and also comes in a "My Dads Love Me" version. It has a sewn-in squeaker and is soft and cuddly should your dog wish to nap with their new toy after playtime. The sweet message is printed on both sides of the toy, and the bright colors make it easy to spot. Measuring 5 inches long, 5.5 inches wide, and 1.5 inches high, this squeaky toy is recommended for small dogs who aren't aggressive chewers.
5. Frisco Pride Mice Plush Cat Toy with Catnip, 4-Count
These feather-tailed plush mice each have a unique, Pride-themed design, sporting cute outfits, and rainbow-hued ears. They're a bit larger than other mice toys, so they're less likely to get lost. Each mouse is infused with silvervine and has a feathery tail that your cat will find irresistible. They're great for solo or interactive play, and encourage your cat to chase, pounce and bat.
6. You Are Loved Pride Rainbow Fringe Dog Leash, 4-ft. Long
Is your dog ready to slay the Pride parade? This rainbow fringe dog leash is 4 feet long—ideal for keeping your dog close to you in a crowd. The leash itself is denim-colored, and the fringe extends all the way down it. There's trendy brass-colored hardware, including a D-ring on the loop handle for attaching a waste bag holder. The leash matches PetSmart's butterfly dog harness if your pup is looking to go all out for Pride.
7. Made By Cleo Carousel Rainbow Slide-On Cat Bandana
If your cat isn't a fan of dressing up, a comfortable-to-wear accessory like a collar or bandana may be the way to go. This slide-on bandana from Made By Cleo can be worn on or over your cat's collar It's recommended for adult cats and small dogs with neck sizes over 7 inches. Both sides are printed with the pastel-y rainbow pattern, and there is a matching cat collar and bow tie for purchase if you'd like to complete the look.
8. You Are Loved Pride Tennis Ball Dog Toy, 3-Count
This set includes three brightly-hued rainbow tennis balls. One of the balls in the set has a rainbow printed on it, and another features the message "pride." These tennis balls will set your dog up for fun all summer long, whether the two of you are playing at home, at the park, or at the beach.
9. You Are Loved Pride Rainbow Butterfly Cat Leash and Harness Combo
Leash training your cat can provide them with much-needed outdoor enrichment. This fully-adjustable harness boasts rainbow-hued butterfly wings and comes with a matching rainbow leash. The buckles and adjustable straps keep your cat secure and prevent them from backing out of the harness. The harness itself resembles blue denim and has breathable mesh on the interior. The set features stylish brass hardware, including a bell to alert wildlife.
10. You Are Loved Pride Dog Bandana
This rainbow-patterned bandanna is a comfortable way to dress your dog up for Pride events. It comes in two sizes, small/medium and large/extra-large, and slips on and off easily. If the forecast calls for hot weather during Pride, you could opt for Canada Pooch's rainbow cooling dog bandana, which is made of water-retaining fabric and mesh layers.
11. Huxley & Kent Prrride Champagne Cat Toy
This plush toy is stuffed with catnip and crinkle paper, making it extra enticing for your cat. Shaped like a bottle of champagne, the rainbow bottle reads "Bubbling With Prrride." It's great for tossing and batting, and is made with cozy plush material that your cat will want to cuddle up with. This cat toy would be a great gift idea for any queer pet parent celebrating Pride.
12. Canada Pooch Everything Dog Harness
This adjustable harness was designed for heavy pullers and can be worn year-round, not only during the month of June! The interior is lined with breathable mesh, and the exterior is water-resistant, so it'll help keep your pup dry on rainy walks. The neck and girth are adjustable for the perfect fit, and there are D-rings on the front and back for attaching a leash to. A handy seatbelt loop and assistance handle are among the harness' top safety features.
13. Cat Dancer Products Rainbow Cat Charmer
Cuteness has written at length about the Cat Dancer's seemingly hypnotizing effect on cats. If you have struggled to find toys that your cat will actually show interest in, this rainbow-colored Cat Charmer is a safe bet. The wand is made from polycarbonate and the dangling part is made of fleece. Both materials are nontoxic and safe for your kitty. Not only will it get your cat to exercise, but it will also match your home's Pride decorations.
14. So Phresh Rainbow Fabric Dog Waste Bag Dispenser with Refill Rolls
A practical way to show your pride year-round is this rainbow poop bag holder. The pouch holds one roll of poop bags, and can then be attached to your dog's leash, your treat pouch, or your keys. This rainbow and fuzzy cloud poop bag holder is easy to use and a convenient way to always have poop bags available, whether you're at Pride with your dog or just out for a neighborhood walk.
15. Milk-Bone Pride Flavor Snacks Dog Treats, 25-oz. Canister
Throw these Milk-Bones into your treat pouch and pass them out to other pups at Pride events. Each container of rainbow-colored dog treats features yummy flavors including beef, chicken, turkey, and bacon. The small biscuits each have 5 calories, so you can even use them during training sessions. To celebrate Pride, Milk-Bone has made a $50,000 donation to the Human Rights Campaign, an advocacy group aimed at ending discrimination against LGBTQ+ people.