Because cats learning to trust their people will never not be wholesome.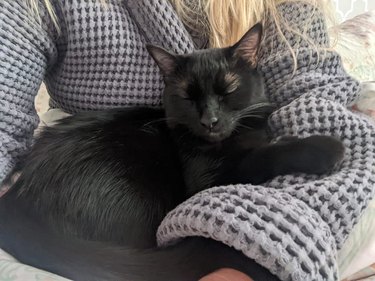 Hearts full, laps even fuller!
2. "Reggie sat on my lap for the second time ever today. I've had him for about 2 years now. Sorry for my stupid face but LOOK AT HIM"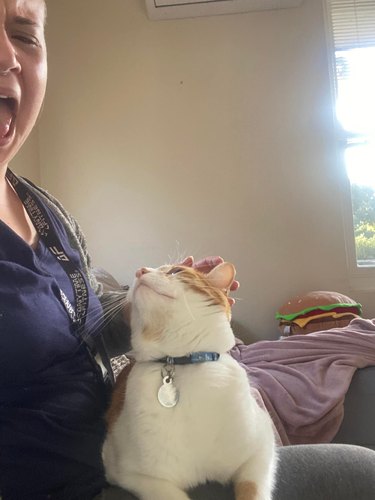 3. "Murph the cat has lived with me since 2017, and while he seems to like me well enough, today marks the first time [in five years] he has ever deigned to sit on my lap. I'm never moving."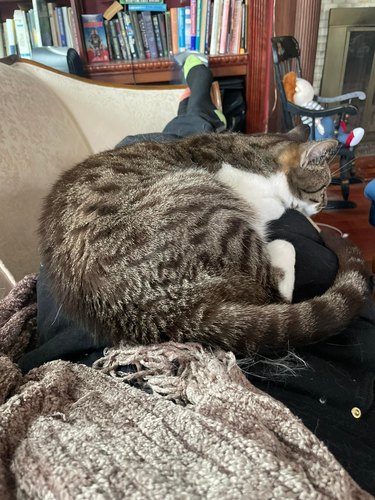 4. "Not only did my non lap cat JUST SIT ON MY LAP but we also decided to drop the hottest album of the year 😂"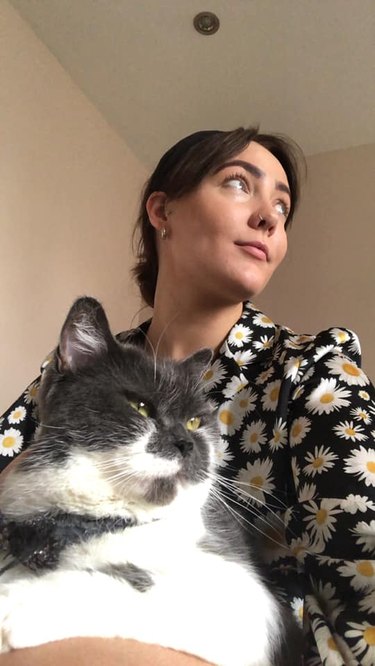 5. 🥺💖 Happy Cat Parent Moment: Vincent just sat on my lap for the first time and I legit want to cry. 😭 I've had Vincent for a little over 2 years. Before me he was adopted out to a family with little kids and returned to the shelter for being "mean". He's been super affectionate since we got him (not "mean" at all!) but wouldn't sit on our laps or let us hold him. I put my legs up on the side table next to my desk while I was working and. Guys he's been here for an hour. 😭💖🥺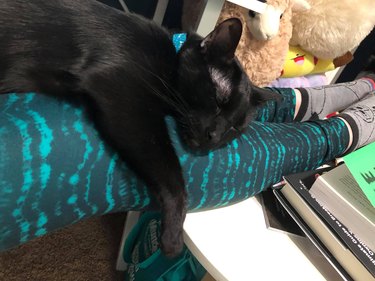 6. "Big moment photographed here! Chester hasn't ventured onto my lap [in the] 5 years since I adopted him. Look what happened yesterday! Mama is [feeling] poorly, and he very nearly settled on my lap, just didn't commit the back legs, which were still on the arm of the chair. Sooooo close though 😍😻"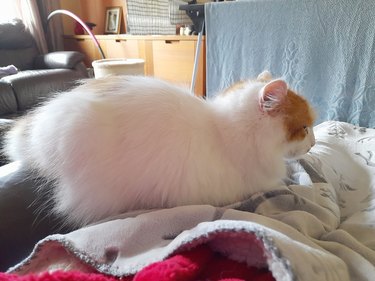 7. "Everyone! My cat Loki, for the first time since I got him at 8 weeks, just laid in my lap! He's a year old as of last week. This is very exciting to me because he is very friendly but doesn't cuddle…until now!"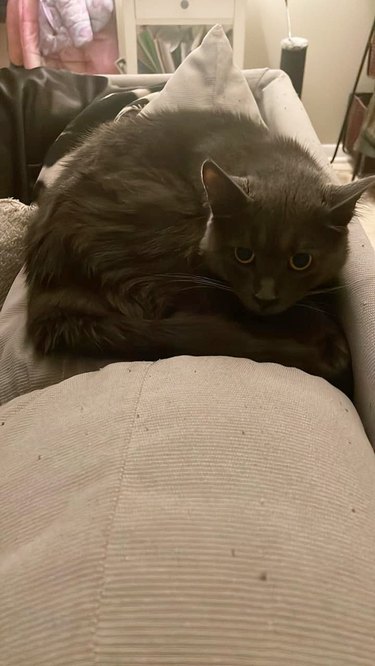 8. "O MAN PLS HALP. This cat has NEVER hopped on my lap before... I was just about to get up when she hopped on my lap. ITS BEEN THREE DAYS. I'm hungry and thirsty... What to do??"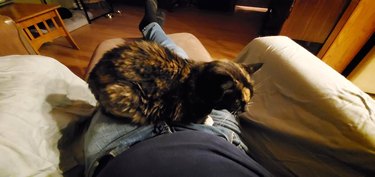 9. "I've had Molly for 3 years and 4 months and this is the FIRST time she lays on my lap!!! ❤️😭❤️😭❤️😭❤️ She normally lays near me or on me, but it's always when I'm laying down, never sitting down. She's been extra cuddly lately and today SHE'S ON MY LAP!!!!! AHHHHHH! I'm so happy, y'all! ❤️"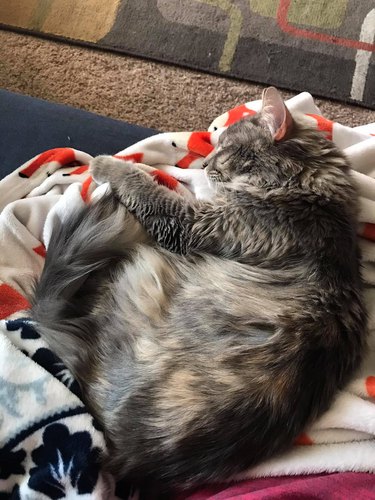 10. "I feel blessed. I adopted this cat at 4 months old, so feral he could hardly be touched, and a year and 9 months later, he finally decided that maybe laps are okay. He's never gotten on my lap, or stepped on me if he could see what he was stepping on. He's been willing to sleep on my bed for a long time, and get petted on his terms, but today he actually got on my lap and loved on me. So, to anyone who ever wondered if feral cats are worth it, here's the proof. Jasper has come a long way from that terrified kitten. You guys helped me name him and I thought you'd like to see how he is doing now. ❤️"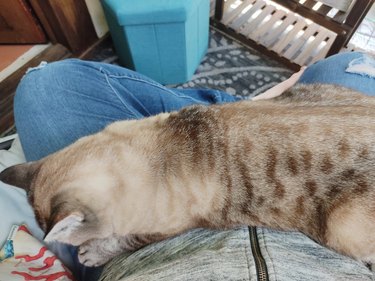 11. "Sophie has never sat on me before, but this is the second time she's climbed on my lap today and I cannot get over the happiness in this picture. Cats are the greatest ❤ 😭😻"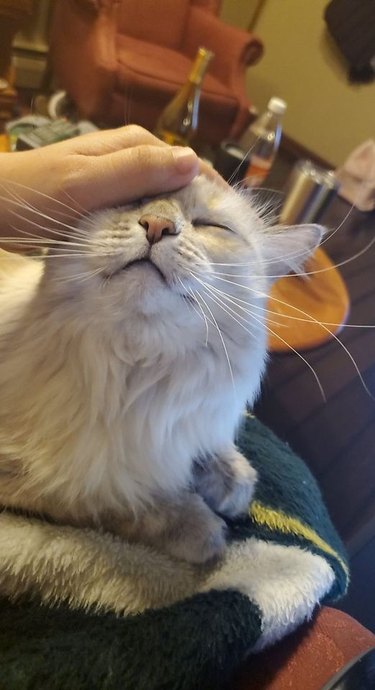 12. "This is the first time since adopting Archie in January that he's voluntarily cuddled on my lap! He's 12 and had several upheavals in his life before we found each other. It's little moments like this that make me so happy I'm earning his trust and he's feeling more at home everyday ❤️❤️❤️ it just takes a little longer with older rescues. But they are the best and so worth it 💕 I hope he doesn't mind he's stuck with me forever 😍"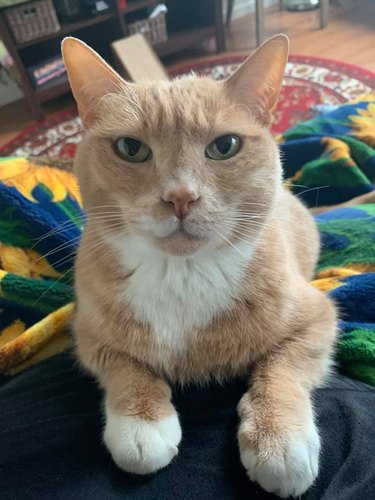 13. "I'm looking after my sister's cat today and this is the first time Bowie has sat on my lap without scratching me and we're watching Abbott Elementary together (she seems to like it)"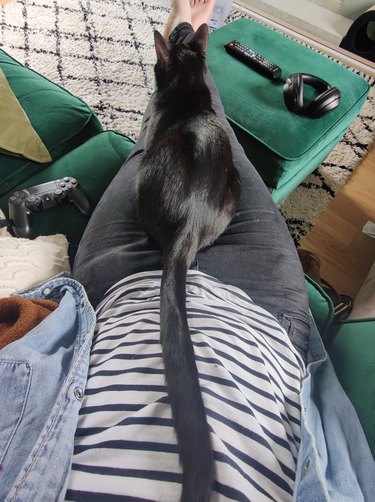 14. "First time EVER…. In NINE years of life together… that Vegas has jumped on my lap. Plus he stayed and purred!"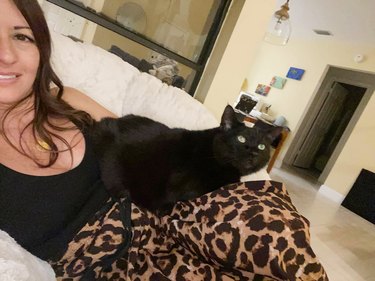 15. "This is the closest he gets to cuddling with me 🙈cuddling my ankles 🙃 he is not a lap cat but he's sweet and loves to stay close by. But he needs his space... Sigh. He's only a year plus and we picked him up off the street as a 3 month old slightly traumatized stray... I hope in time to come he will get more trusting and cuddly... What do you think...? Maybe when he gets the cell...?"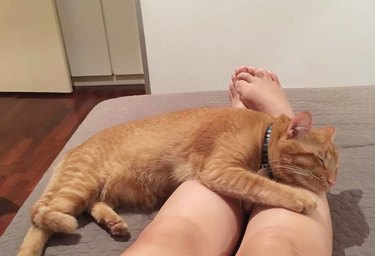 Judges: "We'll allow it!"