Sunscreen for dogs might sound silly but it's useful to have if you and your dog enjoy spending time outside in the summer. Just like how people can get sunburns, the same is true for our dogs. Hairless breeds like xolos and Chinese cresteds, and dogs with short, thin coats like English bulldogs and whippets, are particularly vulnerable to sunburn, meaning sunscreen is a must for these dogs.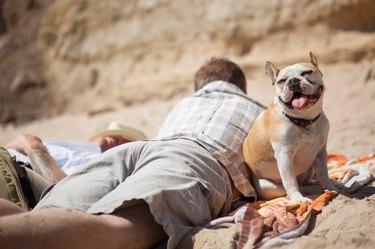 Even dogs with longer coats can get sunburns on areas of exposed skin like the nose or ears. If your dog won't tolerate being spritzed with sunscreen or having his snout rubbed with balm, you could always purchase sun-protective dog clothing instead. But regardless of how you shield your dog from harmful UV rays, it's important to make sure she always has access to fresh water and shade to prevent heat stroke or overheating.
What to consider when purchasing dog sunscreen
‌Dog-Safe:‌ Only use sunscreen that's specifically formulated for dogs. Sunscreen designed for humans can include chemicals and ingredients which are toxic, harmful, or irritating to a dog's sensitive skin. Zinc oxide and para-aminobenzoic acid (PABA) are common ingredients in many sunscreens intended for humans but are toxic to dogs if ingested. Dog sunscreen, on the other hand, is safe to be ingested if your pup were to lick any off his fur or skin.
‌Skin Sensitivities:‌ When purchasing sunscreen for your dog, keep in mind any allergies or skin sensitivities she may have. If you know your dog has allergies, be sure to avoid any ingredients that might irritate the skin. Talk to your veterinarian about the right sunscreen and/or treatment options if your dog has any hotspots or open sores. Again, sun-protective clothing like a shirt or cooling vest is a good alternative to topical sunscreens.
‌Location:‌ You should also consider where you want to apply sunscreen to your dog. Hairless dogs and dogs with light-colored, short coats require all-over sunscreen application. But even dogs with darker or thicker coats can benefit from SPF. You should also protect exposed skin like a dog's nose (pink-nosed dogs are particularly vulnerable to burns), ears, groin, and belly using dog-safe sunscreen.
The best overall dog sunscreen
This sunscreen spray is easy to apply to your dog's skin and fur. The spray-on sunscreen is non-oily and non-greasy to keep your dog comfortable (and petable) all day long. Just like sprayable sunscreen for humans, this dog-safe sunscreen can be sprayed from all angles, making it easy to apply when on the go. It offers SPF 30 and claims to be the only FDA-compliant pet sunscreen. It's water- and sweat-resistant and contains coat-conditioning ingredients. The sunscreen should be reapplied every two to four hours if your dog is outside or playing in the water for more than 80 minutes. It has a vanilla scent, but if your dog can't resist licking it, you'll have peace of mind knowing it's safe to ingest. Beyond dogs, this sunscreen is also safe to use on horses.
The best portable dog sunscreen
This small and easy-to-carry sunscreen is perfect for use on the go. It's the same size as a tube of lip balm so you can pop it into a purse, treat pouch, or even your pocket. The sunscreen is fragrance-free and tasteless, so your dog is less likely to lick it off. It's designed for use on your dog's nose, elbows, and paws, although some users have applied it to scars as well. The moisturizing formula can help soothe and heal dry skin while protecting your dog from the sun. This sunscreen balm is made in Colorado utilizing local and natural ingredients like beeswax, shea butter, coconut oil, and vitamin E. It's also waterproof and perfect to use for a day at the beach or doggie pool.
The best dog sunscreen stick
This sunscreen comes in a twist-up applicator that is easy to apply. It's bigger than the previous entry on this list, making it a good choice for large breeds or covering a lot of surface area. The sunscreen stick is made with natural ingredients like raspberry seed oil, cedarwood, and carrot seed oil, to soothe and protect your dog's skin. It has a mild, floral scent but is safe if your dog licks any of it after application. SnoutScreen offers UV protection between 30 to 50 SPF and can be used to protect your dog's nose, ears, and any other exposed skin areas. The product is made in the U.S. and should be applied two to three times to each exposed area for best results.
The best non-greasy dog sunscreen
This non-greasy sunscreen comes in a convenient 8-ounce spray bottle. According to the manufacturer, it's equivalent to SPF 8 in human sunscreen but doesn't contain any toxic ingredients. The spray nozzle makes it easy to apply and the product doesn't leave an oily residue behind. In addition to offering protection from the sun, the sunscreen also moisturizes your dog's skin and fur. If you plan to use the sunscreen on your dog's face, you should spray it into the palm of your hand and then gently rub it onto her face, being careful to avoid contact with the eyes. This sunscreen spray is plant-based and cruelty-free. It's waterproof but should be reapplied every two hours while you and your dog are enjoying the sunshine.
The best budget dog sunscreen
This affordable spray-on sunscreen comes in a 4-ounce bottle and is convenient to use. It's comparable to SPF 15-rated sunscreens for humans. It has a white color, allowing you to see which areas of your dog you have already applied sunscreen to. However, this white color disappears into the skin as it dries. Designed to be used on a dog's entire body, this sunscreen can even be sprayed on sensitive areas like your dog's nose and face (although you should cover your dog's eyes while you're doing this). The sunscreen isn't sticky or greasy, so it won't stain your outdoor furniture. The mist has a light coconut scent and is suitable for dogs over 6 months. It should be reapplied every two hours and after your dog goes into the water.
The best unscented dog sunscreen
If your dog isn't a fan of sunscreen sticks, try this balm that can be scooped up and applied with your fingers. It's a 0.5-ounce container, so it's relatively small, but it's water-resistant and made in the U.S. without harmful ingredients such as parabens, zinc oxide, and titanium oxide. The balm goes on smoothly and isn't oily or greasy. It can be used on any exposed and unprotected areas of your dog's body including their ears and nose. The human-equivalent SPF rating isn't disclosed but the formula is ultra-moisturizing and unscented. This sunscreen includes carnauba wax and ethylhexyl stearate derived from coconut oil. It should be reapplied every two hours to prevent sunburn, and the soothing formula can also help heal irritated skin.
The best organic dog sunscreen
Made with protective oils derived from natural organic ingredients including coconut oil, olive oil, shea butter, carrot seed oil, and red raspberry oil, this sunscreen naturally provides SPF protection to dogs. It comes in a convenient tin that's easy to carry, store, and apply. The balm is waterproof and unscented and moisturizes the skin while protecting it from UV rays. It's made in Maine and should be stored in a cool, dark place to prevent the sunscreen from melting. Beyond dogs, it's safe to use on cats and horses.
The best dog sunscreen wipes
While the Petkin SPF 15 Doggy Sun Mist is better for everyday use, these handy sunscreen wipes can be thrown in your beach bag, glove compartment, or treat pouch so your pup is never without sun protection. The wipes are thin, so you may have to use a few of them, but they're gentle and non-greasy. They offer the equivalent of SPF 15 sunscreen protection for humans and can be used on your dog's face, nose, ears, and other exposed areas. Wipe down your dog 15 minutes before sun exposure and then reapply sunscreen every two hours. This product is not waterproof, so consider another option if your dog likes to frolic in the water. The wipes come in a resalable package that keeps the unused wipes moist and ready for use. The wipes should be properly discarded after use and not left out where your dog might chew on them.