When walking, training, or spending time with your dog, it's important to have treats readily available. A treat pouch bag is the easiest way to keep those rewards on your person. Treats and toys are especially useful to have on hand when practicing positive reinforcement training. When teaching new skills and rewarding known cues and behaviors, the timing of rewards is very important.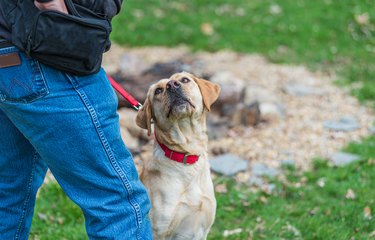 That's why you'll want to select a pouch that gives you quick and easy access to those high-value training treats. You'll also want to consider your personal preferences (do you prefer a fanny pack or something that clips onto your belt?) and the type of treats you give your dog. Whether you're trying out a new dog sport or taking a walk in the neighborhood, a treat pouch is a must-have item for every dog owner.
What to consider when purchasing a treat pouch
‌Type of Treats:‌ When selecting a treat pouch, it's a good idea to consider what types of treats you use most often during training. For dogs who like freshly cooked meat, or other soft and messy treats, it might be a good idea to purchase a treat pouch that is machine-washable or easy to disinfect after each training session.
‌Where You're Going:‌ Before adding a treat pouch to your online shopping cart, think about where you'll be going with your dog and how much you'll need to carry. If you and your dog go for long hikes or extended training outings, you may want to consider a treat pouch that holds a larger volume of treats, toys, waste bags, and other items you might need such as your keys, phone, wallet, or water bottle.
‌Preferred Style:‌ Beyond your dog's needs, your personal preferences should factor into your decision. Consider what type of bag you would feel most comfortable carrying. Treat pouches come in a variety of styles—some can be clipped to the waistband of pants or another bag such as a purse. Other treat pouches come with a waistband or a shoulder strap. Every dog owner will have their own preferences when it comes to aesthetics and carrying style.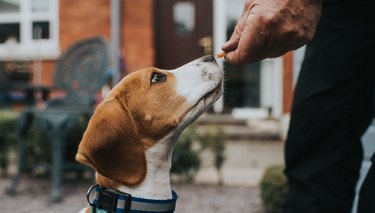 The best overall treat pouch
This 32-ounce treat pouch can be worn multiple ways; over the shoulder, around the waist, or clipped onto a belt loop. It has a built-in poop bag dispenser and is made with lightweight and durable nylon that's water-resistant. The pouch has a large primary area that can be accessed with one hand and then closed with a drawstring. It's got multiple front and side pockets for holding keys, a cell phone, clicker, or other small items. The removable shoulder strap and waist strap are included, and the latter is adjustable up to 42 inches. The treat pouch is easy to spot clean if it gets dirty and is quite roomy with enough space for treats, toys, poop bags, and more.
The best budget treat pouch
This compact training pouch has an easy-to-open drawstring closure. The pouch can hold up to one cup of your dog's favorite treats or a small toy. It has a built-in clip that can be attached to a bag or belt loop. It's water-resistant to keep treats dry and fresh and has a tear-resistant lining. This treat pouch is small, measuring 8 inches long and 5 inches wide, making it ideal for discrete training outings and allowing you to tuck it into a pocket when not in use. At under $10, it's also an affordable way to get into positive reinforcement training.
The best treat pouch fanny pack
If you need to carry several items at once—treats, keys, credit cards, etc.—this training pouch has space for it all. The treat pouch fits around the owner's waist with an adjustable buckle strap. The pouch can hold a variety of treats and toys as it has two large compartments with zipper closures. It has two D-rings for attaching the included collapsible water bowl, as well as mesh front pockets for holding things like a water bottle or tennis ball. The treat pouch also has reflective stitching to make the dog and handler more visible in low-light conditions. Yet another perk is the built-in poop bag dispenser. The pouch is sold in five colors: navy blue, charcoal, heather gray, purple, or sea blue.
The best machine-washable treat pouch
Simple and compact, this treat pouch is made of machine-washable nylon (although air drying is recommended). It has a drawstring closure, making it easy to adjust the size of the opening to access treats or kibble. The treat pouch has a small mesh pocket on the front that's perfect for keys, clickers, and poop bags. It has reflective strips to increase visibility when walking after dark, as well as a durable plastic clasp on the backside that can be clipped onto a waistband. There's also a nylon loop if you would prefer to hook it onto a backpack with a carabiner, for example. The treat pouch is sold in two colors: orange or red.
The best treat pouch and dog treats bundle
This mini treat pouch is a convenient size for on-the-go training, holding 1 1/4 cups of treats or kibble. It's water-resistant to keep the contents dry and features divided pockets so you can organize various types of treats. These divided areas are easy to access while you're working with your dog. Sold in a bundle, the treat pouch also comes with a bag of salmon-flavored training treats to get you started. The training pouch comes with a belt clip and a detachable/adjustable belt for wearing it around the waist.
The best durable treat pouch
With a sturdy metal belt clip, this treat pouch is functional and hard-wearing. It also comes with a detachable belt that extends up to 42 inches, allowing you to wear it around your waist for a hands-free experience. The pouch has a built-in compartment for storing poop bags, making them easy to access. The pouch also features zippered pockets on the front and back for your keys, wallet, phone, clicker, and other dog walking or training essentials. The large center compartment has a drawstring closure, and the inner liner can be pulled out for easy spot cleaning. Unlike other treat pouches with magnetized closures that can snap shut at inopportune times, this model has a reinforced top edge that stays open. As an added bonus, it comes with a roll of unscented Earth Rated dog poop bags.
The best dishwasher-safe treat pouch
Made with memory silicone resistant to stretching and warping, this treat pouch can be popped in the dishwasher when it gets dirty. It has one interior pocket that's easy to open with one hand. The pouch has a clip that can attach to your bag, belt, or waistband, so you can take it with you anywhere. The silicone is non-porous and resists absorbing odors and oils from the training treats you are using. It's sold in blue or light gray and measures 3.125 inches long, 4.75 inches wide, and 3.125 inches high.
The best customizable treat pouch
This treat pouch features hook and loop fastener, making it possible to add patches that indicate your dog is in training or needs space, or for a dog training professional to advertise their business. The large center compartment has a drawstring closure to prevent spills and make treats easy to access. The pouch also features a metal carabiner so it can be attached to a backpack or belt. It holds 12 ounces of treats and is machine-washable, although the pouch should be air-dried after washing. The backside of the pouch has two loops with snap closures that can attach to the Kurgo utility belt (sold separately) or a similar product. There's also a small zippered compartment for stashing your keys or credit card.