Providing enriching activities for our dogs is part of proper pet care, and one easy way to keep your dogs enriched indoors is by offering toys for them to play with. The right dog toy for your pal will depend on what they prefer, and can range from tug toys made of rope, plush toys, squeaky toys, extra durable chew rings, and toys made from natural rubber, among others. For large and extra-large dogs, however, finding heavy-duty dog toys to play with will probably be the most enjoyable for your canine pal, and the easiest on your budget, especially if you have an aggressive chewer who just doesn't care about keeping a toy intact. If you're searching for a new toy for your large dog, consider these different criteria when shopping so you can find the perfect fit for your pooch.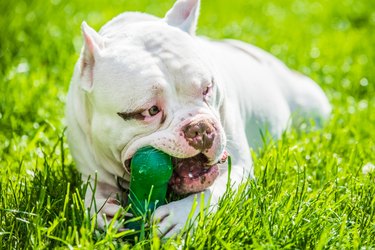 What to Consider When Purchasing Toys for Large Dogs
​Chewing:​ Most dogs enjoy chewing toys, whether the toy is built to withstand a power chewer or not. Some dogs also like to fling their toys around, fetch their toys when playing with dog owners, and some will even carry their toys around for comfort. When it comes to large dogs, chewing is the most common concern when shopping. If you have an aggressive chewer on your hands, finding indestructible dog toys made of materials like durable rubber or tightly woven nylon will be your best bet at making toys last.
​Purpose:​ Not all dogs like to only chew on their toys. Sometimes, toys are sought out to enrich a dog's life in other ways, like entertainment when they're home alone, or engaging in play with people or other dogs. Identifying the purpose of your dog's toy will help you get the most out of your money. For outdoor fun, fetch toys might be appropriate, but if you're away at work all day, an interactive toy might be more practical for keeping your dog entertained.
​Cost:​ Saving money is something we all hope to do when shopping, but if you have a dog who likes to destroy at playtime, it might be worth it to invest a little more upfront and seek out a durable dog toy. A dog rope toy with thick knots will stand up to a power chewer longer than a plastic toy or plush variety; rubber balls are more durable than tennis balls; and brands known for using durable materials, such as KONG, make great toys for big dogs.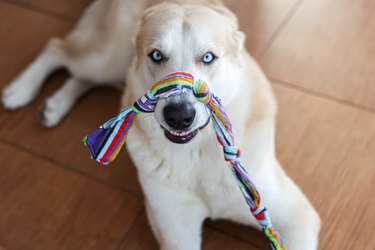 The Best Overall Large Dog Toy
KONG Classic Dog Toy, 1-Count
When it comes to dog toys that are not only entertaining to canines but indestructible to boot, the KONG brand name has been a favorite among pet guardians for years. This one, in the classic design and red color, can be stuffed with your dog's favorite treats, like peanut butter, or can be offered as-is to keep your dog busy for hours. Not only is this toy fun for dogs to chew on, but it also bounces, which makes it an enjoyable play toy as well. Because this toy is so hard to destroy, even among the toughest chewers, you should clean it regularly, which is easily done with warm soapy water. It comes in six sizes including large, extra-large, and extra-extra-large.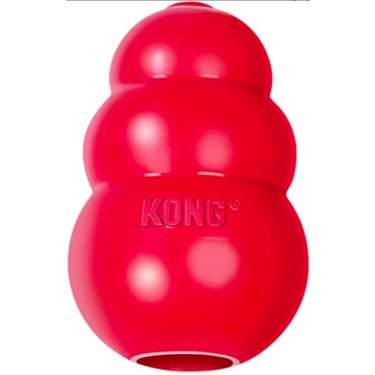 The Best Budget Large Dog Toy
Multipet Loofa Dog The Original Squeaky Plush Dog Toy, 1-Count
For a basic toy that's fun to play with and has a built-in squeaker, this oversized hot dog-shaped dog toy is enjoyed by many canines for its flexibility and soft feel. It's even long enough to play tug-of-war with if you care to, or can simply be a fun toy for a dog to carry around or squeak. Because this toy is plushy and made from a pretty thin material, it might not be the best choice for a power chewer if you plan on keeping the toy for very long. That said, at under $5 for the large or jumbo sizes, it is an affordable toy for most people, and it can be easily sewed or patched up if you want to give it a little bit longer of a lifespan.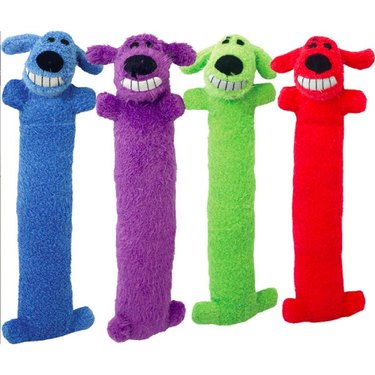 The Best Rope Toy for Large Dogs
Mammoth Flossy Chews Poly Cotton 5 Knot Rope Tug Dog Toy, 1-Count
A rope bone toy is a great option to offer any dog as a play toy, but when you have a big dog, you want to make sure the size is large enough that it won't be a potential choking hazard, and that the material is durable enough to withstand a set of large teeth. This option measures 36 inches long and is constructed with poly cotton fiber that's not only strong but promotes healthy gums and can lightly clean a dog's teeth when chewed. There are five large knots tied throughout this thick piece of rope, making it a great option for any tug-of-war enthusiasts with an extra-strong grip.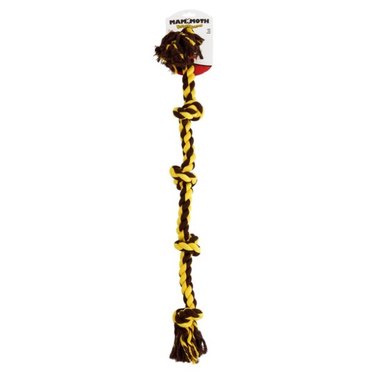 The Best Interactive Toy for Large Dogs
Wobble Wag Giggle Ball Interactive Dog Toy, 1-Count
Interactive toys are a great way to enrich a dog's life as it encourages them to think and work for their food, the same way their wild ancestors had to. There are a ton of treat-dispensing interactive toys out there for dogs to enjoy, and we chose this one for large dogs as it's designed for dogs of any size—big and small dogs alike—yet isn't so small or lightweight that a big dog could choke on it. This toy requires your dog to roll it with her nose, which causes it to dispense small bits of food if you choose to add some. Even without kibble or treats inside, this toy emits a "giggle" sound each time it's tossed, which keeps dogs entertained and encourages them to continue playing.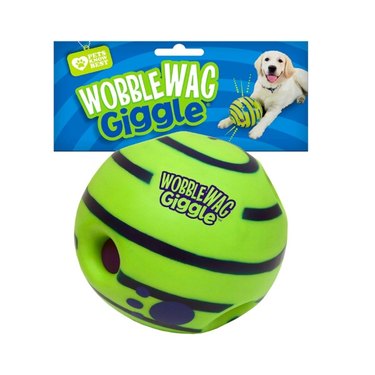 The Best Tug Toy for Large Dogs
KONG® Wubba™ Dog Toy, 1-Count
You can really play tug-of-war with just about any dog toy, but some are designed to withstand pulling and tearing better than others. This tug toy by KONG is made with a thick and durable nylon material that holds up to potential tears and rips when playing. The round end contains a tennis ball and squeaker to make grabbing on fun for your dog, and the bottom is fitted with thick tassels that are easy to hold. This toy can be tugged, tossed, or simply chewed on, and is available in sizes large and extra-large for bigger breeds.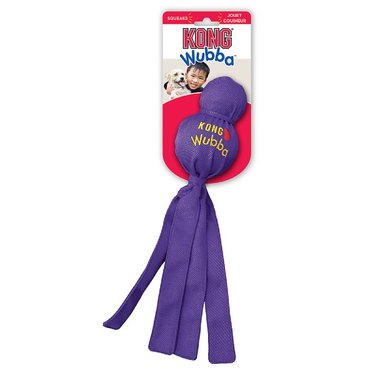 The Best Plush Toy for Large Dogs
Sedioso Tug of War Plush Dog Toy for Large Breed, 1-Count
Some dogs just like a softer toy to play with, cuddle with, carry around, or chew on, so having a plush option for these types of canines can be a great addition to the toy basket. This one is made of natural cotton, with the body of the toy constructed in a plush design, and the legs made from a knotted rope for multiple chew options. Additionally, there's a squeaker in this toy, which can make for great fun when playing alone or with a human friend. This toy is available in a wide variety of styles, including cow, crab, lion, donkey, octopus, and lobster, and isn't recommended for aggressive chewers if you plan on keeping it long-term.
The Best Chew Toy for Large Dogs
Nylabone Power Chew Peanut Butter Flavored Dog Chew Toy, 1-Count
For the large dog who just wants to chew the day away, and the dog owners who don't want to come home to shredded messes they hoped to keep intact, this peanut butter flavored, extra-large chew by Nylabone checks both of those boxes. This pet toy is built with multiple textures, including raised bristles to keep your dog entertained while cleaning teeth, resulting in massaged gums, and reduced tartar and plaque levels. This is a very durable toy that's meant to be gnawed on, so if you have a power chewer who can't seem to keep other toys intact, this could be a great option for them. This extra-large size is suitable for dogs over 50 pounds, but there's also a large size for dogs who weigh 35 to 50 pounds.