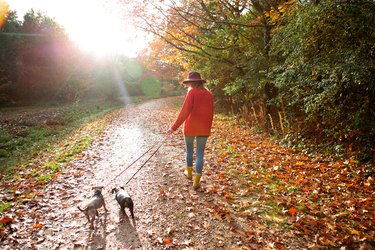 There's a chill in the air, and soon you'll be crunching through leaves on your daily dog walks. Get into the fall spirit by dressing up your pup in fall-themed walking accessories like collars, leashes, bandanas, harnesses, and waste bags. Whether your love for pumpkin spice lattes knows no bounds or you prefer autumnal patterns that are nature-inspired, we've rounded up seasonal accessories for every size dog and aesthetic. These fall-themed finds are also great alternatives to dressing up your dog on Halloween if your pooch isn't comfortable wearing costumes or clothing.
What to consider when purchasing fall-themed dog walking accessories
​Sizing:​ Many pet products, especially walking accessories, come in a range of sizes. Measure your dog and consult the sizing chart before adding a product to your online shopping cart to ensure that it will be an appropriate fit for your dog. When the gear arrives, adjust it as needed so your dog is comfortable wearing it.
​Comfort:​ When picking out festive gear for your dog, look for soft fabrics and adjustable features. While most dogs are accustomed to collars, harnesses, and leashes, some may not tolerate wearing bandanas. If that's the case with your dog, remove the bandana and opt for an accessory they're OK with sporting. You should also make sure that any collar or harness you select for your dog is a sized appropriately and doesn't restrict your dog's movement.
​Festiveness:​ Fall goes by in a flash, so don't be afraid to get festive. Some fall-themed accessories can be worn all season long, from September through November. We've included some traditional prints like pumpkins and plaid in this roundup as well as subtle nods to fall like botanical motifs and burnt orange velvet.
1. Lionheart Glory Dog Collars and Bowtie
This collar with a removable bowtie is perfect for fall gatherings. The collar is a soft white color with pastel pumpkins printed onto it. It's handmade using pure cotton with a welded D ring for durability. The collar is adjustable to fit a wide range of dogs and is sold in sizes extra-small, small, medium, large, and extra-large. The bowtie can be attached to the collar with two included elastic bands, making it a comfortable accessory for dogs to wear. The pressure points of the collar are reinforced with double box stitching for longevity. There's also a matching leash if you want to go all in on this pastel pumpkin design.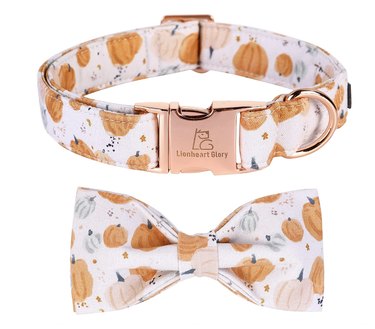 2. Frisco Pumpkin Spice Personalized Dog Bandana
There's a chill in the air and this autumnal-themed bandanna is a great way for your dog to get a little festive while out on walks. It features adorable pumpkin, squash, leaf, acorn, pinecone, and pumpkin spice latte motifs. The bandanna is customizable with your pet's name. When ordering, you can select one of five different font options. This bandanna is available in three sizes (small, medium, and large) to comfortably fit dogs with neck girths between 10 and 25 inches. The bandana is made of polyester and is machine-washable, making it easy to keep clean all season long. This bandanna can be styled three different ways and is suitable for dogs and cats alike.
3. Disney Mickey Mouse Fall Dog Harness
If you love fall and Disney, you need to order this gourd-geous harness for your dog. Available in sizes medium and large, it features fall leaves, pennant bunting, and pumpkins, interspersed with Mickey Mouse motifs. The adjustable harness has a comfortable step-in design, making it easy to put on and take off when it's time to go for a walk. The product is made from strong polyester webbing and has a back-clip D-ring for connecting a leash. This hand-washable harness is a cute and subtle way to celebrate the season.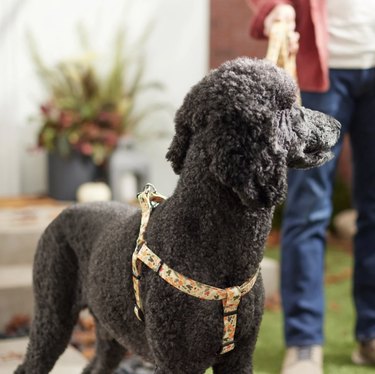 4. STAR WARS THE MANDALORIAN GROGU Pumpkin Dog Leash
Fans of "The Mandalorian" will want to snatch up one of these Halloween-inspired leashes featuring Grogu, AKA Baby Yoda. "The Child" is surrounded by spiderwebs, frogs, spiders, bats, and pumpkins. An adorable leash that adds a festive touch to any fall walk, it's equipped with a nickel-coated bolt snap attachment. It's got a comfortable loop handle for holding and is six feet in length. This leash is available in small, medium, and large sizes, so it's suitable for dogs of all sizes. There's also a matching dog collar and harness.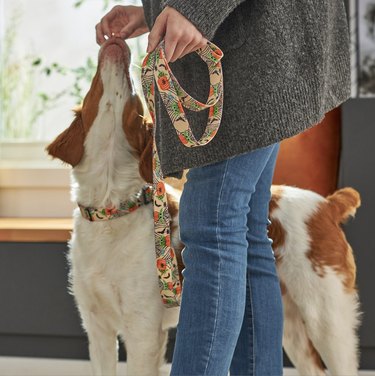 5. Nite Ize NiteHowl LED Safety Necklace Dog Collar
Ideal for those dark fall walks, this safety necklace will help keep your dog visible as the days get shorter. The rechargeable LED light collar has a 60-hour battery life per charge and is water-resistant for rainy day walks. To size it, just cut the polymer tubing to fit your dog's neck, reattach their collar, and you're ready to walk. (Note: Leashes should not be attached to this collar.) The collar is available in a variety of colors including green, red, blue, pink, and orange, and features flashing and glow modes.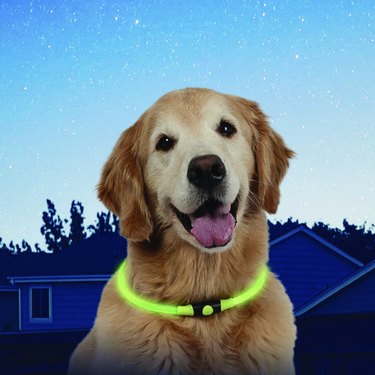 6. Plaid Fall Dog Bandanas, 2-Count
Plaid is a fall staple, and now your dog can get in on the trend too. This two-pack of bandanas is made of 100% cotton but isn't super stretchy, so it's best for small- and medium-sized dogs as the neck size extends to 24.8 inches.. The edges come frayed for a rugged look and there are two different sets to choose from (the other is a larger-scale plaid print). The bandanas are reversible with the same print on each side, so your dog can wear them longer between washes. These ultra-soft bandannas are orange, gray, maroon, and white, making them festively appropriate for wearing all autumn long.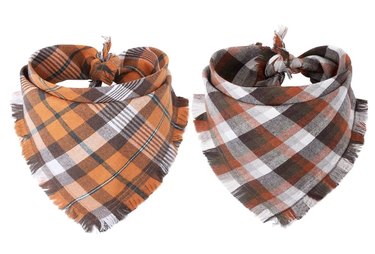 7. Pumpkin Velvet Lady Bow Collar
If you're looking for a subtle yet sophisticated way to dress up your dog for fall, opt for this dark orange velvet collar adorned with a small or large bow. The matching bow is removable and attaches with two elastic loops on the backside. The fabric is soft on the inside and outside, and doesn't contain nylon, which some dogs may be sensitive to. Choose from four sizes (extra-small, small, medium, and large) and 11 rich colors. The collar and bow can be machine-washed cold on a delicate cycle or hand-washed. It should, however, be air-dried.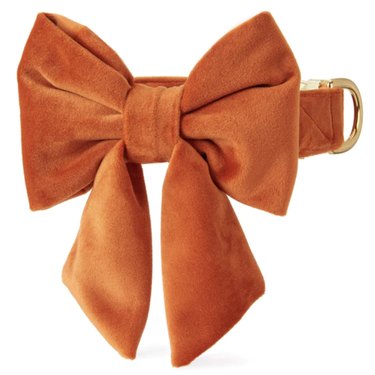 8. Parks ProjectPower To The Parks Shrooms Dog Leash
If leaves and pumpkin spice lattes aren't really your (or your dog's) thing, this mushroom-print leash is a groovy alternative. It's 6 feet and 3/4 inches long, and made with 100% recycled polyester. The hardware is matte black, while the leash features a mushroom and floral-inspired design. Best of all, a portion of every purchase goes toward funding projects in U.S. national parks.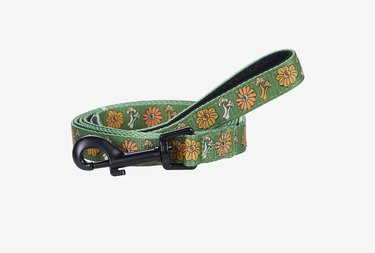 9. Remy+Roo Dog Bandanas, 4-Count
Another fall-adjacent find is this four-pack of dog bandanas that offer an adjustable fit. The set doesn't scream "fall" but the colors are seasonally appropriate. These trendy bandanas are dual-layered to prevent fraying and made from hardwearing polyester fabric. The two long ends are easy to tie and adjust as needed. There are three sizes available (small, large, and extra-large) so be sure to consult the sizing chart to figure out which option is best for your dog. Two of the bandanas have floral designs, one features sprigs of greenery, and the other touts reddish-colored arches.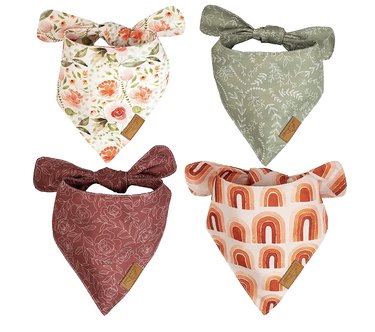 10. Falling for Autumn Adjustable Harness
This vest-style harness from Etsy's The Spaniel Co. shop features a fall leaf and berry print in seasonal colors like red, orange, brown, and green. Handmade in Texas, the harness can be adjusted at four different points and secures with a buckle. There is also a metal D-ring on the back for attaching your dog's leash. And speaking of leashes, you can buy a matching leash, collar, and waste bag holder in the same print to coordinate your dog's autumnal look.