With Halloween just around the corner, now's the time to start looking for Halloween outfits for your dog. Although some dogs enjoy getting dressed up in elaborate Halloween costumes, for other dogs, these costumes are cumbersome or frustrating. To ensure your dog feels festive ‌and‌ comfortable this October, opt for a Halloween-themed shirt, sweater, or hoodie instead. These frightening fits allow dogs to run, walk, and play easily without a bulky costume or awkward accessory getting in the way. If your dog gets cold easily (looking at you, chihuahuas), clothing can help keep your pup warm as temperatures drop.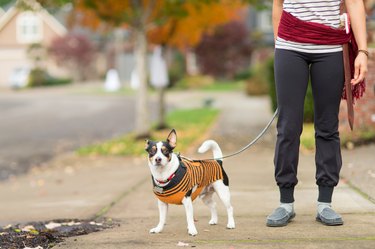 What to consider when purchasing a shirt or sweater for your dog
‌Sizing:‌ When purchasing Halloween outfits for your dog, be sure to consult the sizing chart. You might need to whip out a soft tape measure and jot down your dog's measurements if you don't know them off the top of your head. There aren't universal sizes for dog shirts or sweaters, so it's a good idea to verify that the outfit you order for your dog is going to fit comfortably and won't restrict movement.
‌Care Instructions:‌ One of the biggest benefits of a Halloween-themed shirt or sweater is that most are machine-washable. Check the care instructions on any clothing you purchase for your dog to find out if it can go through the washing machine and/or dryer, or if it needs to be hand washed and air dried to prevent shrinking or excessive wear.
‌Practicality:‌ Halloween shirts and sweaters are not just cute and festive outfits; they are also a practical way to keep your dog warm and cozy this fall. These outfits are easy for pet parents to put on their dogs and can be worn while out on walks in the chilly weather.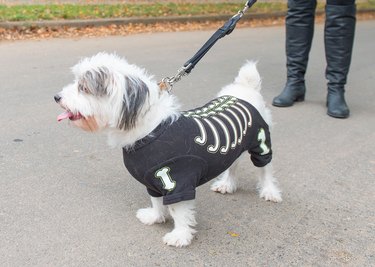 1. Frisco Wicked Cute Dog & Cat Hoodie
Does your dog have a devilish side? This red hoodie features three-dimensional devil horns on the hood and the phrase "Wicked Cute" on the back with spiderweb motifs. Even the 'i' in wicked is shaped like a pitchfork. This hoodie is available in sizes X-Small to XXX-Large to fit most dog breeds. It's a pullover style, so it's easy for pet parents to put on and take off. This hoodie is machine-washable but should be turned inside out before you pop it in the laundry. It should be washed only with colors and tumble-dried on a low-heat setting.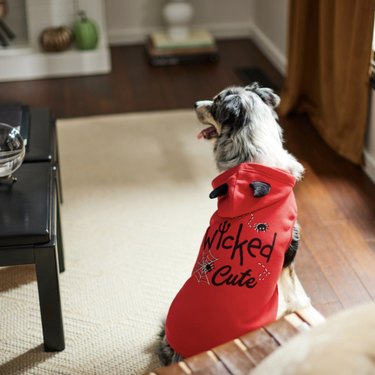 2. Frisco Glow in the Dark Skeleton Dog & Cat Hoodie
Turn your dog into a spooky skeleton this Halloween season with a snuggly hoodie. The shirt has a slip-on design, which makes it easy to put on and take off your dog. It also has a stretchable ribbed belly to make it less constricting. The skeleton design glows in the dark and there's a built-in leash hole, so it's perfect for evening walks, although you may want to pair it with some reflective accessories. This humerus hoodie comes in six sizes, suitable for dogs weighing between 3 pounds and 85 pounds.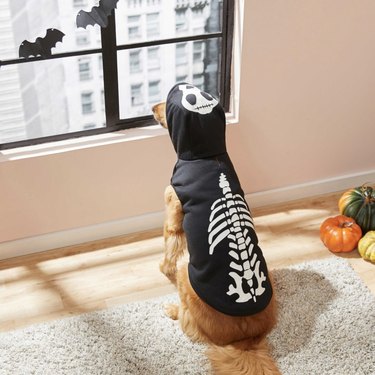 3. Thrills & Chills™ Halloween Eye Candy Dog Pajamas
Ideal for dogs who get chilly in the autumn, these Halloween pajamas are a comfortable way for dogs to dress up and stay warm. They're made with glow-in-the-dark, candy-patterned fabric with orange trim. There's even a faux button flap that says "Eye Candy" in reference to the creepy eyeball lollipops found within the pattern. These pajamas are open on the bottom, making it possible for dogs to wear them when going out for nighttime potty breaks. If and when these PJs get dirty, they should be hand-washed in cold water and then air-dried.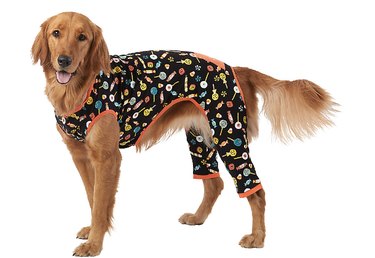 4. Frisco Silver Metallic Skull Dog & Cat Dress
Fit for a Halloween princess, this skull-patterned dress is extremely comfortable to wear thanks to its T-shirt design. Easily slip it over your dog's head and toss it in the laundry when it gets dirty. The dress features an attached shirt with a stylized ribcage and hearts, and the metallic tulle skirt is covered in skulls and crossbones. A pretty white bow connects the two halves of the dress. This outfit can be thrown in the washing machine with like colors but should be turned inside out to wash. It can also be tumble dried on low heat in the dryer.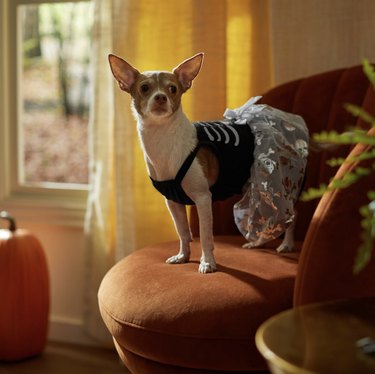 5. Frisco Halloween Fair Isle Dog & Cat Sweater
This cozy sweater comes in sizes X-Small to XXX-Large. It looks a lot like an ugly Christmas sweater and features rows of ghosts, jack-o'-lanterns, skulls, cats, and the phrase "Eek!" It has a comfortable pull-on design that is easy for dogs to wear. The sweater is equipped with elastic cinching at the neckline to encourage a proper fit for a wide range of dog sizes. It also has a built-in leash hole so you can put the sweater over your dog's harness when you take them out for a jaunt around the neighborhood.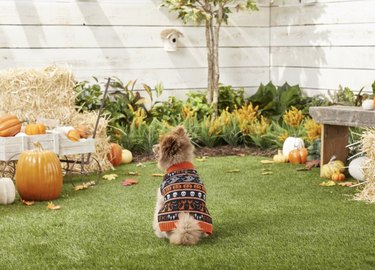 6. Reflective Jack-o'-lantern Pumpkin Dog and Cat Hoodie
There's no denying that dogs and babies look absolutely adorable when dressed up as pumpkins for Halloween. This fleece-lined hoodie has a reflective jack-o'-lantern face on the back and a green stem that tops the hood—perfect for trick-or-treating with your pup. It has two leg openings, so it's a cinch to put on and take off, but is spot-clean only. If pumpkins aren't your dog's thing, Target also sells a black hoodie with creepy glow-in-the-dark eyes.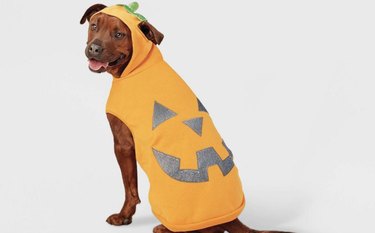 7. Fitwarm 2-Pack Holiday Theme
This set of two 100% cotton T-shirts is soft, breathable, and stretchy. Designed to be comfortable for sensitive skin, these shirts are a fun way to dress up for Halloween without donning a full costume. The shirts have ribbed elastic leg openings for extra comfort, and the high-cut bellies allow dogs to wear them outside for potty breaks. This set includes an orange and black striped shirt with matching black trim and a purple shirt with the phrase "Happy Haunting," plus a festive pumpkin, bat, and bone design. The shirts come in sizes XS through XXL but pay close attention to the size chart because these shirts run small.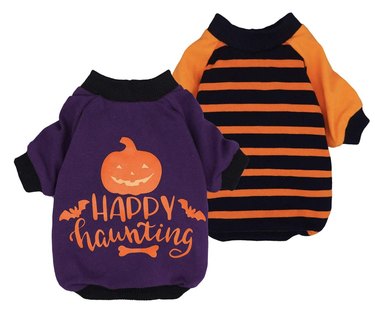 8. Fetch for Pets SpongeBob SquarePants Yellow Shirt and Bandana Combo
Dress your dog up as everyone's favorite square sponge this Halloween with this SpongeBob SquarePants T-shirt and bandana set. It's a great alternative to a bulky pet costume and is made of soft and lightweight material. The bandana is patterned with different-sized SpongeBob eyeballs, while the T-shirt is adorned with the character's smiling face. It comes in sizes small, medium, large, and extra-large.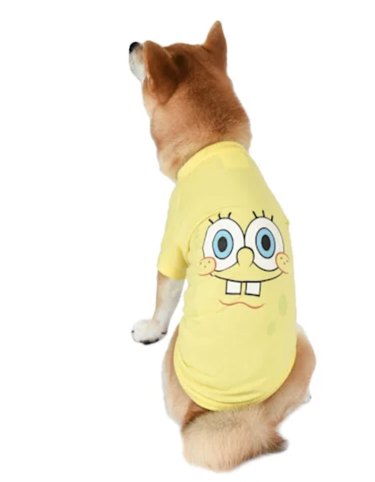 9. Bootique Super Pup Tee Costume
For dogs who like a little more costume with their loungewear, this T-shirt costume turns your dog into a Super Pup! The outfit includes a comfortable T-shirt and a removable cape. The shirt has a red body, blue sleeves, and a yellow star with a bone on the chest. There's also a hole for accessing a back clip harness. The blue cape with a matching star will give your dog some extra superhero flare while out walking this Halloween. It's available in eight sizes ranging from XX-Small to 3X-Large.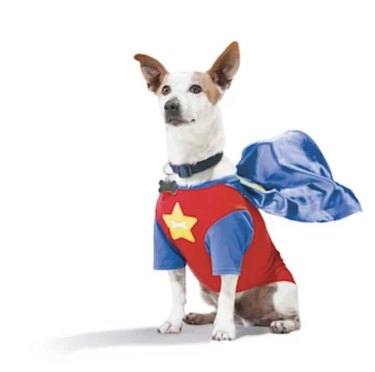 10. STAR WARS R2-D2 Dog & Cat Hoodie
For some "galactic fun," look no further than this R2-D2 hoodie that's available in sizes X-Small to 3X-Large. The pullover style makes it easy to put on and take off. If the bright white fabric makes you nervous—fear not—this hoodie is machine-washable on a cold, gentle cycle with like colors (just be sure to turn it inside out first). It can be tumble-dried on a low heat setting but shouldn't be ironed. There's an equally cute Luke X-WING fighter pilot hoodie.