A high-quality cat bed can help your pet fully relax and sleep comfortably. It can also become their favorite place to go when they want to retreat and be alone for a little while, such as when you have company over and your home is noisier than usual. And when it gets cold, a cozy pet bed could be the perfect place to warm up. But if you want to give your feline companion even more, consider getting them one of the many anti-anxiety cat beds that are available.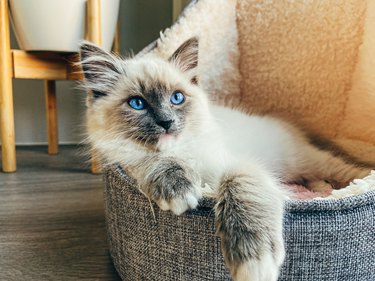 Calming cat beds can be used to help kitties of all ages feel less stressed and anxious. Many of them have ultra-soft and plush materials, such as shag and faux fur, that are perfect for kneading and snuggling. And they also have features like a raised rim that can provide your pet with a feeling of security and safety. Plus, you can even find orthopedic anti-anxiety beds that provide extra support for the joints to help your kitty get a restful sleep.
What to consider when purchasing a calming cat bed
‌Shape and Size:‌ Calming beds are available in many shapes and sizes to suit the preferences of different cats. A lot of them feature a donut shape that can help your cat feel more secure because they'll be supported on all sides of their body. In addition, you can find beds that come with a separate blanket or have a blanket attached to give your pet the option of curling up under it for warmth or privacy. And there are beds with high sides to help reduce anxiety by making your cat feel safe. But in addition to the shape, consider the size of the bed. If you have one cat and they aren't too big, a small bed might be just right. However, if you have a multi-cat household and you want your cats to be able to cuddle together, a larger bed would be better. You might even find that dog beds made for small dogs can comfortably fit your cat(s).
‌Materials:‌ When it comes to calming beds for cats, it's important to consider the materials that they're made of. Comfy beds that are made of ultra-soft fabrics are ideal, as they can entice your cat to snuggle in and relax. Also, many beds have nonslip bottoms or water-resistant materials, and you can find beds that are self-warming to prevent your kitty from feeling cold while resting.
‌Support:‌ A calming pet bed should be super comfortable, and it should provide plenty of support so your pet doesn't feel like they are lying on the floor. The middle of the bed should be thick and capable of holding your pet's weight—reading product descriptions carefully will help you select the bed that will be right for your cat based on their weight. And if the sides are the right height, your kitty may even be able to rest their head comfortably while feeling totally at ease.
‌Ease of Cleaning and Durability:‌ Cat beds can certainly get dirty and full of pet hair, so another thing to consider is whether or not a product is made of materials that are machine-washable and easy to keep clean. There are beds that you can put in your washing machine and dryer but always read the directions carefully when spot cleaning or washing a bed so you can ensure it will continue looking and feeling like new. For example, you might only be able to machine-wash on a gentle cycle. Beyond that, durable materials can help the bed remain in great shape and provide the optimal amount of comfort for a long time, especially if your cat will use it daily—a bed that goes flat right away will disappoint both you and your pet.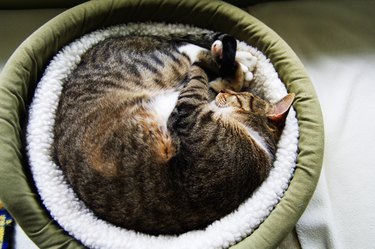 The best overall calming cat bed
The Cloud 9 Stress Reducing Pet Bed from Pawsome Couture is available in three sizes and multiple colors. The manufacturer states that therapists designed this bed to help pets feel secure and less anxious, and this bed can also help your pet sleep better. Features include a padded and supportive center, a raised rim, and soft fleece material that is durable. Your cat can sleep comfortably in this bed while feeling the support of its walls on all sides, and that may help reduce stress.
The best calming cat bed with blanket
Sometimes, your cat might not want to sleep in a bed, preferring instead to sleep on a blanket. And there are likely times when it's been cold enough that your kitty wanted to rest under a blanket, whether in their own pet bed or on your sofa or bed. With this product, you can give your feline companion both options: A calming donut bed and a luxurious throw blanket. You can choose from multiple colors and sizes, and the blanket and bed go together perfectly. The AirLoft fibers that are used in this bed help it maintain its loft, and the shag vegan fabric feels like fur and is self-warming for extra coziness and better sleep. Plus, this bed can provide orthopedic support, so it can be a good choice for senior cats. And it is machine-washable too. Although this is one of the more expensive options on our list, it has a lot of great features, and you are getting two products because of the separate blanket that's included.
The best calming bed for large cats
If your cat is too big to comfortably fit in a small pet bed, this one is available in both 20-inch and 23-inch options. It is affordably priced, so it might be a great place to start if you want to get your kitty a good quality bed but you're on a budget. Features include the popular donut shape that lets your kitty find a comfortable position and feel totally supported, whether they rest their head on the rim or not. Also, the nonslip bottom helps the bed stay in place on the floor, and the fabric is soft to the touch. Plus, this bed is machine-washable, so it is easy to keep it clean and you don't need to worry about how you will wash it if it gets really dirty. Choose from multiple colors, and there is an option that comes with a matching blanket too.
The best calming cat bed with high sides
FurHaven Calming Hug Bolster Cat & Dog Bed
This bed has a wraparound design with high sides that are plush and maintain their shape. It helps ease anxiety and promote a sense of security and relaxation as soon as your cat climbs in. If your pet enjoys spending time in a cat condo or hideaway, this type of bed might be the perfect choice. It's available in multiple sizes and colors, so you can select the right one for your kitty's size and weight. It also features a velvet fabric on the outside of the bed, along with faux fur on the inside for your pet to rest comfortably. Plus, the nonskid base can help ensure the bed won't slide across the floor, and this product is machine-washable so you can easily keep it nice and clean. Overall, this could be the coziest little bed for your cat, and a great way to give your pet a little extra privacy when they want it.
The best budget-friendly calming cat bed
If you are shopping on a tight budget, this affordable calming cat bed might be what you are looking for. Like other beds, it is available in more than one size, so you can select the one that will be just right for your feline companion. And it also comes in various colors, which is convenient when you want to be able to use pet products that will complement the rest of your furniture and décor. This is another thick, donut-shaped bed that can provide support in the middle and also give your cat plenty of head and neck support on the sides. The fabric is soft and can help your pet stay nice and warm while napping, and there is a nonslip bottom as well. Plus, this bed is machine-washable, so it's designed to be easy to clean whenever necessary.
The best calming pet bed for homes with dogs and cats
This cuddler bed is designed to be calming, but it is quite different from the other products on this list. First off, it is shaped like a typical rectangular pet bed rather than round like a donut bed. Secondly, it has a unique loose blanket that encourages burrowing for dogs and kneading for cats. So, if you have dogs and cats in your family, this bed could work for all of them. The bolsters help your pet feel safe and can also serve as comfortable spots on which they can rest their head. Other great features include a nonskid bottom, a memory foam base for extra support and comfort, and a waterproof inner liner. You can choose from two sizes, but this bed is only available in one color. If you think your cat would prefer this style or you know your pet doesn't like round beds, it may be the perfect solution.