Part of being a cat owner includes ensuring that our feline friends are comfortable, enriched, and considered in our living spaces. For some people, having ample floor space to fit huge cat condos or other types of cat furniture just isn't an option, which is why wall-mounted pet furniture is such a great option. Whether your cat loves to scratch, climb, rest, or hide, there's an option out there for them to enjoy, and it won't compromise an inch of living room space. Because these items mount to the wall, they allow your cat to climb and jump, so your cat can explore new areas of your home for a truly curious adventure each time they choose to play on it.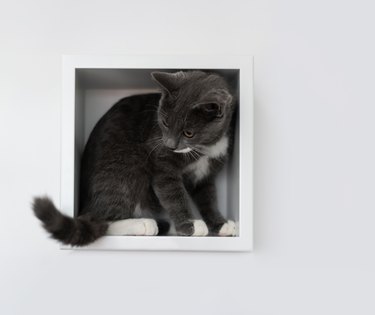 What to consider when purchasing wall mounted cat furniture
‌Agility:‌ One aspect of wall-mounted pet furniture is that it's usually placed off the ground and requires jumping and climbing to reach. If you have a cat with limited mobility due to age, weight, illness, or just stiff joints, you may want to opt for something that mounts low, like a scratch pad, or be sure to place the item near other surfaces your cat can easily climb so that they can reach it.
‌Installation:‌ Wall-mounted items do require installation, so you'll want to be sure you are able to screw or drill into your walls if you're renting and find the studs in the wall either way. Furniture should come with all of the necessary screws and anchors, and may or may not include basic tools, like Allen wrenches and screwdrivers, so it's best to have those on hand just to be safe. Most furniture is easy for just one person to install, although larger pieces, like cat trees, may be best completed with a helping hand.
‌Weight:‌ Perhaps the most important thing to consider is the weight limit of the piece you're installing. The weight capacity of a piece of furniture should always be clearly labeled somewhere with the item, be it on the box, in the instructions, or online. If you can't find the weight limit anywhere, it's best to opt for another choice, especially if that item is meant to be placed high off the ground, or hold your cat for a long period of time.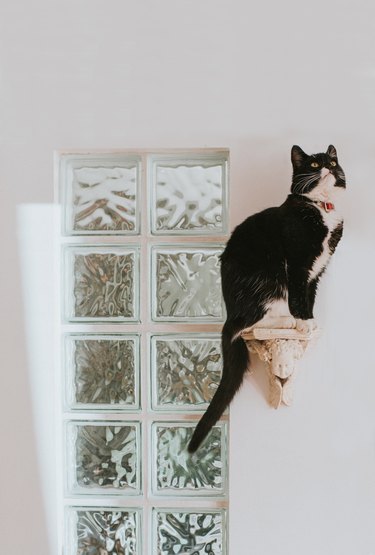 The best overall wall-mounted cat furniture
Easy to install, made of high-quality materials, and priced at under $30, these wall-mounted stairs can be a fun thing for your cat to climb and rest on or can serve as a cat bridge to help your cat reach other wall furniture pieces. Both the beam and the steps are made of 100% wood for durability, and each step is wrapped in jute to create a surface for scratching. You can purchase this so that the steps angle from left to right, or right to left, and all of the necessary hardware is included. You will need to locate a stud in your wall to anchor the steps to, but this will ensure that it supports weight and won't budge over time. It should be noted that this item only consists of the steps—the image used here features additional pieces of furniture that are not included with this product.
The best budget wall-mounted cat furniture
If climbing isn't exactly your cat's favorite thing, these low-resting scratching posts still offer off-the-floor fun and enrichment without the reach. Sold in small and large sizes, and offered solo or in packs of two, this vertical scratching pad features two boards wrapped in sisal for long-lasting use. This is a versatile item, and you can choose whether to screw this into your wall, adhere it to your wall with no damage, attach it to your furniture, or even just lay it flat on the ground if that's what your cat prefers.
The best wall-mounted cat scratching post
For a space-saving scratching post that's higher up, this set of cat steps offers just that. With larger surfaces on the steps than the previously mentioned set, this item could work as a climbing surface, a set of steps, a perch, and a multi-level scratching post all in one. It's made of engineered wood and sisal, and the stairs include easy-to-clean, removable mats for your cat to rest on. All of the tools needed to install this are included with the item, and it can support up to 10 pounds.
The best wall-mounted cat shelf
Does your cat love to climb and rest while perched up high? Finding a cat shelf like this one can allow them to enjoy their alone time out of the way and in a space that's all their own. Available in espresso, gray, or white, this modern cat furniture is made to look sleek while offering comfort thanks to a removable plush cushion that rests in the nook. This shelf can hold up to 12 pounds, and all of the necessary hardware is included.
The best wall-mounted cat feeder
For something a little different, this shelf includes two small dishes for holding food and water in addition to a padded perch for your cat to rest on. It features a raised surface for dining off of, which can cause less strain on a cat's joints and tends to be more comfortable than crouching to eat for most cats, and may also aid with digestion. Additionally, the high perch makes for a fun cat feeder as it allows your feline to hide. This item is heavy-duty and can hold up to 44 pounds of weight thanks to its solid wood construction, and features a sisal-covered pad that's removable and easy to clean.
The best wall-mounted cat window perch
Being perched up in a window is one of the most enriching things many cats enjoy experiencing, and this perch allows them to do so without taking up too much space inside the home. It can hold up to 50 pounds by using suction cup mounts, and can even fold up to allow you to close your blinds or curtains in the evening or when it's not in use. Additionally, this perch's cover is machine-washable, and the mount can even be used with K&H heating pads as well.
The best multi-level, wall-mounted cat furniture
Climbing is extremely fun and fulfilling for many cats, especially indoor cats, who may not get the opportunity to explore vertically very often. This multi-level tree mounts to the wall to create a floating effect and contains five perches, sisal-covered posts for scratching, a wooden ladder for climbing, and a small condo for your cat to hide or rest inside of. The unit is made of pine wood, which is both durable and easy to clean, and the whole thing has a weight capacity of 10 pounds.
The best wall-mounted cat furniture for small spaces
One of the major appeals of wall-mounted pet furniture is that it saves living room space on the floor, but sometimes, very small homes, like studio apartments or single bedrooms, don't have all that much wall space to offer either. This cat condo is on the smaller side and features three moderately-sized components—a scratching post, a shelf, and a mini condo. All of it is made with engineered wood, is easy to install, and can hold up to 10 pounds of weight.
The best wall-mounted cat furniture for multi-cat households
If you have more than one cat in your home and would like to offer a wall-mounted activity that all of them can enjoy, this large, five-piece set can support that. It features something for every cat, including a scratching board, multiple plush-covered shelves for resting on, sisal-wrapped posts, a cloth bridge, and a private cat cave. It comes with everything needed to assemble it, and even includes a package of catnip, which can help your cat warm up to their new playland if they need a little time to get comfortable.
The best wall-mounted cat tree
Finally, the cat tree is a classic piece of feline furniture, and most rest on the floor, relying on a wide, heavy base to keep itself sturdy and upright. This tree makes do with a smaller base thanks to multiple wall mounts, which keep it level and supported without taking up too much extra room. The tree measures 72 inches tall, uses solid wood for the perches, and features a post wrapped in sisal for climbing and scratching. Because this cat tree mounts to a wall stud, it's strong enough to support multiple cats at once, as well as large cats.