Share some holiday joy with your pup by gifting them a festive new toy (or two). Whether you're looking for a chew toy to slip into your dog's stocking, or a set of plushies to wrap up and place under the tree, we've got you covered with a roundup of holiday-themed dog toys.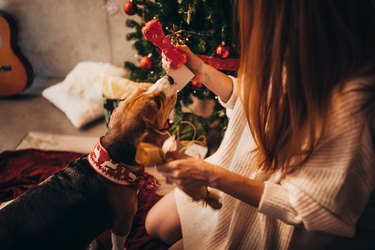 When purchasing any new toy for your dog, make sure it's the appropriate size for your dog—toys that are too small can be a potential choking hazard and should be avoided. Always supervise your dog when they are playing with toys (festive or not). Discard the toy if your dog chews off small pieces that they might try to ingest.
If you're looking for a gift to give your dog this holiday season or something special to celebrate your puppy's first Christmas, check out these holly jolly plush and chew toys. Merry Woofmas!
1. Midlee Bag of Coal Plush Christmas Dog Toy
Has your dog been a little bit naughty this year? If so, treat your pup to this festive gift bag (designed to resemble Santa's sack) that's filled with five pieces of plush coal to play with! The coal comes in a red velvet bag with "Merry Christmas'' embroidered on it in gold thread. The plush coal pieces have crinkle paper inside to engage your dog in play, and some pieces have squeakers for added fun.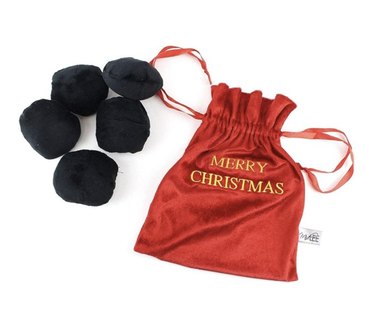 2. Frisco Holiday Christmas Light Rope with TPR Squeaky Dog Toy
Perfect for dogs who enjoy fetch and tug games, this lightbulb toy is attached to a red, white, and green cotton rope loop. The oversized green Christmas light, made of TPR (Thermoplastic Rubber), has a built-in squeaker to encourage dogs to play. The cotton rope loop lets your dog really sink their teeth into the game or gives you a handle for playing tug. The combination toy is designed for small and medium-sized dogs. Ideal for interactive play, it's sure to keep you and your dog entertained all holiday season long.
Is your dog going to leave cookies out for Santa Paws? This four-pack of Christmas-themed toys could double as holiday decor. The set includes a plush plate (it's kind of like a soft frisbee) that reads "Cookies for Santa '' with a colorful Christmas lights border. There are three plush holiday cookies in the shape of a Christmas tree, a candy cane, and a gingerbread man. These "cookies" have a soft filling with embedded squeakers to encourage dogs to play. The plush toys attach to the plate with hook-and-loop fastener so your dog can rip them off again and again as they wait for Santa to arrive.
4. UNIWILAND Squeaky Plush Dog Toys, 3-Count
Designed for breeds of all sizes, this trio of festive toys is perfect for treating a special dog in your life. The set includes a Santa, reindeer and snowman character. The toys are made from soft nontoxic cotton with a thick corduroy core. They also have a beef scent to pique your dog's interest. Each plushie has a built-in squeaker and a nubby texture that can help clean a dog's teeth as they chew and play. They toys are machine-washable and have waterproof fabric protecting the cotton core to prevent them from absorbing unpleasant odors.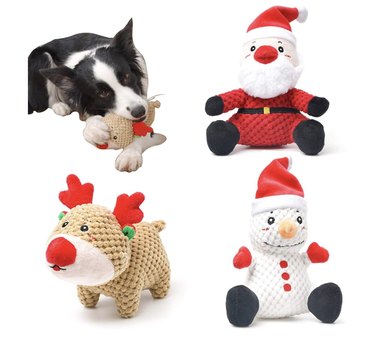 5. Plush Christmas Lights Dog Toy, 3-Count
Perfect for large breed dogs, the Christmas bulbs in this three-pack measures 10 inches long and 3 inches wide. The plush toys each contain a squeaker, so they're great for solo or interactive play. The set comes with a red Christmas light, a blue Christmas light, and a yellow Christmas light. The toys are filled with polyester and suitable for dogs of all ages.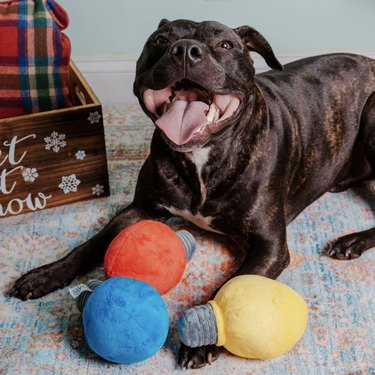 6. BARK Muttcracker Holiday Latte Dog Toy
Everyone loves a festive holiday drink including our dogs! This plush toy looks like a holiday latte from the "Mutt Cracker Cafe," whose logo features a nutcracker-ified squirrel. The cup is red and green with white stars on it, and the fake foam on top looks to be sprinkled with cinnamon. The BARK toy is designed for dogs of all sizes and has an embedded squeaker and crinkle material that your pup will love. The latte dog toy measures 3.6 inches long, 3.6 inches wide, and 7.5 inches high.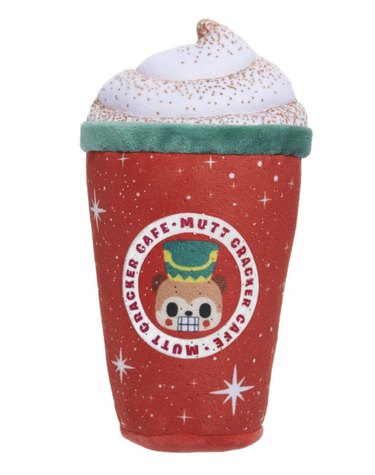 Shaped like an X (or a snowflake if you're feeling the holiday spirit), this long-lasting chew toy features four textured chewing ends. It's designed for dogs up to 50 pounds and has a yummy vanilla cookie flavor throughout. The built-in ridges and nubs can help keep teeth clean and freshen your dog's breath. This chew is great to give to your dog during holiday gatherings or meals to keep them occupied and promote non-destructive behavior. It's ultra-durable and suitable for heavy chewers.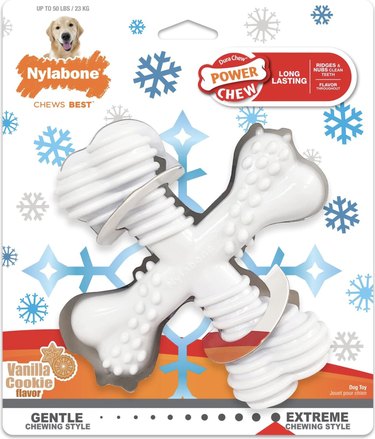 8. Holiday Penguin & Snowman Plush Squeaky Dog Toy, 2-Count
These ball-shaped plush toys resemble a snowman and a penguin. They would make great stocking stuffers or Christmas gifts for extra-small and small dogs. The toys have sewn-in squeakers to keep little dogs engaged through the holiday season. Ideal for tossing and fetching, the snowman and penguin are both wearing festive hats with attached rope tassels. They're each holding gifts in their fuzzy arms/wings. Your dog will thoroughly enjoy cuddling or playing with these delightful characters.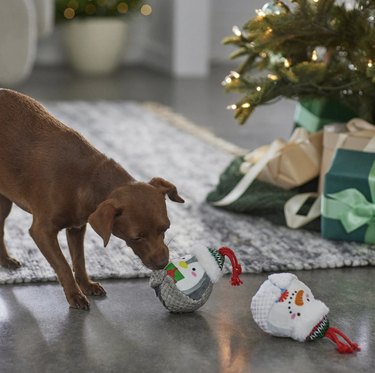 9. Outward Hound® Holiday Ho Ho Candy Puzzle Snack Bag Dog Toy
Ho ho ho! For dogs looking for a challenge this holiday season, this interactive toy is perfect for hide-and-seek games. The set includes three plush squeaky toys that look like wrapped peppermint candy and a plush, crinkly bag for the "candy" to fit inside of. The bag is green with a mistletoe motif and a "Ho Ho Candy'' message printed on the outside. A clear vinyl window reveals the plush toys that your dog can retrieve. For added fun, you can place other toys, kibble, or dog treats inside the bag so your dog has to work to get them out.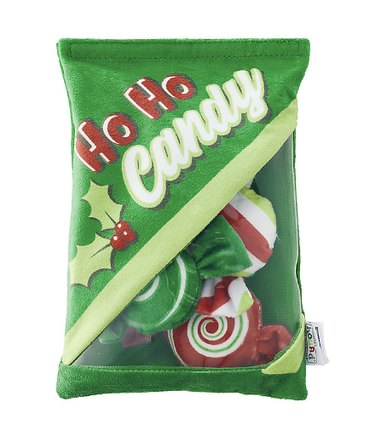 10. KONG Comfort HedgeHug Squeaky Dog Toy
If your sweet dog is hoping for a soft toy this holiday season, look no further than this snuggly hedgehog. Designed both for cuddling and playing, the 7.75-inch-long hedgehog is red and white with green ears and feet. The hedgehog also has a white snowflake embroidered onto its side. The toy has an embedded squeaker and makes crinkling nosies to excite your pup. It's great for playing and doubles as a comfy pillow during naptime.
11. Disney Holiday Mickey & Minnie Mouse Peppermints Round Plush Squeaky Dog Toy, 2-Count
For Disney-loving pups, these peppermint candy-shaped Mickey and Minnie Mouse toys make a sweet gift. The two toys have soft, plush exteriors and are embedded with squeakers and crinkle paper to encourage long-lasting play. They each measure 7.75 inches long, 5 inches wide, and 4.5 inches high (although Minnie's iconic bow might add an extra inch). These peppermint candy plush toys are not designed for heavy chewers and are best for small- and medium-sized breeds.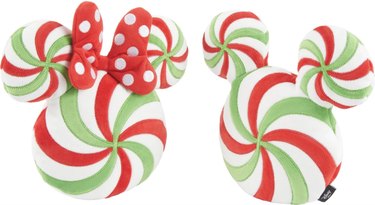 12. KONG Wild Knots Holiday Bear Squeaky Dog Toy
For medium and large breed dogs, this toy is a festive twist on the much-loved KONG bear. Covered in green fuzzy fabric, the bear has reindeer antlers and red and white sewn-on patches. You can tell the bear is wearing a costume because you can see brown fur peeking through. The bear has an internal knotted rope skeleton for durability (it also makes him a fun tug toy). There's also a loud squeaker embedded in the toy. This hardwearing toy is great for independent play, as well as interactive games of tug and fetch with your furry friend.