One of the not-so-great parts of having a pet is that they can shed...a lot. Cats and dogs are great companions, but they can leave pet hair on your couches, pants, and rugs. Depending on the kind of cat or dog, the amount of hair can get overwhelming.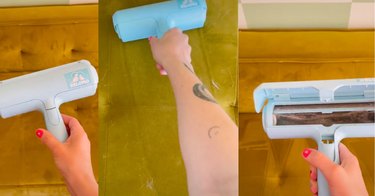 Thankfully, due to the ingenious invention of this pet hair remover, the task of picking up pet hair just got a lot easier.
The ChomChom Pet Hair Remover went viral on TikTok after pet owners discovered just how effective this tool can be. Not to mention how easy it is to use.
The tool does not require batteries or any power source. Simply roll the hair remover tool back and forth to trap fur, lint, and dust bunnies over your rug, couch, or carpet to trap it all in the receptacle.
Once the hair has been picked up, press down on the release button to open the receptacle. Then gaze at the gross but satisfying amount of hair you collected, and empty it out in the trash.
One of the best features of the ChomChom Pet Hair Remover is that it's reusable. Once you clean out the receptacle, you're ready for another round of cleaning. There are also no sticky, messy papers to use, making it super eco-friendly.
We are not the only ones raving about this brilliant tool. Nearly 97,000 people have given it a 5-star rating on Amazon.
One reviewer with two long-haired cats noted that the tool "gets up so much fur" even after she's run the vacuum over the area a few times. If the ChomChom isn't for you, check out our other favorite pet hair removers of 2022.