It seems like dog owners will do just about everything and buy just about anything to keep their dogs entertained and happy. That's why we are always looking for the latest and greatest dog toys. TikTok is currently going crazy for this Gumby plush-filled dog toy. It is the perfect mix of goofy and adorable for any nostalgic dog parent.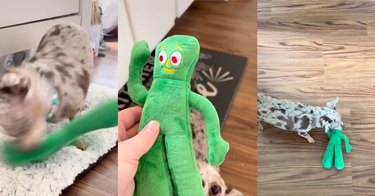 The Gumby plush toy is a great toy option that's durable, yet fun to play with. Gumby is a classic children's character dating back to the 1950s. Now he has been transformed into a fuzzy and flexible dog toy.
A TikTok account called, hazel_theminiwiener with over half a million followers, posted a recent video featuring the Gumby toy. In the video, the adorable dog opens an Amazon package with just her teeth to reveal the Gumby dog toy inside. She wags her tail while trotting around the house with the new toy in her mouth. She then shakes the toy and gives the squeaker a whirl.
The popular plush dog toy has flexible arms and legs as well as a squeaker inside for hours of playtime fun for your dog. The toy measures 9 inches tall, making it the perfect size for dogs of all shapes and sizes.
As with any new toy, be sure to supervise your dog when they first play with it. If you're looking for a new dog toy to add physical and mental enrichment to their day — give it a try! Who knows? The Gumby plush toy might be your dog's new favorite toy!