When you have a pet, getting out of the house without pet hair covering your clothes can seem like an impossible task. You may have lint rollers in your bag, in your car, and at the office to make sure you look presentable when you are out of the house. Plus, it's not just your work clothes, your athletic wear is also a magnet for pet hair. Fortunately, these viral leggings from Amazon may offer a solution.
Made of polyamide and spandex, these high-waisted leggings are fitted, soft, and incredibly comfortable — whether you are doing yoga or just lounging around the house with your pets. The website doesn't mention it and the brand CRZ Yoga doesn't list it as a feature, but reviewers swear that these viral leggings actually repel pet hair.
One reviewer gave the leggings five stars and noted:
"Cat and dog hair does NOT stick to it." Another reviewer and golden retriever owner stated, "these are hair resistant!! That may be the best part about them!!" This reviewer was wowed by the texture and feel of the leggings, stating, "the material is super smooth and it does a great job at repelling fur/cat hair too."
Plus, many reviewers call them "lulu dupes" and consider these viral leggings a great alternative to the well-known lululemon brand. They are a part of CRZ Yoga's Naked Feeling line which aims to fit like a second skin. These leggings live up to the name. They are lightweight and the fabric is cool, soft, and smooth.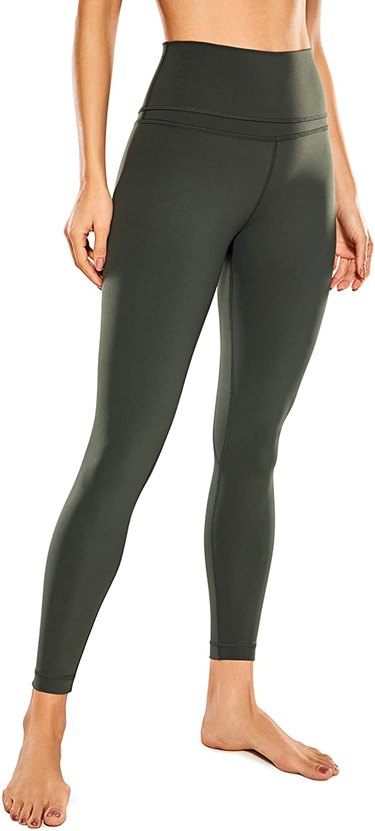 The company may not list it as a selling point, but pet owners can all agree that clothing that resists or repels pet hair is a must-buy. You can find these viral leggings on Amazon. You may still need your lint roller to avoid taking pet hair with your to work or out on the town, but with these leggings, you will have at least one pair of pants that stays free of your pet's hair.