For pet parents with more than one dog in the home, walking canines on separate leashes at the same time can sometimes result in tangled up dogs, or being pulled in opposite directions. A multiple-dog leash that's designed to hold more than one pet at a time can make walks easier and more efficient. To use a multi-dog leash, you can either purchase a leash that branches off into two, or you can shop for a coupler, which attaches to any leash and can offer more than two leash ends for homes with three or more canine friends.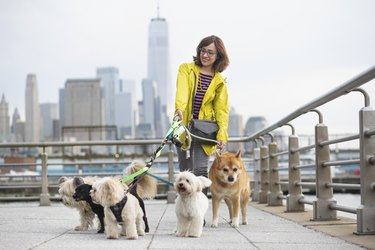 What to Consider When Purchasing a Multi-Dog Leash
‌Length:‌ If you keep your usual leash short and close to your body, your multi-dog leash or coupler should feel the same. Dogs will, however, need a bit of wiggle room where the leash branches off to allow them to move comfortably and not become forced too close to other dogs on their walk. If the added length makes you feel less in control of your walks, look for options with ergonomic grip handles or adjustable main straps.
‌Durability:‌ Even a small dog will add weight and resistance to your walk, so always be sure to look for quality materials when shopping for a multi-dog leash, especially if you plan to walk large dogs or several dogs with them. Nylon is a popular leash material that won't fray too easily, and bungee or climbing rope is often seen as part of a multi-dog leash design as well, and nickel-plated clips will keep dogs securely attached.
‌Your Dogs' Habits:‌ When they're done right, pack walks can offer structure and efficiency for pet owners with more than one dog, but sometimes those group outings just aren't for everyone. If you have dogs with widely different exercise needs, mobility skills, excitement levels, and or just social preferences, it may be best to opt for separate walks over forcing a joint walk. If tangling and tugging do occur on your joint walks but you still wish to do them, look for multi-dog leashes with swivel loops that spin to detangle, or leashes made with bungee rope or other materials that reduce shock.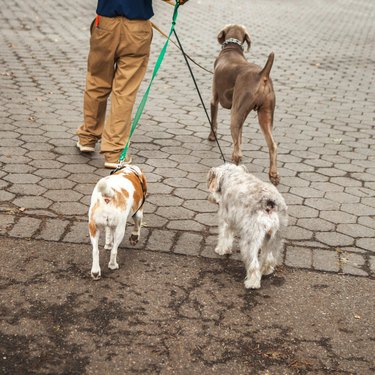 1. iYoShop Dual Dog Leash
If you're looking for a heavy-duty dog lead that can manage multiple dogs and will hold up over time, this one by iYoShop is a great option to consider as it claims to last three times longer than the average leash. It's designed as a leash and a coupler in one and comes with a climbing rope leash and a bungee coupler that splits in two. Each piece contains reflective thread to keep your night walks safe, and the coupler is fitted with a swivel ring that rotates 360 degrees to prevent tangling. It comes in two sizes and can manage up to 150 pounds, and is made with a padded handle to reduce shock from tugging and prevent rope burn.
2. Wigzi Dual Doggie Gel Rope Dog Leash
One problem many people run into when walking more than one dog on the same leash is maintaining control when the dogs veer off in different directions to catch a whiff or pee on something, or whatever else dogs enjoy doing on their outings. In this case, a dual leash with one handle can make walking easy on you while allowing for a little more space between your four-legged friends. This leash is available in two sizes—small, and medium/large, both of which measure 4.5 feet in length. The ergonomic handle contains a squishy gel filling for comfort and control, and the leashes will untangle themselves thanks to a built-in coupler that spins them apart.
3. Top Paw Double Coupler Dog Leash
If you just need a simple way to turn your standard leash into a double dog leash in seconds, this coupler from Top Paw does just that. It's designed with two nylon straps attached to an O-ring, which you can clip your leash onto. The straps measure 21.5 inches and can be adjusted to different sizes, making accessibility to things like poop bags or your hands a little easier to reach when you're walking multiple dogs.
4. Guardian Gear No Tangle Dog Leash Coupler
Walking four or more dogs at a time is usually left to the pros, but anyone in a multi-dog home can do it with a little preparation and creativity. Most multi-dog leashes on the market are designed with two or three dogs in mind, but you can expand on this by hooking two or more leash couplers together. This can quickly turn two leash clips into four, all of which can be controlled in one hand. Guardian Gear offers couplers of various sizes including three-way leads and short options, the latter of which can be a good move when pairing, as tangling will become more and more probable with each added leash clip.
5. Premier Pet Multi-Functional Leash
Not only is this leash designed to handle two dogs on one walk, but its multiple functions also make walking one dog easier on any dog owner who's looking for a more controlled walk, or a hands-free experience. This double-ended leash is designed with a clip at each end, as well as multiple rings spaced throughout, providing seven different ways to use it. Both ends can be used on one dog for optimum control, the strap can be wrapped around your shoulder for a hands-free walk, or you can use the included coupler to walk two dogs at once. The entire thing is made with reflective thread, is lightweight, and comes with a padded handle for comfort.
6. UTurn Triple Dog Leash Handle
Another option for a multi-dog outing involves an item that isn't a leash at all, but a handle designed to manage more than one leash at a time. This item is made of HDPE thermoplastic material and features four holes—one to hold onto, and three to loop your existing leashes through so you can walk everyone all at once. A UTurn handler has a load capacity of 300 pounds and allows each hand to hold up to six leashes, all of which can become untangled with a simple half-turn of the handler, making it a great option for those with large dogs.
7. Danlai 3-Pack of 3-in-1 Dog Leash
This coupler is designed in the same way that any two-headed coupler is, only it's made with even more straps and can keep up to three dogs attached at once! Each strap is adjustable between 21.6 inches and 34.2 inches so you can alter the lengths to fit your dogs in the order they walk with one another. The entire leash is made with durable nylon, and the inside of the handle is fitted with padding to offer a comfortable hold and safe grip.
8. Dogs My Love 6 Way European Multifunctional Leather Dog Leash
Another multi-functional option for pet parents, this double-ended leash can be worn six ways, and can support two canines at a time. The 8-foot lead can be adjusted to six different lengths and connects to itself using nickel-plated rings and clips. Made of genuine leather, this leash not only looks great but is also very durable and can hold pets up to 100 pounds in weight.
9. TSV Dual Dog Walking Leash No Tangle 360° Swivel
If you have more than one small- to medium-sized dog who has a combined weight of 66 pounds or less, this leash offers a comfortable, durable, and tangle-free way to walk them both at the same time. This leash is 55 inches long and comes as one piece, with the split-head branching off from a swivel ring that prevents tangling. The lobster buckles at the ends of each strap fit all kinds of dog collars, and the polyester rope makes this entire leash lightweight and durable. Finally, there's a foam strap handle to offer dog walkers a tight grip that won't burn or chafe.
10. Pet Fit For Life Dual Dog Leash with Bowl
Rounding out the list is this adjustable leash that comes with a collapsable water bowl, creating a perfect set for exploring with your best furry friends. It converts from 32 to 64 inches to create a loose leash that allows them to explore, or a closer grip for when you need more control, like on crowded streets. The clips and swivel rings on this one are made of stainless steel, and the straps are integrated with bungee material to absorb shock and offer a comfortable walk for everyone involved. This leash is made of nylon and includes a padded handle and a carabiner clip for leash length conversion.