When it comes to Christmas decor, a stocking is a great way to add a little holiday spirit to any space. Low cost, lightweight, and small in size, Christmas stockings are perfect for anyone who celebrates, be they a homeowner, a renter, or even someone traveling for the holidays. Keeping a Christmas stocking for a pet is a sweet way to get them in on the Christmas morning fun while offering them a few small treats to keep them happy and busy. Like stockings for people, Christmas stockings for pets come in an array of sizes and styles, from understated and simple to covered in lights, glitter, and other decorations. Many pet Christmas stockings also offer optional personalization for that extra thoughtful touch.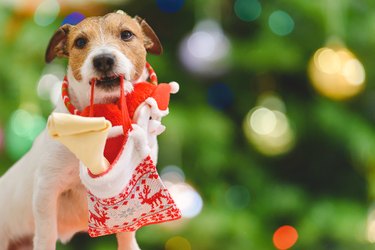 A classic cable knit design
For a Christmas stocking that will last over the years, you'll want to shop for something sturdy and simple, like this stocking from St. Nicholas Square. Measuring 21 inches and weighing 7.5 ounces, this stocking does have a bit of stretch for fitting larger items inside of it, like cat dancer toys or dog bones and other stocking stuffers. It's knitted, monogrammed with a paw print on one side, and created with red and white thread for a classic piece of holiday decor.
A perfectly plush stocking
When most people think of a Christmas stocking they picture a soft red boot with a white furry trim around the top, just like this one. Made with red polyester for a satin-like stocking look, and wrapped in synthetic white faux fur, this stocking can be stuffed with all kinds of treats for your furry friend to enjoy. The stocking measures 18 inches long by 9 inches wide, and includes a pet paw print accent on the heel so there's no mistaking that it belongs to the dog or cat of the house.
A fully customizable creation
For a stocking that's super personalized, this Etsy shop offers a holiday stocking that includes your pet's name on it. The name is applied via a heat-transferred vinyl decal and isn't embroidered, which is reflected in the price. The stockings measure about 15.5 inches long and 7.5 inches wide, and are handmade using cable knit fabric. To choose your stocking, just pick from the shop's eight color options, personalize up to 10 characters, and choose from glitter ink to include on the text if you wish.
A set for multi-pet households
Sometimes, we just want an over-the-top cute design to represent our pet friends, and this stocking does just that. This option is sold as a set, including one dog and one cat stocking, so it's ideal for multi-pet, interspecies homes. Each stocking is 18 inches tall and contains pet faces and details created with felt. The dog and cat images are dressed for the holiday season and are each wearing a Santa hat, holly, and plaid bow ties. For homes with more than two pets, you can also order these stockings in sets of four and six.
A stocking for a bone-a-fide good dog
For a luxe stocking you'll just want to reach out and touch, consider this dog bone Christmas stocking made with soft sherpa material. This stocking measures 18 inches by 9.5 inches and is roomy and durable enough to hold a variety of dog toys, treats, and other dog gifts to share with your canine friend on Christmas morning. It's designed with a loop at the top to rest on any stocking holder and comes with a decorative red and white "Merry Christmas" tag for an added festive touch.
A personalized, paw-shaped design
Whether it's for your dog or your cat, this paw stocking will stand out on your mantle. Available in red velvet with a soft white trim, this stocking comes with an option to personalize with a name up to nine letters and offers 15 thread color options to embroider their name. Each stocking measures 13.5 inches by 9.5 inches, so they're on the smaller side compared to some of the stockings on the list. However, it still makes for a cute and unique personalized pet stocking capable of holding an assortment of small toys and treats.
Another pet paw stocking option, this one comes from a small seller on Etsy and offers some additional options to help you create a truly one-of-a-kind stocking for your pet. This stocking measures 15 inches by 11 inches and is made of sherpa material and red or green (buyer's choice) plaid details to create the paw print look. The trim is also wrapped in plaid and can be personalized or left as is, with 16 fonts to choose from if you decide to add your pet's name to their stocking. Names are not embroidered but transferred HTV vinyl, and each stocking comes adorned with faux dog bones or faux fish bones.
A boho-ho-inspired stocking
Sometimes, a simple design is what we need to complement our existing home decor, and this jute stocking in the shape of a dog bone offers a tasteful, stylish way to do just that. Measuring 17 inches by 10 inches, this stocking is handmade with 100% burlap and comes with a festive Christmas bow in five choices of colors: red, red stripe, red with white snowflakes, green stripe, and khaki with white snowflakes.
A stocking featuring a cute character
For an understated stocking that's still tasteful and cute, this herringbone design fabric offers an elevated way to say "Merry Christmas" to your beloved pet. Measuring 20 inches by 10.5 inches, this stocking is perfect for holding larger stocking stuffers and hangs from a stocking holder thanks to a loop at the top. This stocking is sold in four different colors and styles, including a cream-colored bear, a copper-colored reindeer, a grey penguin, and a red fox.
A stocking that resembles...an actual stocking
A true stocking is just that—a humble piece of hosiery to hang from the mantle. This stocking is an excellent choice for pets as it's not too big, but still roomy enough to hold a handful of toys and treats for your companion to enjoy, measuring 21 inches by 8 inches. Available in light gray and dark gray, this sock stocking is made of 100% wool from Ecuador in a knit-sweater texture with a built-in loop for hanging. You can customize this sock with lettering to feature your pet's name. It can be spot-cleaned and hung dry as needed.
A light-up option in several styles
Have a pet with a big personality? They may need a big, flashy stocking to match that energy. This stocking is fitted with multi-colored LED lights that sparkle all night long and is designed with a 3D polar bear and snowflakes on the front of it. Because this stocking isn't species-specific, it makes a great Christmas gift for any pet, and works as a dog Christmas stocking, a cat Christmas stocking, or a stocking for any other type of companion animal you share your home with. This stocking measures 20 inches by 16 inches, can be personalized, and does require three AAA batteries to keep the lights shining. Choose from five different characters: a penguin, polar bear, reindeer, Santa, or snowman.
A stocking for the most wonder-fur time of the year
Looking for a classic Christmas stocking with a bit of a twist for your pet? This dog Christmas stocking is made in the standard stocking shape using faux fur to create a cozy and warm-looking treat. It comes with a red built-in loop for hanging, a red ribbon with dog bone ornaments for an added touch, and is made with dark tan polyester material to go with just about any room's decor.
A stocking that blends in with your holiday decor
For a white Christmas stocking that will match just about any home decor, this quilted stocking with faux fur trim is a great option to consider. Measuring 18.5 by 12 inches, this stocking provides a stylish, roomy space to hold all of the stocking stuffers Santa brought your pet this year. Made of polyester and spandex, this stocking is durable and does offer a bit of stretch in case you need to fit a larger toy or treat inside.