This Christmas, don't forget to treat your dog to some stocking stuffers just for them. Regardless of whether your dog is ball obsessed or loves a good chew. there is something special you can slip into your pup's stocking this Christmas that will be sure to delight. What you stuff Christmas stockings with is up to you and your dog's preferences. You can fill your dog's stocking with dog treats and toys, or you could take a more practical approach when selecting a stocking stuffer and get products that your dog needs or can use. Either way, dog lovers don't have to spend a lot of money on dog stocking stuffers. In fact, almost all of these stocking stuffer goodies your dog will love are under $10!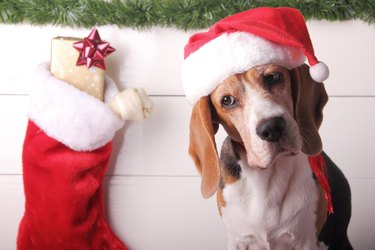 1. Frisco Nylon Christmas Tree Dog Chew Toy
For chewers, this toy infused with peanut butter flavor will be irresistible. It's made of long-lasting nylon material that is designed to stand up to chewing. Shaped like a festive Christmas tree, this toy makes a great stocking stuffer. This chew toy is designed to keep dogs entertained while also helping to promote healthy teeth and gums, while reducing tartar through chewing. Supervise your dog while chewing to make sure they don't chew off small pieces of their tree chew, as it's not digestible.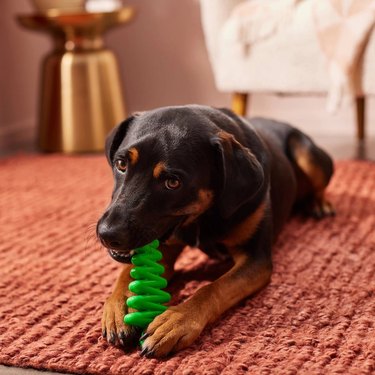 Does your pup leave milk and cookies out for Santa? This stocking stuffer lets them have their own milk and cookies treat to play with on Christmas morning! This set of plush toys even comes packaged in a stocking-shaped bag, making it instantly giftable even if your dog doesn't have their own stocking. The plush set includes a plush bottle of milk with "Santa's Milk" stitched onto the bottle and two plush smiling cookies. Each of the three toys has embedded squeakers. These toys are best for small-breed dogs.
3. Holiday Ho Ho Ho Fetch Squeaky Tennis Ball Dog Toy, 3-Count
Ideal stocking stuffers for the tennis ball-obsessed dog, when put together, these tennis balls have a festive "Ho Ho Ho" message printed on them. These blue and red tennis balls also feature Santa and reindeer. These squeaky tennis balls are made with non-abrasive material, which is gentle on your dog's teeth and gums, making them safer to play with than traditional tennis balls. The ho-ho-ho tennis balls are best for medium-sized dogs. Give your dog the trio of balls or split the set up and use them as stocking stuffers for multiple dogs!
4. DreamBone Holiday Rawhide-Free Collection
Made with real vegetables and chicken, these long-lasting dog chews are rawhide-free. Easy to digest, these chews are a great stocking stuffer and perfect for keeping your dog occupied during holiday gatherings. This holiday variety pack of chews comes in Christmas trees, snowmen, and gingerbread people shapes. The chews are enriched with vitamins and minerals to provide your dog with a long-lasting and healthy chew. These chews can help to maintain healthy teeth, and each pack includes six chews, so you can treat your dog to all of them or split the chews up between multiple dogs' stockings.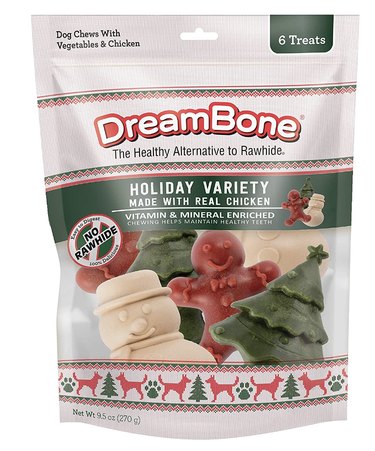 Everyone loves a Christmas cookie, including our dogs! This frosted cookie is sure to delight any pup who finds it in their stocking. This large cookie is shaped like a festive penguin with a red scarf. The cookie is made without any artificial colors or flavors and is apple and cinnamon-flavored.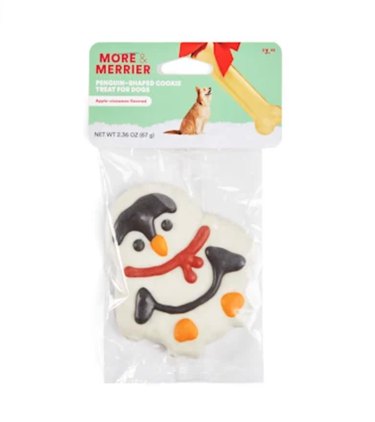 6. Frisco Holiday My First Christmas Bone Plush Squeaky Dog Toy
If you have a puppy celebrating their first Christmas, or an older dog you adopted having their first Christmas in their forever home, this plush toy is a sweet, sentimental stocking stuffer for any fur baby. The white plush fabric dog bone is fun for dogs to fetch and play with. The plush bone has a squeaker stuffed inside to keep dogs interested and has a festive red bow. The front of the squeaky toy has "My First Christmas" stitched onto it. This toy is 10-1/2 by 6-3/4 inches, making it a great size for most dog breeds.
For Disney/Pixar-loving pups, these "Toy Story" gingerbread cookie plush toys are adorable toys to stuff into your dog's stocking. The plush toys have squeakers inside to encourage dogs and puppies to play. These toys are designed for medium and large-sized dogs, though smaller dogs can play, too. The set includes a plush Woody gingerbread cookie and a plush Buzz Lightyear gingerbread cookie. The toys are cookie-shaped and have stitched "frosting" to give Buzz and Woody a true gingerbread look.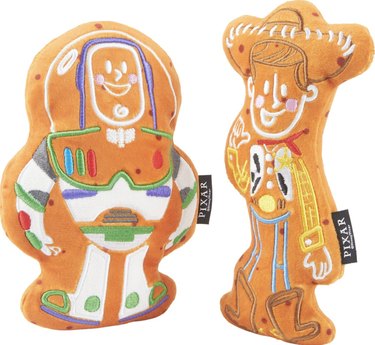 8. Collapsible Dog Bowls, 2-Count
If you're looking for a practical stocking stuffer gift for your dog, consider a collapsible water bowl. These travel bowls are lightweight and easy to carry with you in your car, purse, or attach to your treat pouch. These collapsible water bowls come with a coordinating carabiner attached, making them easy to carry with you anywhere. You can even attach the water bowl to a belt loop, leash, or treat pouch to use on the go. These collapsible bowls can hold up to 12 ounces of water or 1-1/2 cups of food. These collapsible bowls are dishwasher-safe, so they're easy to keep clean and reuse on your next dog adventure.
9. Frisco Holiday Peppermint TPR Bone & Snowflake Squeaky Dog Toy, 2-Count
Give your dog a festive squeaky bone in their stocking this year. The set of bones includes a snowflake- and a peppermint-patterned toy bone. You can stuff both bones into one stocking, or split them up among two good dogs' stockings. These bones are made from thermoplastic rubber. The seasonal toys are great for solo play, and for playing with your dog. The rubber design of these toy bones makes them bouncy for an added level of fun and to encourage your dog to keep playing for the whole holiday season.
10. Frisco Holiday Santa's List Plush & TPR Inside Dog Toy
Is your dog naughty or nice this year? This plush toy mimics Santa's nice and naughty list, including the names of other dogs! The toy has a hidden tube at the top, with embedded squeakers in the plush list to keep dogs engaged in playing. The plush toy is shaped like a piece of parchment labeled "Santa's List," featuring two categories of Naughty and Nice with names of dogs under each category. Not only is it fun to play with, but this toy also makes a great photo prop. This toy is available in two size options.
11. ARING PET Christmas Waste Bag Holder
If you're looking for a practical gift to slip into your dog's stocking, consider this festive poop bag holder. The fabric holder has a clip that can attach to your dog's leash, harness, or your training bag. The poop bag dispenser is covered in a festive Christmas fabric, featuring holiday toys and treats, and had a sturdy metal zipper in a rosegold finish. It's larger than a regular poop bag holder and has space to hold two poop bag rolls, keys, coins, and other small necessities you might want while out walking your dog.
12. Earth Rated Dog Wipes, 100-Count
Another practical stocking stuffer to slip into your stocking stuffer are these disposable dog wipes. These wipes make it easy to give your dog a freshen-up while out and about. Each packet includes 100 plant-based wipes that are certified USD 99% biobased. These wipes include natural shea butter, aloe, and chamomile to keep your dog's fur soft and smelling fresh. Ideal for cleaning your dog up after winter adventures these wipes can be kept in your car, or training bag for easy access.