The new year is a great time to take stock of your dog's supplies and consider what needs to be replaced or purchased new. Having new and nicer equipment can make life with your dog easier and more convenient. When looking to upgrade, think about the supplies you and your dog use most often, and if they are inconvenient, or wearing out frequently. Upgrading your training supplies and equipment to higher-quality products can lead to fewer replacements in the long term. You might also want to consider upgrading to environmentally-friendly options, such as biodegradable grooming wipes or cricket-based treats.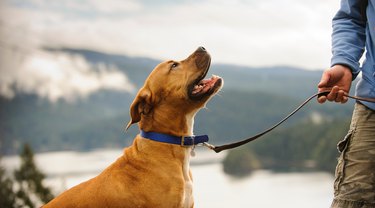 What to consider when upgrading dog products
‌Quality:‌ When upgrading dog products, consider purchasing higher-quality and more durable products. Although some of these supplies are more expensive, they typically last longer, look better, and are safer for your dog to use.
‌Sustainability:‌ A key reason to upgrade dog products is sustainability. That could mean choosing compostable dog poop bags over plastic ones, or opting for a stuffing-free dog toy that won't get thrown away in a matter of weeks. Products that help you take care of your dog ‌and‌ protect the environment are always a win in our book.
‌Functionality:‌ When updating your dog's supplies in 2023, look for products that have more than one use or features that improve your everyday life, like a collar with GPS tracking or a treat pouch with a magnetic closure.
Now that we've discussed what to look for when upgrading your dog's supplies, here are some of our favorite products that we believe are worth the investment.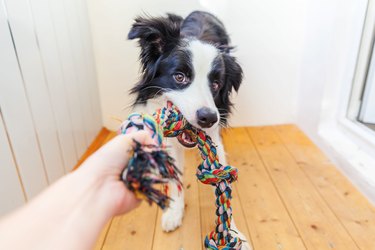 Do your dog's identification tags frequently fall off or look worn and faded? Consider upgrading to a custom dog tag that's made of brass and decorated with enamel. ID tags are essential in case your dog ever goes missing, allowing the finder to contact you right away. These decorative tags from TheElderTreeArtZone Etsy shop come in three diameters: 0.8 inches, 1 inch, and 1.5 inches. You can personalize the front with your dog's name and the back with your contact information. There are dozens of different designs to choose from if this space-themed tag isn't your favorite.
Tired of leashes that get dirty and smelly? It might be time to replace your old leash with a BioThane one. BioThane looks and feels like real leather but is "basically a polyester webbing with a TPU or PVC coating," according to the manufacturer's website. The material is ultra-durable, odor-resistant, waterproof, and easy to clean—all you have to do is wipe it with a damp cloth when it gets dirty. This BioThane leash by J&J Dog Supplies is made in the United States and comes in two widths (1/2-inch wide or 3/4-inch wide) and one length (6 feet). Choose from 10 eye-catching colors.
The best smart dog collar
If your dog is an escape artist or likes to accompany you on hikes, consider purchasing a high-tech collar with GPS tracking. The FI Series 2 GPS Tracker Smart Dog Collar allows dog owners to track their dogs anytime, anywhere. The tracker on the collar connects to cellular towers, giving you the opportunity to GPS track your dog on walks (useful if you employ a dog walker or want to monitor your dog's health), or if your dog ever becomes lost. You can set safe locations like your home or your dog's daycare, and then get push alerts to your smartphone anytime your dog leaves the set safe areas. The battery can last up to three months on a single charge, and the collar is waterproof with a customizable LED light. It's available in four sizes, ranging from small to extra-large, and four colors.
The best compostable dog poop bags
If you have dogs, poop bags are a part of life. Unfortunately, traditional plastic poop bags are bad for the environment and can sit in landfills for generations. To offset your environmental impact, consider switching to compostable poop bags in 2023. These ones come in a perforated box, making it easy to grab however many bags you need before heading out on a walk. The bags have a top tie closure to keep the waste contained. They're also thick and leak-proof, so you don't have to sacrifice functionality to do something good for the environment. A portion of each purchase goes toward supporting the Jane Goodall Institute.
Not all dog kennels are created equal, so if you have room in your budget, you might want to invest in one made by RuffLand. These kennels are a favorite among dog trainers because of their safety features and durability. The crates are built to last and provide optimal airflow for your dog. They're also impact-resistant in case your vehicle is ever involved in an accident while transporting your dog. The one-piece roto-molded construction provides extra strength and means there's no assembly required. As an added bonus, it's also incredibly easy to spray clean with a hose. These crates come in five different sizes and are made in the United States.
Ditch that risky rawhide for some Himalayan yak chews! These treats can help keep your dog's teeth and gums healthy while providing stimulating chewing enrichment. The chews are made in the United States from Himalayan-style cheese that is lactose-free. They're also grain-free, gluten-free, low in fat, and high in protein. so they're a good option for dogs with specific food allergies or sensitivities. Choose from bags of 4, 8, or 12 treats, and yummy flavors including bacon, cheese, chicken, and peanut butter. These yak chews are suitable for dogs of all sizes.
Don't just toss your dog's food in any old bowl, consider upgrading to an engaging puzzle bowl. This Outward Hound bowl topped our list of the best slow feeders for dogs, and for good reason. It makes mealtime a fun game for your dog while improving digestion by forcing them to slow down. This bowl comes in two sizes—2 cups or 4 cups—and has relatively shallow valleys, so it's appropriate for most dog breeds. The flower-shaped puzzle isn't too difficult, making it a good option for pups who haven't used a slow feeder bowl before. The bowl is made of plastic that's food-safe, and BPA-, PVC-, and phthalate-free. It can also be cleaned on the top rack of the dishwasher for added convenience.
The best dog food storage container
If you keep your dog's kibble bags scrunched up in a closet or cabinet, it's time to upgrade your food storage! This bin comes in three sizes, holding 10 to 50 pounds of kibble, and has an airtight seal that locks in freshness while keeping out nosy pets and unwanted moisture. Fresh food tastes better and will keep your dog more engaged in their meals. This food storage container is made with BPA-free plastic and has a wide top, making it easy to scoop food at mealtimes. It also sits on wheels so you can move it from the closet to the kitchen with ease. Tip: When removing dog food from its original bag, be sure to write down the lot number, so that in the event of a dog food recall, you'll be able to see if your dog's food is affected.
Don't struggle with an uncomfortable treat pouch, or just throw dog treats into your pockets (think of the crumbs!). Instead, purchase an OllyDog Goodie Treat Bag that can be worn around the waist or clipped onto a belt loop. This treat pouch is made from recycled fabric that repurposes three plastic bottles. It's also vegan, nontoxic, and water-resistant. The beauty of this product is that it has a magnetic closure that helps you get to the treats quickly, but prevents them from spilling during training sessions or while out walking. The pouch is lightweight and available in two different styles and 18 colors and patterns.
The best stuffing-free dog toy
Tired of your dog ripping apart all their toys? It might be time to switch from plush toys to stuffing-free toys. This adorable gecko features an inner Dura-Tuff lining and is reinforced with double-stitched seams. It has multiple squeakers and comes in two different sizes (medium and large). Because the toy is stuffing-free, it reduces any mess if your dog manages to rip it open. Choose from four vibrant colors: green, orange, yellow, or purple.