There are two things that will brighten up and personalize any space in an instant—houseplants, and art. For the cat cohabitators out there, adding plants to your life may be easier said than done, especially if your feline friend is a curious chewer as certain plants are poisonous when ingested. In that case, you can celebrate your love for cats while personalizing your space at the same time with cat art prints or cute cat paintings. Purchasing prints is a great way to add to an art collection at a relatively low cost, and they are usually sized in a way that makes them easy to mat and frame. We've come up with a list of art prints for cat lovers that includes humorous illustrations, elegant line art, and new takes on the classics.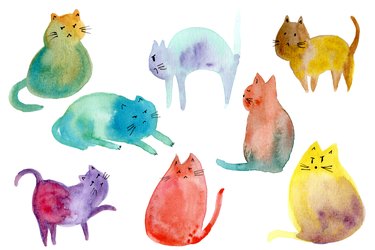 What to consider when purchasing art prints for cat lovers
‌Personal Style:‌ This will obviously be easier if you're purchasing a piece of art for yourself, but if you're shopping for another cat lover in your life, keeping their specific tastes and preferences in mind will ensure that your gift is a pleasure, and not just something to make room for. If you're unsure about a person's decorating style, simple pencil drawings or silhouette images are usually a safe bet, as are minimalist prints in their favorite color.
‌Size:‌ It's likely a no-brainer, but when you're shopping for art, be it for yourself or someone else, always take note of the size. This isn't just to ensure that it works well in the room where you'll be displaying it, but it can also affect the ease of framing the piece if you choose to do so. Most of the prints listed here are sized to fit frames you can find at most art supply stores, but some may require custom framing, which will add to the cost, so always keep that in mind when shopping.
‌Prints Versus Originals:‌ Prints are going to be less expensive than original works of art, and are offered by many artists as a way to make their work more accessible to more people across various price points. All of the items listed here are prints, some of which were digitally created, and some of which are made from original illustrations and paintings. For more cat art options, or original works to treasure over time, you can always seek out local artists in your area at art walks or open studios, or connect with artists online to purchase from them directly.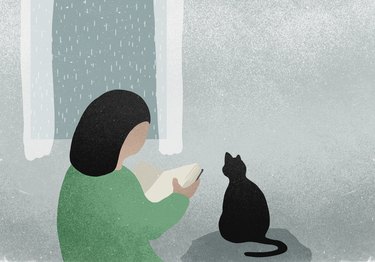 1. emiliedrawsthings Minimal Sleepy Kitties Illustrated Art Print
For a simple yet dynamic piece of modern art for cat lovers, this minimalist, sleeping cats print is a great option to consider. It's available in three sizes, and ships free to the U.S. and Canada. This piece allows for a little bit of customization as the seller prints them on demand and offers a variety of color options to choose from, including blue cats on a pink background, orange on a pink background, blue on cream, orange on cream, and pink on dark green. The seller designed this image on Procreate, and prints each order on archival matte paper.
2. SweetOmens Tired of Humans Cat Print
If you're looking for something a bit more stylized, this piece combines visuals and text to create the ultimate dream for cats (and humans,) alike: resting under a soft blanket in a dark cave far away from all responsibility. This piece is available in four sizes and features a white border around the edges for easy matting. It's printed on 100% cotton, acid-free paper, and uses archival quality Epson inks to create a stunning work of black cat art for animal lovers to enjoy.
3. Plantspace A Cats Patio Art Print
If cute, clean, and a little playful is more your style, this sweet design by California artist Casey Hoover may be the perfect complement to your space. Featuring a calico cat on a porch swing with a mushroom cap on their head, this piece is sure to be a conversation starter and a mood-lifter anytime it's viewed. It's sold in four sizes and can be purchased as just the print, or with a frame, from which there are eight to choose from. This piece is printed on archival paper made from cotton that's been pressed in Italian mills for a high-quality piece of art that makes a unique gift to yourself or your favorite cat lover.
4. Two French Cats Photography Art Print
Perhaps a vintage photograph is just what you need to complete your gallery wall. If that's the case, opt for this image of two cats meeting on the streets of Naples, Italy. The listing falsely identifies the location as Paris' Left Bank, but the photograph was actually taken in 1956 by American documentary photojournalist Leonard Freed. The print comes in multiple sizes, ranging from 7 by 10 inches to 28 by 40 inches, and is printed on 100% cotton, acid- and lignin-free archival paper. There's a 1-inch border for extra-small and small prints, or a 2-inch border for all larger sizes to make framing the photograph quick and easy.
5. BlushingBatDesigns Celestial Cat Digital Download
This option is a bit different from the others as it's just a downloadable PNG file, meaning no actual print is shipped to you. This does allow you to customize it a bit, including choosing your ideal paper type, and sizing it however you like up to 16 by 20 inches. This also offers a low-cost option for adding some new art to your living room or other areas around the home as the file costs less than $6. The image features a blue cat painted in watercolor style on a cream background, surrounded by constellations, stars, and other celestial imagery.
6. Pablo Picasso Cat Wall Art
Sometimes, a simple piece of line art is the best way to complement a room. This cat poster features an elegant Picasso image of a cat stretching, flanked by the artist's name and French text at the top and bottom. It's easy to frame measuring 8 by 10 inches, and is designed with muted, understated colors like cream and light pink to fit in just about any room, office, or other space. Because this poster print image is so simplistic, it makes a great gift idea for the cat owners in your life.
7. AshleyPercival Big Yellow Cat Art Print
If a big, dynamic image is more your style, check out this big yellow cat print by Etsy seller Ashley Percival, who created this piece using her own hand-drawn image. It uses uneven scale to create a different kind of cat image, as well as bright yellow paint on a white background for a visual that pops and definitely draws attention straight to it. This piece is available in seven sizes and arrives unframed. Each piece is printed on fine art paper and is signed on the front. The shop does offer a few customization options, including additional size choices, and different background colors.
For anyone looking to spend on a print that closely resembles an oil painting, this extra-large work is a nice one to consider. Measuring a massive 46 by 56 inches, this piece features an image of a variety of solid-colored cats and chickens resting and eating on and around a bistro table. The background is rose gold so it's likely to fit into most spaces, and it's all printed on archival paper with archival ink. Unlike the other options on this list, this one comes framed in basswood that's painted to resemble weathered brass, and fitted with a glass panel, so it's ready to hang as soon as it arrives.
9. Life Is Better When You Dance Art Print
If fun and retro is more your style, this typographic piece that resembles a tin print might be up your alley. The image features a Siamese cat and an orange tabby cat dancing in a spotlight, with the words "Life is better when you dance" above and below them. This comes printed on an 8-by-10-inch piece of Fuji crystal archive photo paper and arrives unframed so you can mat or frame it in the style of your choice.
10. DecoVOX Vincent Van Gogh's Irises Cat Print
Got a favorite artwork and just wish you could add a bit of feline influence to it? This Etsy shop has got you covered. Starting with famous and favorited works of art, like "Irises" by Van Gogh, this seller simply plops a kitty into the piece to create a new work of art that's perfect for cat lovers. This particular piece is offered in seven different sizes and is printed on museum-grade satin paper with a low-glare finish. If this work of art isn't quite your style, the shop also offers designs inspired by Glimt, Monet, Matisse, and Cezanne, all punctuated with this signature, wide-eyed black cat.
11. Ukiyomemes Woman Yelling at Cat, Set of 2 Giclee Prints
We've all seen the Housewives yelling meme transformed into 100 different styles, but this one might top them all. Created in the Japanese Ukiyo-e style, this item comes as a set of two giclee prints in panels—one of two women yelling, the other of an indifferent cat. Each panel measures 12 by 18 inches and is meant to be hung side by side as a method of visual storytelling that's as eye-catching and inventive as it is funny.
12. Katja Ja Pool Series Two
Finally, if you're shopping for a calming print straight from the artist who created it, this depiction of a black cat gazing into a swimming pool can bring a serene and summery style to your favorite space. You can choose from six different sizes, as well as the framing and finishing, including a paper print, a wrapped canvas print, or an aluminum-mounted work. This piece is created and sold by Katja Ja and is part of a two-part illustration series celebrating the summer season.