If your dog frequently slips out or backs out of their buckle collar, then a martingale collar may be a good option to consider. Martingale collars are designed to prevent escape as they're equipped with a loop that pulls taut when pressure is applied. The leash is attached to the D-ring on the collar as opposed to using a harness. Sighthounds (greyhounds, whippets, Borzoi, etc.), and other breeds who have smaller heads than necks, may slip out of conventional collars, making a martingale a practical choice for safety reasons.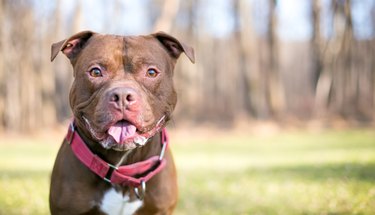 What to consider when purchasing a martingale dog collar
‌Size:‌ It's always important to purchase the correct size collar for your dog, and even more so for martingale collars, especially if they're the type that slips on over your dog's head, as that means they could slip off if they're too large. Some martingale collars do come with buckles and slightly adjustable straps, but it's still always best to use the seller's size chart for the most comfortable fit and safest wear on your dog.
‌Safety:‌ Speaking of safety, pet parents should know that martingale collars shouldn't be left on all the time the way standard buckle collars may be. Because of the tightening design of these collars, they do pose a potential risk of danger if they're not used as directed—during walks, and with a leash. If you choose to walk your dog with a martingale, be sure to remove it as soon as your walk is over, and never leave your dog tied out with one of these collars on.
‌When to Stop:‌ Some dogs just don't like martingale collars, just like how some dogs don't like Gentle Leaders, Halti's, or harnesses. Every dog is different and has their preference. It usually takes dogs a bit of time to get used to any new piece of pet wear, but if you notice your canine pal consistently refusing to walk with the collar on, or behaving in ways that express fear because of the collar, it may be best to talk to a veterinarian or qualified dog trainer in your area about other alternatives.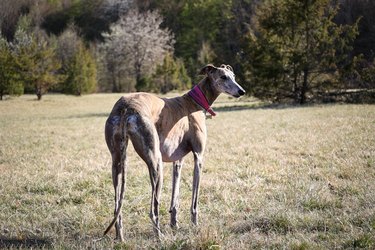 The best overall martingale collar
We initially had a "best overall" category and a "best budget" category, and we truly could not decide where to put this option. It's the best of both worlds—durable, highly rated, and available in a range of sizes, all while being the most affordable collar on this list by a long shot. It's also available in five sizes and four color options, and is made of durable nylon material. As with any collar, and especially martingales, be sure to measure your dog's neck and check the seller's size chart before purchasing for the best fit and safest practices.
The best martingale dog collar with a buckle
Unlike some martingale collars that slip on over a dog's head, this one is built with a fast-release buckle for easy on-and-off, making it great for use with dogs having average or large heads. The product is made from recycled plastic bottles (about five per collar) that are turned into durable polyester materials. Choose from sizes small and medium (3/4-inch wide) or large (1-inch wide), as well as six trendy colors. All of the hardware is chemically untreated, hand-polished brass. You can clean the collar in the washing machine by placing it in a pillowcase or washing bag and then washing it on a cold setting. However, it must be hung up and air-dried.
The best personalized martingale dog collar
Martingale collars are made with safety in mind, and what's safer than turning your dog's collar into an easy-to-read ID tag? This type of martingale collar is personalized with your dog's name and contact info, all of which is stitched on in colors that contrast with the primary shade to make it easy to see, even from far away. This is available in 20 color options, and seven sizes and each collar measures 1 inch in width. There is no buckle option for this one—it is designed for sighthounds like greyhounds and Afghans, and is intended for use with any dog who has a smaller head than their neck.
The best wide martingale collar
Sometimes, a wide collar feels more comfortable for dogs, and can offer a bit of added peace of mind for pet parents. This dog collar is sold in five sizes, and the width of each one increases to support your dog's neck size. You can purchase this collar with a black plastic, brass, or silver buckle option, or as a classic slip-on style, and each collar is made of hemp and sturdy waxed canvas for a comfortable fit and durable wear. These collars are also fitted with metal D-rings to hook your leash onto, as well as metal tri-glide accessories to adjust the collar to the perfect size.
The best reflective martingale collar
If you ever find yourself walking your furry friend at night, a reflective collar in a perfect fit is the best way to keep your canine, and yourself, safe. Available in 10 colors, three sizes, and sold with or without a buckle, this is a premium quality nylon martingale collar with genuine 3M reflective material. It's 1.5 inches wide in all three sizes and machine-washable. The collars are handmade in North Carolina and if the stitching or metal hardware fails with regular wear, the company will replace it for free.
The best martingale collar set
If you're in the market for a collar and a leash, this two-piece set contains one martingale collar made from tough nylon, and one leash made from durable climbing rope. This item is sold in 16 different colors and set options, and three different sizes. Each collar is made with reflective thread, and is reinforced with a plastic side buckle and durable hardware to help you adjust it to become the most no-slip collar you need. The leash is also designed with reflective stitching, contains a padded handle for easy handling, and is made with a 360-degree rotating, rust-proof leash hook so you'll never need to worry about your dog getting tangled up on walks.
The best martingale collar for colors
If you loved the look and sound of the Petsafe martingale dog collar we featured earlier in the list but didn't see your preferred color, this Country Brook Petz martingale collar is a great option to consider. With 13 colors to choose from you're sure to find the right look, and size, even if you have a small dog to leash up—in addition to small, medium, large, and extra large, this brand also offers micro, and mini sizes so the littlest of the little guys aren't left out. Each color is 1-inch wide and is made of soft but durable nylon fabric, as well as nickel-plated hardware. This is not a buckle option, and slips on and off over the head.
The best decorative martingale collar
Martingale collars are meant to keep dogs safe and secure without pinching or choking, but that doesn't mean they can't also look great on your dog. This Etsy shop offers martingale collars in 13 different patterns and designs, and a variety of size options to fit small and large dogs alike. It's handmade from nylon webbing and laminated cotton for a durable product that's washable and protected from the elements and other external stressors that can break down materials. This collar does come with a buckle made from plastic, silver zinc, or brass, which can be laser engraved with personalization to include their name and phone number, creating a collar and dog tag in one.
The best eco-friendly martingale collar
Finally, for an eco-friendly martingale collar option, this item is made from bamboo webbing that's both soft and durable. It comes in four sizes but just one color (burnt orange,) and is designed in the classic Martingale slip-on style. The bamboo material used makes this not only an environmentally friendly collar choice, but also hypoallergenic, odor-resistant, breathable, and washable. It also comes with nickel hardware to adjust the straps to the perfect fit, as well as a welded D-ring to latch your leash onto.