The majority of dog and cat breeds shed — at least a little bit. Pet hair grooming and maintenance is one of the most important jobs a pet parent must maintain. When a pet sheds, it can be a huge undertaking for any pet parent when it comes to cleaning and grooming. Thankfully, Amazon influencers have found one of the best grooming kit and vacuum set for cats and dogs.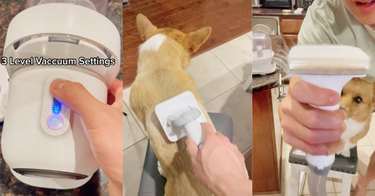 This pet grooming kit the neabot P1 Pro Pet Grooming Kit and Vacuum was an Amazon top influencer-recommended product for 2022. In fact, it was number two in the pet category. Amazon influencers are raving about this tool that will keep your home clean and hair-free.
The kit comes with grooming tools including a grooming brush and de-shedding brush (to help with protecting the topcoat whilst promoting a soft, smooth, healthier skin & coat for your pet), an electric clipper, a nozzle head, and a cleaning brush for collecting pet hair.
Along with clippers, the neabot P1 Pro Pet Grooming Kit comes with a vacuum. According to neabot, the vacuum function collects 99% of pet hair into a vacuum container while pet paren trim and brush hair.
TikTok user @aircorg raved about the neabot P1 Pro Pet Grooming Kit and how helpful it has been with hair upkeep for his Corgi. "Hands down probably the best thing I've ever bought on TikTok," he narrates alongside footage of him using the product on his dog.
He continued, "I've never had my dog look forward to her daily brush."
One huge perk of this vacuum and clipper kit is the noise level. These pet clippers were designed to keep the noise low to help pets feel at ease. With such sensitive ears, blowdryers, clippers, and vacuums can scare animals who are trying to be groomed and make it an unenjoyable experience.
Neabot suggests grooming your pet with the brush before trimming pet hair as well as providing treats for your pet to help ease their nerves. That way, your grooming session can be a positive experience for both you and your pet.