There's no shame in the 'my cat is my Valentine' game. If you're looking to spoil your kitty this February, we've got you covered with a list of love-themed toys, treats, accessories, and more. Show your cat that you're smitten as a kitten by surprising them with a catnip-infused teaser, or give yourself the gift of convenience by investing in a self-cleaning litter box. Ahead, we've corralled 10 Valentine's Day gift ideas for cats and the people who love them.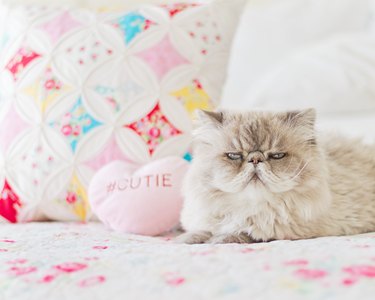 1. Angel Wings Shaped Cat Bed
This winged-heart cat bed functions as a flat sleeping mat and a high-back bolster bed. It has four velcro straps for attaching the wings together, creating a semi-enclosed space for your cat to nap. The ultra-plush cat bed is washable and measures 47.2 inches long, 23.6 inches wide, and 3.1 inches high when laid flat. The overall shape and gold crown make the bed look like a throne fit for a queen or king.
2. Frisco Valentine Candy Hearts Plush Cat Toy with Catnip, 3-Count
Your cat may not be able to eat conversation hearts, but they can play with them thanks to this set of three plush toys. Each Valentine's Day cat toy is stuffed with crinkle paper and infused with catnip to set your cat's heart aflutter. The polyester hearts say "Be Mine," "Furever," and "Purrfect," and come in blue, yellow, and pink. Your cat will have a blast cuddling, tossing, and kicking these adorable plushies.
3. Boots & Barkley Cat Tunnel of Love
Nab this collapsible play tunnel for a Valentine's Day photo op starring your cat. Measuring 30 inches long, 11.5 inches high, and 14 Inches wide, the purple cat tunnel is adorned with pink, red, and white lips. The opening reads "Tunnel of Love" and there's a dangling, heart-shaped toy for your cat to swat at. It folds up easily and has clasps on each side to keep it compact.
4. Frisco Valentine Unicorn Cat Tracks Cat Toy with Catnip
If your cat doesn't already have a track toy, Valentine's Day is the perfect time to gift them one. This model features a three-tier track, three balls, and two detachable wands for swatting—a pair of fuzzy hearts and a unicorn cupid, both stuffed with catnip. There are even non-skid pads on the bottom to keep the toy in place while your cat is playing with it.
5. Lepawit 3-Pack Valentine's Day Cat Wand Toys with Catnip and Feathers
Are you the type of cat lady that buys your cat new toys for each and every holiday? You'll want to add this three-pack of cat teaser toys to your online shopping cart immediately. One wand features three plush lips with a ribbon tail and bells; another has three squares embroidered with I ♥ U that are connected by soft feather material; and the third touts four plush hearts (one of which says "Love") and a feathery tail. All of the teaser toys are infused with catnip and crinkle paper for added entertainment.
6. Hartz Delectables Squeeze Up Tuna & Salmon Lickable Cat Treats, 0.5-oz tube, 32-Count
What cat isn't head over heels in love with lickable treats? This pack of 32 tuna- and salmon-flavored treats doesn't contain any grains, added fillers, by-products, or preservatives. Each tube is filled with a thick, creamy puree that you can give to your feline friend as a handheld treat or food topper. It's a great bonding experience between you and your kitty, and the squeezable tubes help prevent messes.
7. Smarty Pear Leo's Loo Too Wifi Enabled Cat Litter Box
A self-cleaning litter box is a gift for your cat that will inevitably make your life easier, too. This WiFi-enabled model is pricey but well worth the splurge for cat lovers. It detects activity via weight sensors and gets to work once your cat has safely exited the litter box. Leo's Loo Too sifts waste into a large-capacity drawer with a sealing strip and extra-dense bamboo filters to contain unpleasant odors. There's even a UV sanitizer to kill 99.9% of bacteria. You can control the litter box and monitor your cat's bathroom habits using the app or a smart home device. The unit weighs just over 37 pounds and measures 24 inches long, 22 inches wide, and 27.5 inches high when fully assembled. It comes in four attractive colors, but we like the pink option for Valentine's Day.
Say it with us: "Aww!" This four-tier cat tree features heart-shaped perches and sisal-wrapped posts. The plush covers are warm and soft, and the sisal rope is wound very tightly for durability. The tree measures 24.4 inches long, 21.2 inches wide, and 37.7 inches high, and offers 11.8 inches of space between each level, so cats can climb and move around with ease. The perch at the top has a raised edge and a dangling, heart-shaped toy to entice your cat to take a nap or engage in solo play.
9. Whisker City Valentine's Day XOXO Cat Cape
Is your kitty too squirmy to put on a sweater? This Valentine's Day cape might be the next best thing. Made from 65% polyester and 35% cotton, the cat cape is super soft and features an X and O design with red hearts. There's also a hood and drawstrings to give it a hoodie-like effect without having to slip your cat's arms into sleeves. It comes in sizes extra-small, small, and medium, and can be put on and taken off easily.
10. PiperBluePawtique Red Checkered Cat Collar
Your cat will look trendy ‌and‌ festive in this red checkered collar. You can opt for the collar as-is, or add the charm and bell for a few extra dollars—which we highly recommend. Each collar has a 100% cotton fabric exterior and a webbing interior. It's also fitted with a plastic breakaway safety clasp and a metal adjuster and an O-ring. Cat owners can choose between a ⅜-inch or ½-inch collar width and three sizes (kitten, medium, and large). Just be sure to measure your cat's neck before you get to the online checkout. The collars are handmade in Buffalo, New York, and orders are typically processed in 7 to 10 days.