Playing with your cat is a great way to encourage them to get some exercise, which is important for overall wellness and maintaining a healthy weight. But what about those times when you aren't able to enjoy a play session with your pet? Maybe you need to spend long hours at work or you're too busy taking care of things around the house. If your cat can't play on their own, they might become bored and unhappy, and they might end up releasing their pent-up energy in negative ways, such as by knocking things over, tearing curtains, or scratching furniture.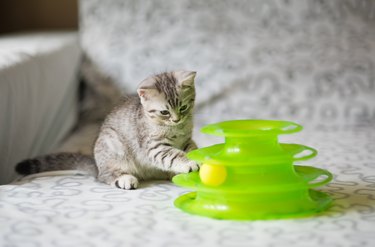 The solution is simple: Purchase a variety of cat toys that are designed for solo play. That way, your pet can let out their energy in a non-destructive manner whenever they want. Compared to interactive play sessions when you use things like wand toys to entice your cat to release their inner hunter, solo toys can keep your companion happy when you aren't able to play with them.
What to consider when purchasing a solo-play cat toy
‌Safety:‌ Because your cat will use a solo-play toy on their own, one of the most important things to consider is whether or not it is safe. Avoid toys that could be choking hazards or could injure your pet. And ensure that a toy doesn't have any parts that could be swallowed. Choose products that are durable and won't be easy for your cat to tear apart, as you want to avoid the risk of your kitty ingesting anything they shouldn't. Even electronic toys should have safety features, such as automatic shut-off, for peace of mind. Also, regardless of the type of toy you're thinking about buying, read the label carefully and follow the manufacturer's directions. For example, even if a product is designed for solo play, supervision might still be recommended.
‌Size and Shape:‌ Cat toys come in all shapes and sizes, which means you can provide your pet with diverse options that could help prevent boredom. But if a toy is too big or too small, or the shape is awkward for your cat, they may not be interested in playing with it. So, consider your pet's preferences to make the right choice. For example, some cats prefer playing with small toys that they can carry around, while others like large toys that they can grab and kick.
‌Motion, Lights, and Sounds:‌ Many solo toys have features, such as lights, sounds, and movement, that are meant to grab your cat's attention and inspire them to play. While some cats may be entertained by these types of toys, others may be frightened by them. For instance, your cat might not like being surprised by a motion-activated toy or they might be bothered by the noise of motorized toys. Observe your cat around any new toy to see how they react to it. If they aren't amused by electronic toys, it's best to stick with other options, such as catnip toys, crinkle toys, balls, and toy mice.
‌Battery-Operated:‌ Toys that run on batteries can come in handy if your cat is the type that enjoys playing with products that move on their own or have lights and sounds. But consider the battery life and whether a toy is designed to preserve it as much as possible. Otherwise, you'll find yourself replacing batteries often.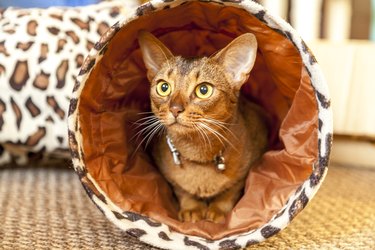 The best overall solo-play cat toy
This cat toy is a good choice for solo play because there aren't any loose parts. The six balls are all set within the three tracks, so your pet can bat at the balls to get them to spin around without them coming out. Kittens and adult cats can have loads of fun with this toy, and if you have more than one kitty, they can play with it together. The non-skid pads help ensure the toy remains in place, and there is a safety bar at the top to help prevent pets from getting stuck while playing. Just set this up in an area of your home where your cat can play for as long as they want even when you're busy or not at home.
The best solo-play toy for kittens
This cute little stuffed bear is designed for kittens, but as your pet grows, they might still enjoy playing with it. The inside of the toy is filled with catnip, the fabric is soft for your kitten's tiny paws and teeth, and this toy also makes a crinkle sound to grab your feline companion's attention. Your kitten can hone their hunting skills as they toss, grab, and bite this teddy bear, and when they are done playing, you might even find your pet snuggling with this plush toy. Just be sure to inspect it regularly to check if it's still in good shape and safe for your cat to play with.
The best multipack of solo-play cat toys
This set includes 20 pieces, so you can get some of the best cat toys for an affordable price and without the hassle of needing to buy them separately. In addition to balls, crinkle toys, catnip toys, and stuffed mice, there are kicker toys that your cat can play with solo. Plus, you also get a wand that you can use to play with your cat. And the tunnel that's included can be used on its own or in combination with the toys in this set to give your cat a place to run, hide, and pounce from.
The best budget solo-play cat toy
If you are shopping for cat toys on a budget, consider this set of four colorful, slotted balls that your cat can play with when they have energy to release. You can certainly use these to play with your cat, but you can also leave them out for your kitty to kick and chase whenever they want. The bell inside each ball can help grab your pet's attention and pique their curiosity. And you can use these balls in combination with other products, such as a cat tunnel, to keep things fun and enrich your pet's environment so they won't get bored when home alone.
The best solo-play kicker cat toy
Kicker toys are a fantastic option for solo play because they're designed to be grabbed, bitten, and bunny-kicked. Your cat can feel as though they're taking down prey or fighting off another animal, so these products can help with satisfying their hunting instincts. This option is a set of two handmade kicker toys that measure 15 inches. They are filled with organic catnip (although there is a catnip-free option as well) and have a bell inside to help keep your kitty interested. Just bear in mind that your cat's sharp claws and teeth might damage these toys over time, so it's wise to inspect them often to be sure they're still in good condition.
The best battery-operated solo-play cat toy
If your cat is the type that likes to pounce on your feet when you move them under a blanket, this toy might be perfect. It spins a feather around in a circle, and the feather is partially concealed under a sheet, so your kitty will want to chase it and stop it in its tracks. Just choose the speed you think is right for your cat and then let the toy do the rest, as it runs on AA batteries. Because the wand will spin in an unpredictable pattern, it will keep your cat guessing and awaken their natural instincts to take down prey. Just keep in mind that, even though this toy meets child safety standards, it's advised that you use it when you're there to keep an eye on your pet. It can be an easy way to get your feline companion to play when you're home but can't use an interactive toy to spend time with your cat.
The best solo-play catnip toy for cats
This banana-shaped toy is a good size for kittens and adult cats, so they can easily grab it with their paws and start to play. It is filled with organic catnip that is grown without pesticides, the cotton is colored with dyes made from soy or vegetables, and this product doesn't contain any plastic pieces. Also, this toy is handsewn and durable enough to withstand your pet's teeth and claws, so you might decide to leave it out for your kitty to find and play with throughout the day and night—just remember that it's always wise to check the toy regularly to be sure it isn't damaged. One potential drawback, though, is you can't refill this toy with fresh catnip like other toys, but the scent should last a long time.